Are plastering stilts illegal? I am warning you that if you climb onto those stilts while plastering, the police will be around, and they will lock you up for ten years…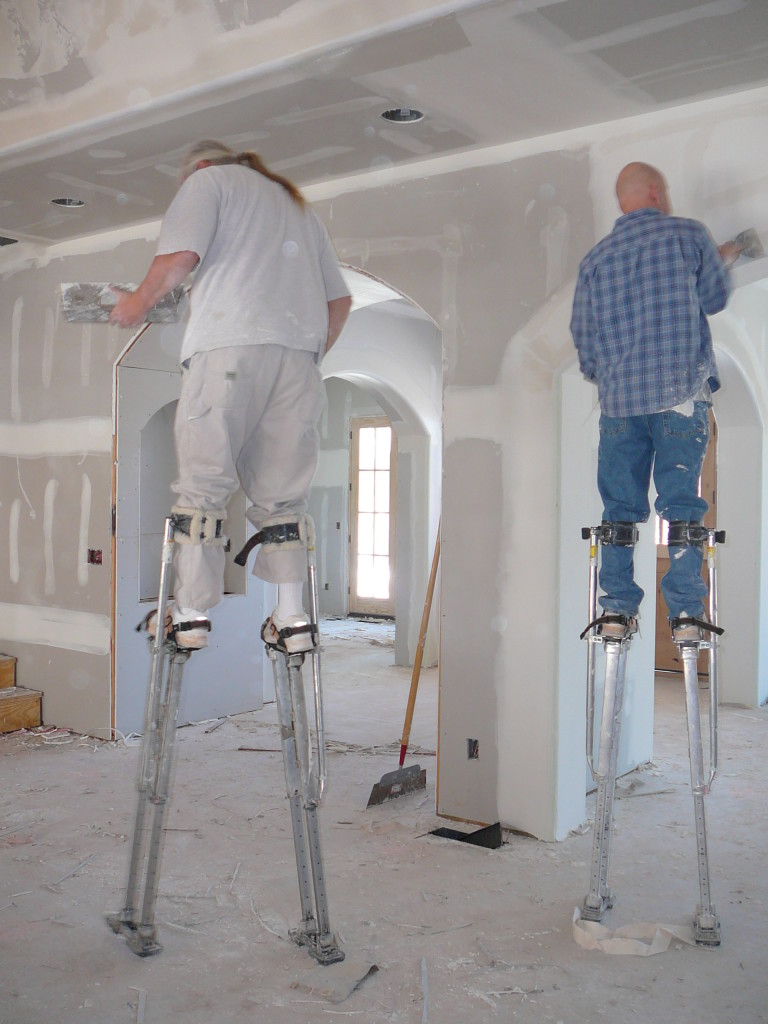 Ok, we all know that plastering stilts are not illegal in the exact sense of the word, but there needs to be some consideration when it comes to using stilts, and there are guidelines in place when plastering on stilts.
What are Plastering stilts?
Plastering stilts are tools used by plasterers to ensure that they reach higher walls and ceilings. It allows them to cover more area in a shorter amount of time, thus reducing the amount of labour and effort required for their job.
Plastering stilts are a great way to get to the height you need to without stepping up and down off a hop-up. When using stilts, you are at the required height, so when plastering ceilings, you can get that ceiling on a lot quicker because you can do bigger sweeps. If you are on a hop-up, your sweeps are from a single balance point.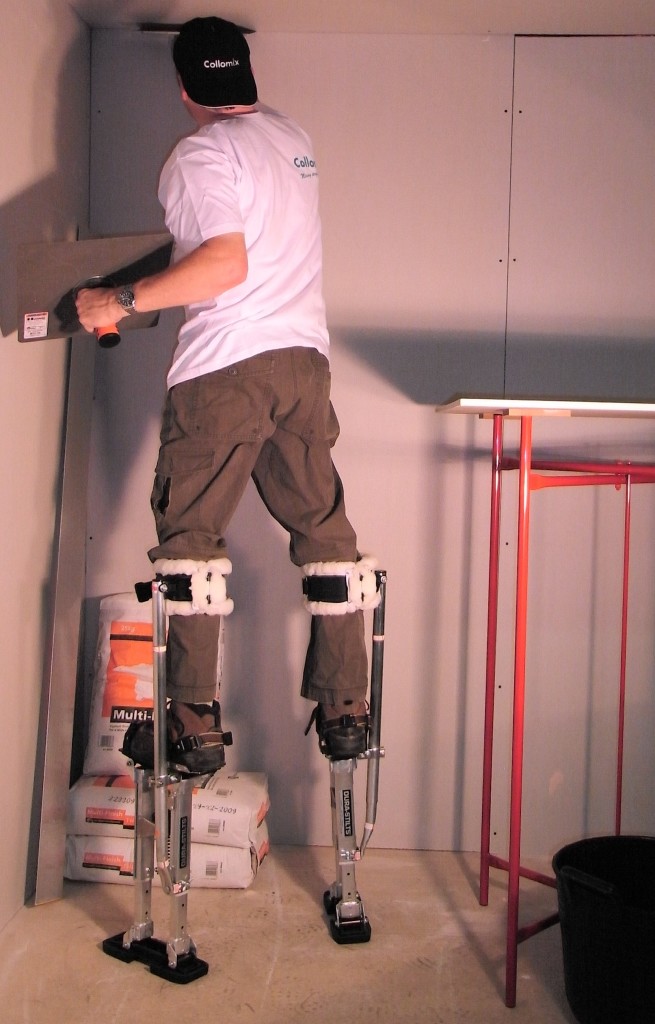 Getting to the right working height when plastering dramatically improves efficiency, but it is also easier to get the best finish. Just take a look at when you cross trowel you can now walk the whole length of the ceiling or wall without needing to get off and move your hop up.
Pros Of using Plastering stilts
Plastering stilts are like having the whole room scaffolded out at the right height without spending time decking it out.
Plastering stilts are affordable and much cheaper than a huge amount of scaffold boards and stands.
Unlike scaffolding boards, plastering stilts only take up a small amount of room to store.
Using plastering stilts is easier to get a consistent finish.
Stilts give more accessible access to heights up to 3 meters high and, in some cases, can be safer as you do not need to carry heavy scaffold boards around.
Cons of using plastering stilts
There is a risk that you will fall, and with any fall, you could hurt yourself or the people around you.
The cost of good plastering stilts varies, but the likes of Marshalltown and Dura-Stilts are around the same price, but you get what you pay for.
Many commercial sites don't like plasterers using stilts and may claim they are illegal to use on a construction site.
You must ensure that the area you will be walking about is clear and all trip hazards are removed.
If you work off a board and stand, you will need to find a way to raise this up so you do not need to bend over more than you need to.
Are Plastering stilts illegal?
"The Health and Safety Executive (HSE) says there is no issue with people using stilts if trained to use them. They advise that the best environment for their use is on a dry and level floor that is clear and free from tripping hazards.

Source SpecFinish
Risk Assessment
If you are a plasterer working in a team of fewer than five people, you will need a risk assessment. It does not need to be written down, but if you have five employees or more, it needs to be written down.
Having a risk assessment written down is probably not a bad thing to do as it helps as a refresher, and if you ever have any problems, you can instantly produce it. It will make you look much better and show that you care about health and safety.
Method Statement
You will need a method statement, which is a document that explains in detail how you will carry out using the stilts safely. It should include information on things like what personal protective equipment you will need, how the stilts will be stored and checked for damage and who is responsible for each job.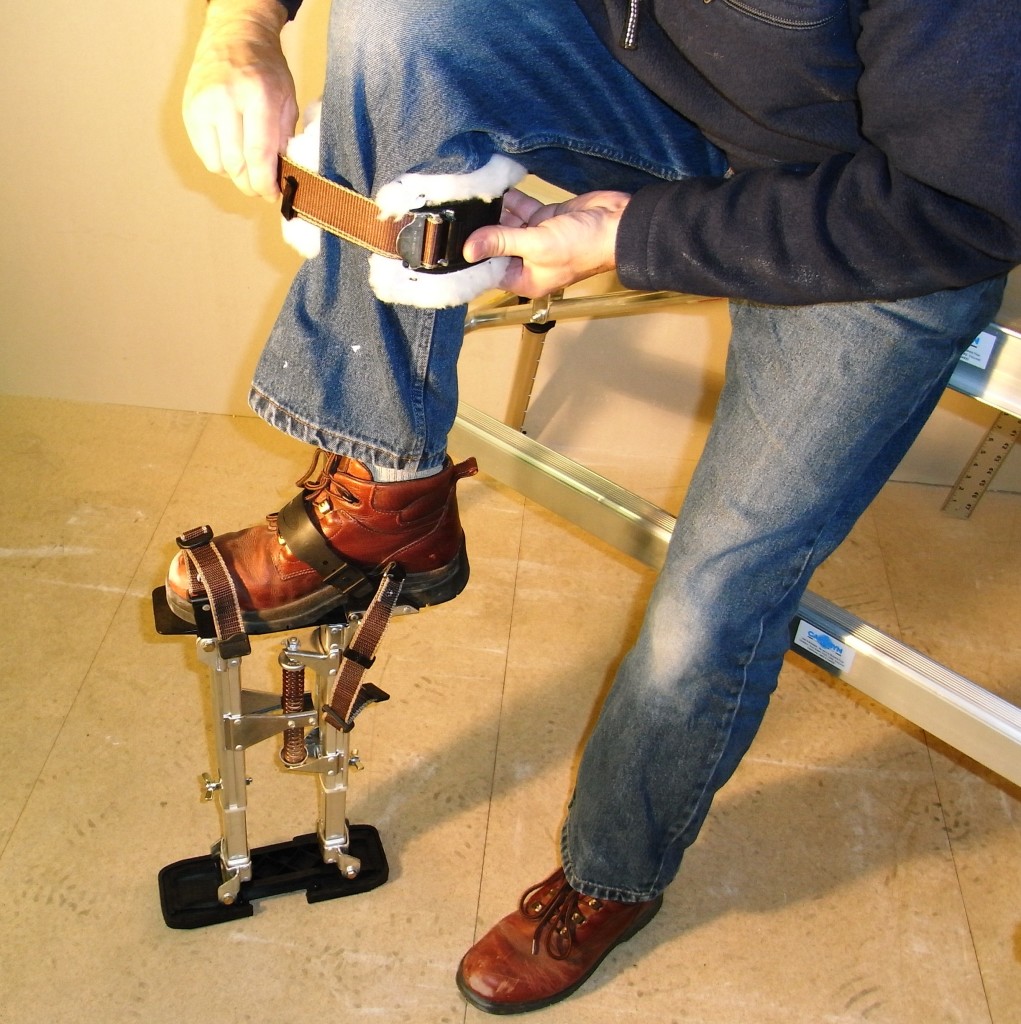 When I started The Plasterers Forum (many, many, many years ago), I met a chap called Richard from Carobyn, the Dura-Stilts distributor for the UK. He has been a wealth of knowledge to me, and as I write this, I have just spoken to him about stilts, and he is now so knowledgeable about working at height regulations that he is now a consultant.
Dura-Stilts have always been popular with plasterers and dry liners. If you head over to Carobyn, then Richard can also help you with your risk assessment and method statement paperwork.
Are Plastering stilts illegal?
No, they are most definitely not illegal, providing you are using them correctly and safely, along with having the correct paperwork to show that you understand how to use plastering stilts safely.
I hope you have found this article helpful and are now correctly informed that plastering stilts are not illegal. If you have enjoyed this article, please head over to Facebook and follow us, and if you would like to get involved in our community, please check us out at The Plasterers Forum.