'Stilts' are now widely known as a tool used in plastering, suspended ceilings, and drylining, but not universally accepted…this is partly because too many users and too many sites operate without an adequate understanding of best practice.
Firstly, the name 'stilts' is unhelpful. DURA-STILTS work as an extension to the lower leg – offering good mobility and excellent stability both standing still and when walking. The movement of the ankle is replicated by the parallelogram action of the two stilt legs, keeping the users foot parallel to the ground.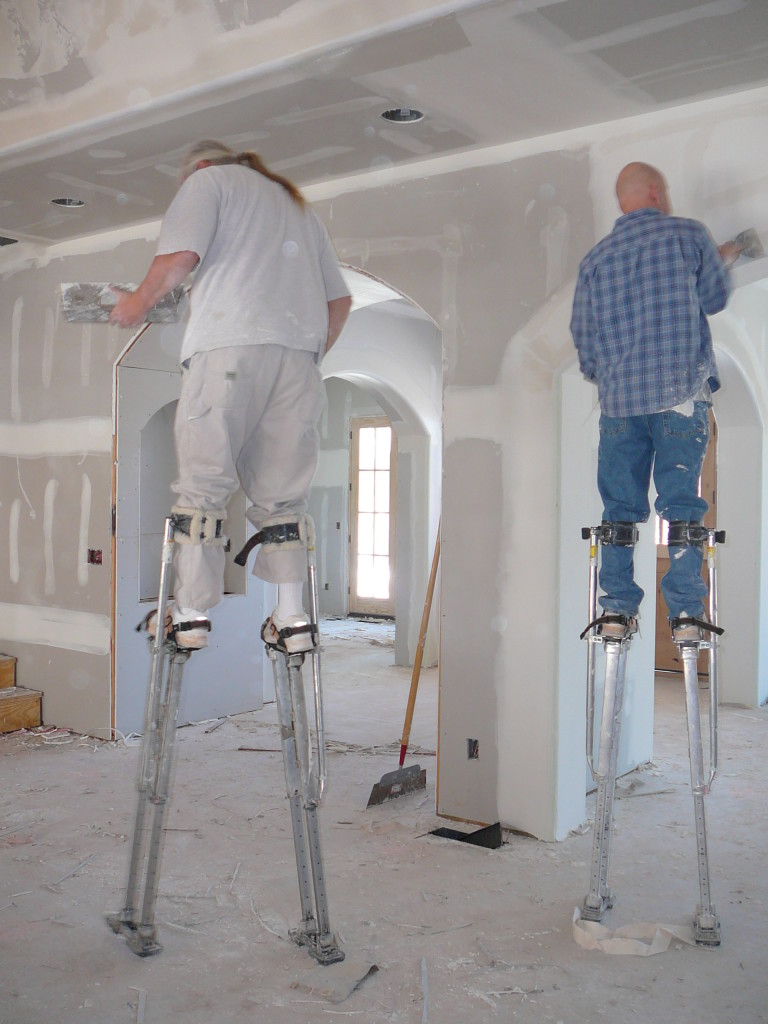 A wide range of adjustments allows people of differing heights and walking style to become competent and proficient, so they can work – at height – without undue stress or strain.
Traditionally when setting ceilings it was common to deck out the entire room – a time consuming job that needs to be done with some idea of the height of the plasterer. Also, allowing for the added complication of just moving all the kit from job to job (or floor to floor) makes this uneconomic for most.

The ubiquitous milk crate then gained popularity, although lack of height adjustment and any form of 'fitness for purpose' testing is a downside. Along with steps and bandstands, crates also offer a multitude of opportunities for accidents…when placing a plank between two crates the potential for disaster increases…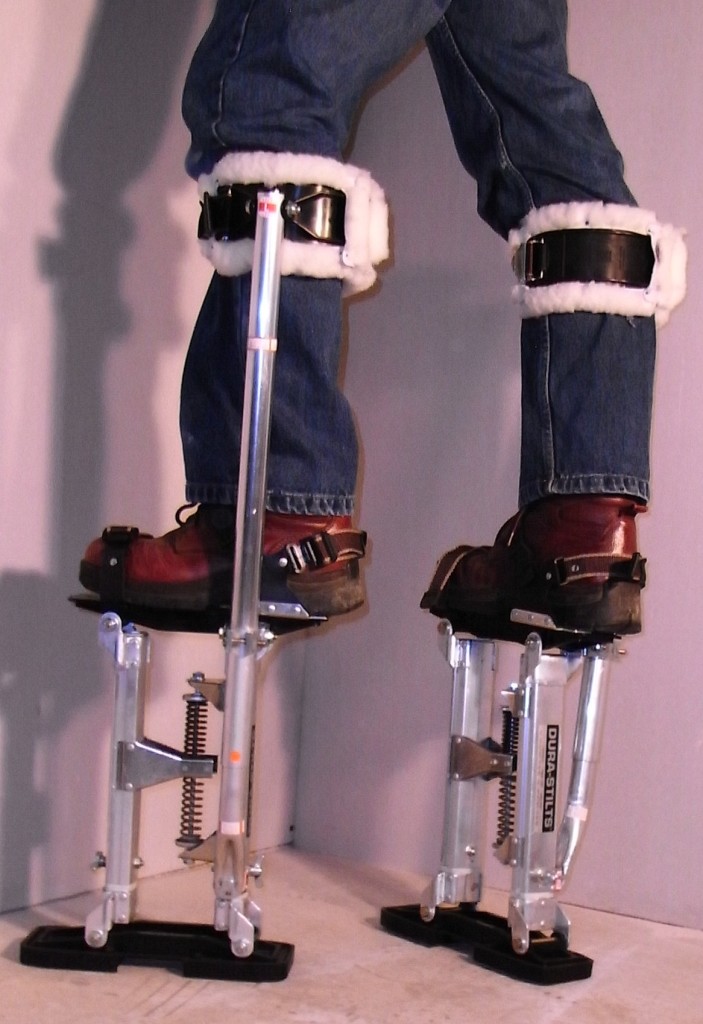 These methods also suffer from the common drawback of promoting 'over-reaching' – the almost overwhelming desire to finish the job quicker if you could only reach that last little bit just at the limit of your stretched arm…shortly before you go past the tipping point and discover just how fast the human body accelerates under the force of gravity. If you are unlucky the trowel and hawk will help break your fall.
Better than even these excellent points, however, is that the plasterer on DURA-STILTS will achieve higher productivity than operating from ground level and repeatedly climbing up and down all day. Not to mention less exhausted. So the net result is more safety + increased efficiency = a win/win situation.

To make matters even better, Carobyn Products (DURA-STILTS partner since 1980) now offers an in house training and fitting course to get users certified as competent, and thus able to offer site safety officers a certificate as and when required. All that is required after this is to maintain the DURA-STILTS according to the manufacturers instructions.
The Working at Height Regulations 2005 ushered in a new era of site regulation, designed primarily to reduce the number of fatalities and serious injuries. There is no limit to the definition of 'height' – the same precautions theoretically exist when working at 3cm or 30metres above ground level. However, the 'Regs' do not specifically ban products or working practices, nor do they recommend – what they require is that contractors have considered the risks and only chosen specific solutions with best practice in mind (and to have it documented).
What is clear from the legislation is that if an accident should befall anyone there is a decision process that can be examined to see where the mistake was made – incorrect choice of equipment for instance, lack of training, poor maintenance etc. etc.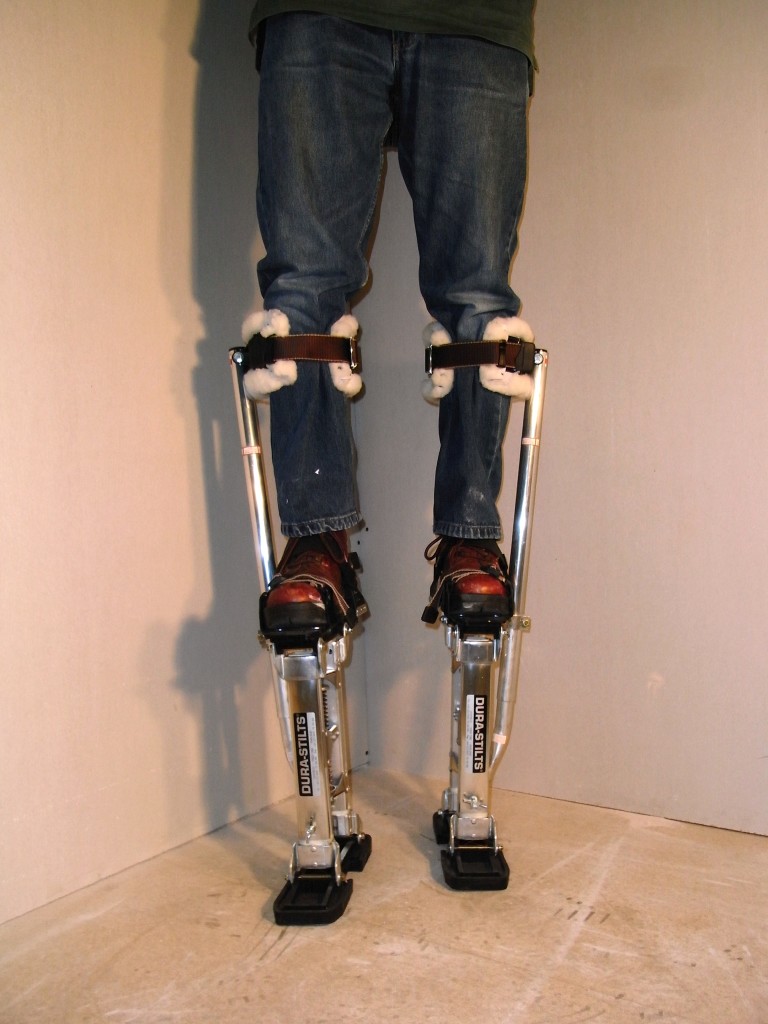 Therefore if you wish to use DURA-STILTS on site you'll have to declare why and prove it is the best choice within the limitations of getting the job done (but as it is also one of the safest options it's also easier). If anyone suggests using podium towers or similar ask for data proving their choice is safer than using DURA-STILTS – this is unlikely to be forthcoming.

FPDC member C & G Plastering of London have been DURA-STILTS users for more than twenty years, and now they log every contract to keep abreast of the situation. In 2013 they passed 15,000 accident free hours on DURA-STILTS – and that's just one firm. Using DURA-STILTS (with trained personnel) reduces dead time on site, and helps the workforce who keep their productivity – and thus their income – higher through better efficiency.
Domestic contractors also like the ease with which they can use DURA-STILTS, and they are another piece of specialist kit that helps build the image of a professional tradesman.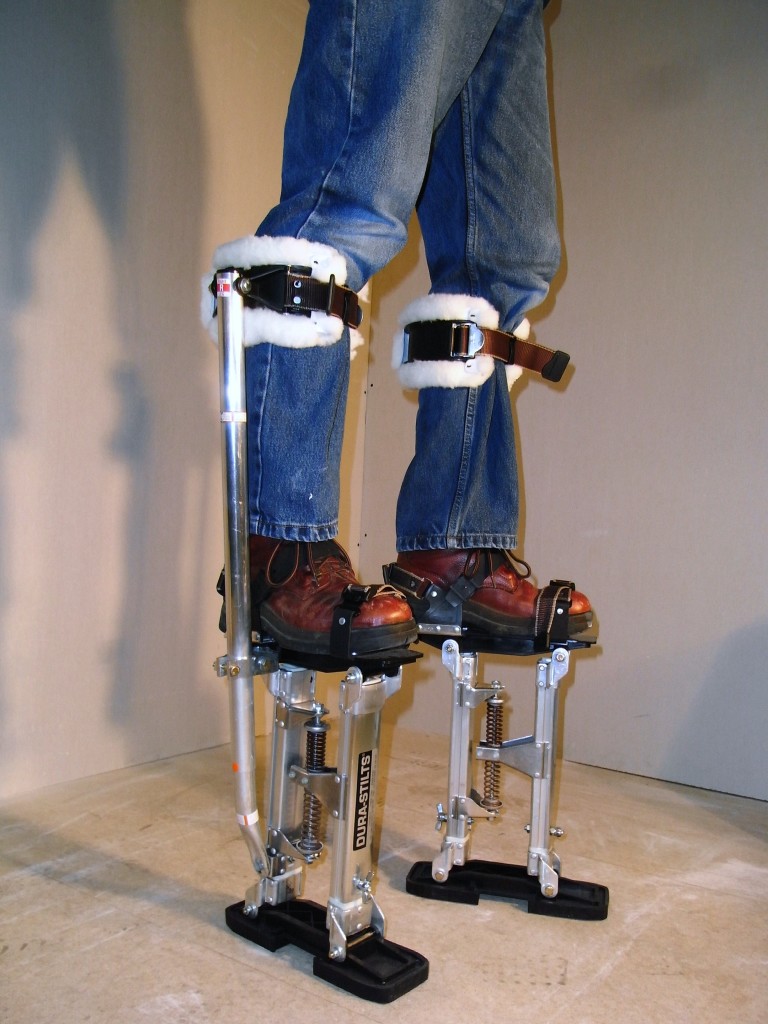 With a choice of three adjustable height models – from 35cm to 102cm – you can tackle ceilings from 2.3m to 3.0m+ depending on the user height and reach. This makes them suitable for most domestic work and many commercial jobs, too. The same benefits are applicable to each model at each height – safety and efficiency – allowing different users to combine on one job without affecting performance.
Carobyn Products has been importing DURA-STILTS since 1980. Our client list includes many leading names in the FPDC and many independent contractors who never work 'on site'. With more than 20,000 pairs sold in the UK our market knowledge is sound and customer feedback is overwhelmingly positive.
DURA-STILTS were developed by Raymond Emmert of Oklahoma, USA, a trained aircraft engineer who happened across the idea while helping out on construction sites. He made the first models in his garage, then expanded production as word spread first through his home state, then later throughout the USA and eventually across the World. Today Raymond continues to develop his stilts and refine the components to meet his customers' demands.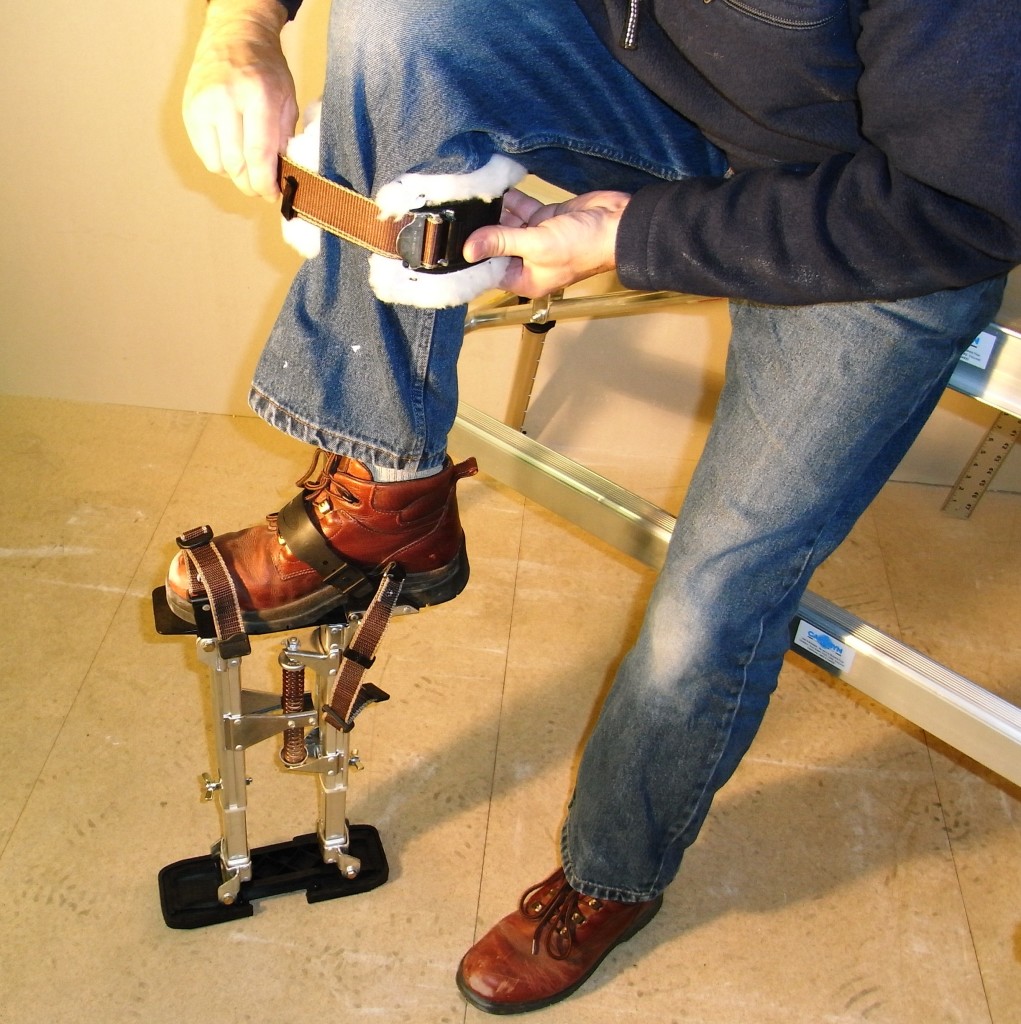 In addition DURA-STILTS are also eligible for CE marking under the Machinery Directive 2006, further enhancing the products' suitability for site use.
All DURA-STILTS are designed for minimal maintenance – there are no lubrication points, but to prolong their life we recommend regular cleaning and checking of all 'action' parts. These are mechanical devices and thus parts will move, wear, and need tightening – this cannot be done if they are caked in plaster (and trying to prove to a safety manager that they are in good repair).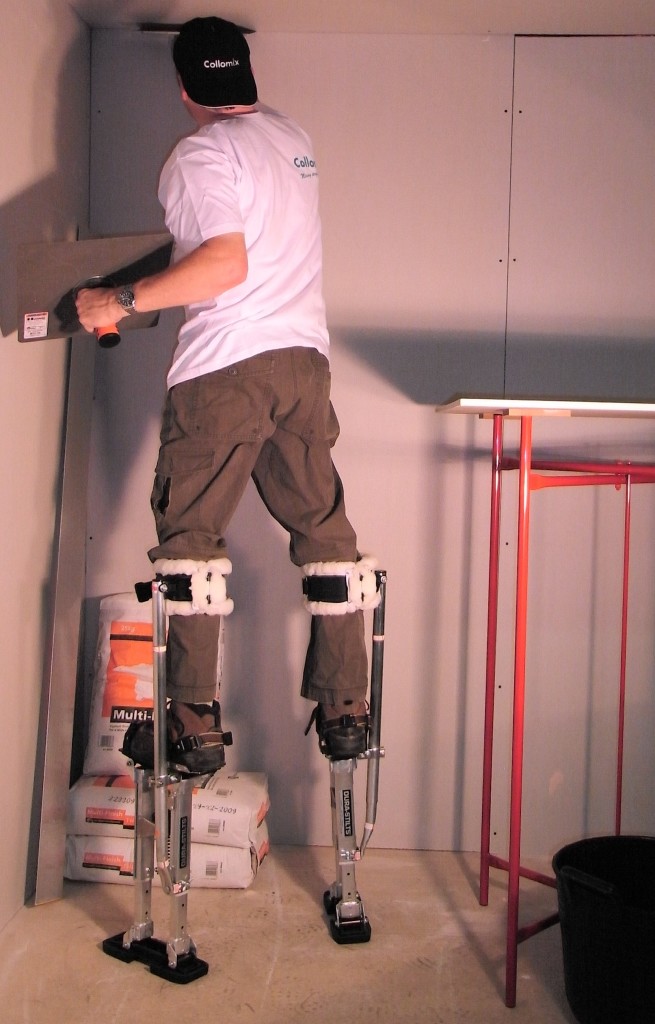 Lastly a word about alternative stilt designs – there is nothing we can make that cannot be copied by someone else, at less cost, and using inferior materials, and without proper knowledge of the geometry that makes DURA-STILTS comfortable. The attention to detail and availability of spare parts, training, and advice have to costed in somewhere, together with funding for product improvements. It's your livelihood you're protecting by investing in quality tools from established suppliers – why trust anything else?

Contact Richard Woolard at Carobyn Products 01825 769966