High performance technical mortars by Saint-Gobain Weber have been specified for the repair of concrete balconies with metal railings to apartment buildings in Northwood, Middlesex in the London borough of Hillingdon.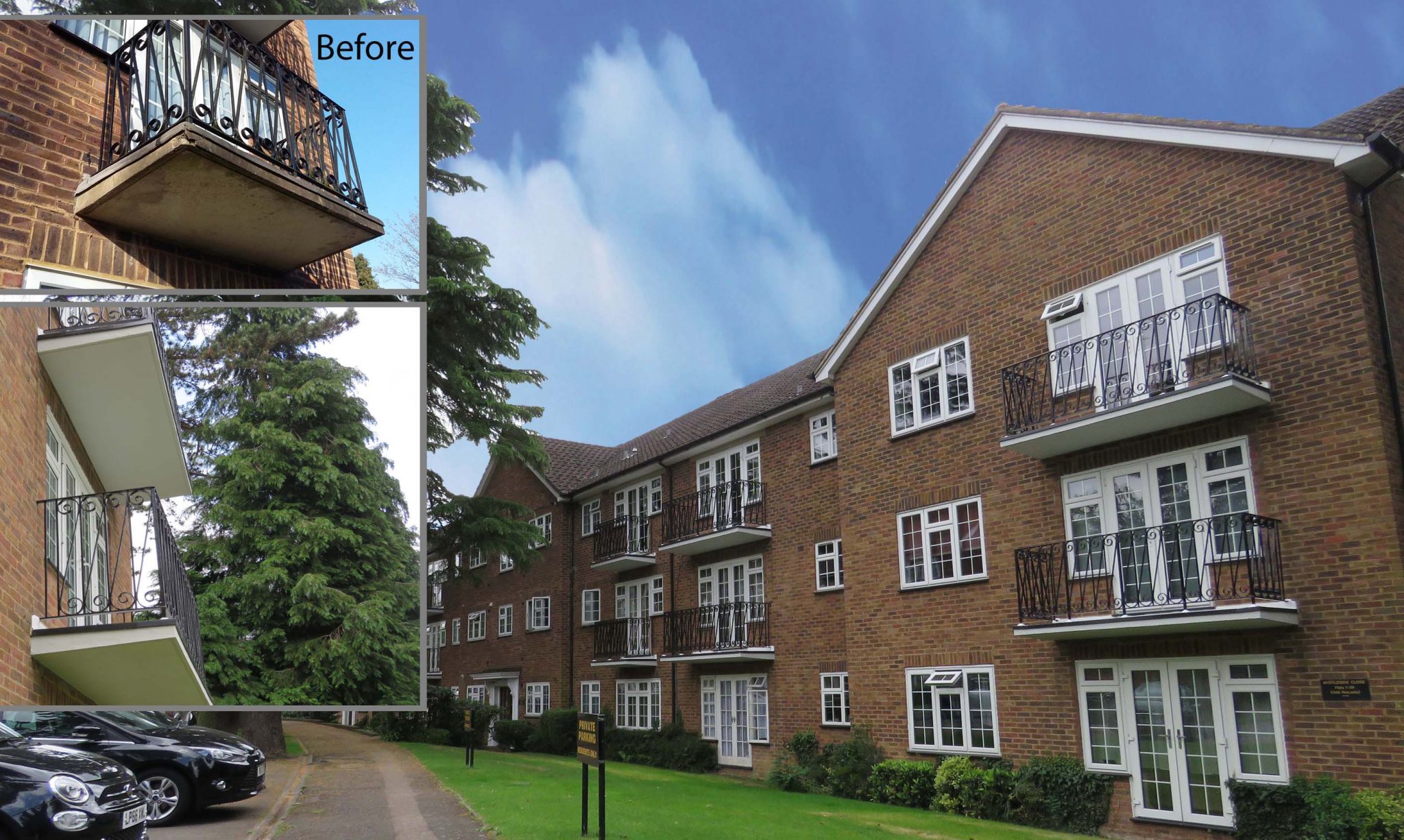 Metal railings to attractive balconies on the first and second storey apartments had rusted at the base over time and this in turn lead to spalling of the surrounding concrete. "This was both visually unattractive and a potential safety risk for the residents," says Karl Roberts, contracts manager of main contractor Alfred Bagnall & Sons Limited, facades coating specialists, who have branches throughout the UK.
With technical advice from Weber's specialist Barry Ephgrave, the team from Alfred Bagnall cut away the spalled concrete and repaired the metal barrier before reinstating the concrete. Saint-Gobain Weber's webercem concrete repair system was specified, a multi-component system compliant with BS EN 1504 for concrete patch repairs.
The system contains webercem HB40 for high-build repair and levelling, the associated bonding slurry webercem bondcoat and finally a high performance finishing coat of webercote smooth.
webercem bondcoat, a cementitious bonding aid, provides high initial grab to improve the build of the repair mortar and promote the bond to the concrete. It contains fibres for improved thixotropy, is solvent-free and simply requires mixing with clean water onsite.
"There were also areas where concrete had spalled due to corroded reinforcement," states Karl, "and again we treated and repaired these areas with lightweight, polymer modified, high-build webercem HB40structural repair mortar. The complete system has a proven track record demonstrating its quality and performance and allows speedier completion of work. We use it regularly on projects similar to this."
Once repaired the balconies were coated with webercote smooth which provides excellent anti-carbonation protection. It has a minimum 15 years life expectancy and is protective, durable and decorative. webercote smooth can be applied by brush, roller and spray and is resistant to chloride ingress.
"With a life expectancy in excess of 15 years residents can be sure these buildings will continue to look as neat and tidy as they do now, not to mention safe and secure," comments Karl. "It was in Northwood in the 1970s that comedy series the Good Life was filmed so we are confident the Leadbetter's would approve of this smart remedial programme of work which we hope has exceeded everyone's expectations."
For more information about this project, or for technical support including award winning training courses, please contact Saint-Gobain Weber on 08703 330 070, or visit www.netweber.co.uk.
A free download of the Weber App for iPhone and iPad users is also available from iTunes and from Google Play for Android smartphones and tablet users. Follow Saint-Gobain Weber on Twitter @SGWeberUK for the latest company news and updates.