weber.rend OCR one-coat base render by Saint-Gobain Weber has been specified in the extensive refurbishment of the Westbury Care Home in Westbury on Trym, Bristol.  The impressive building is set in its own grounds with landscaped gardens and although situated within the city boundary it is a quiet residential area with wonderful views.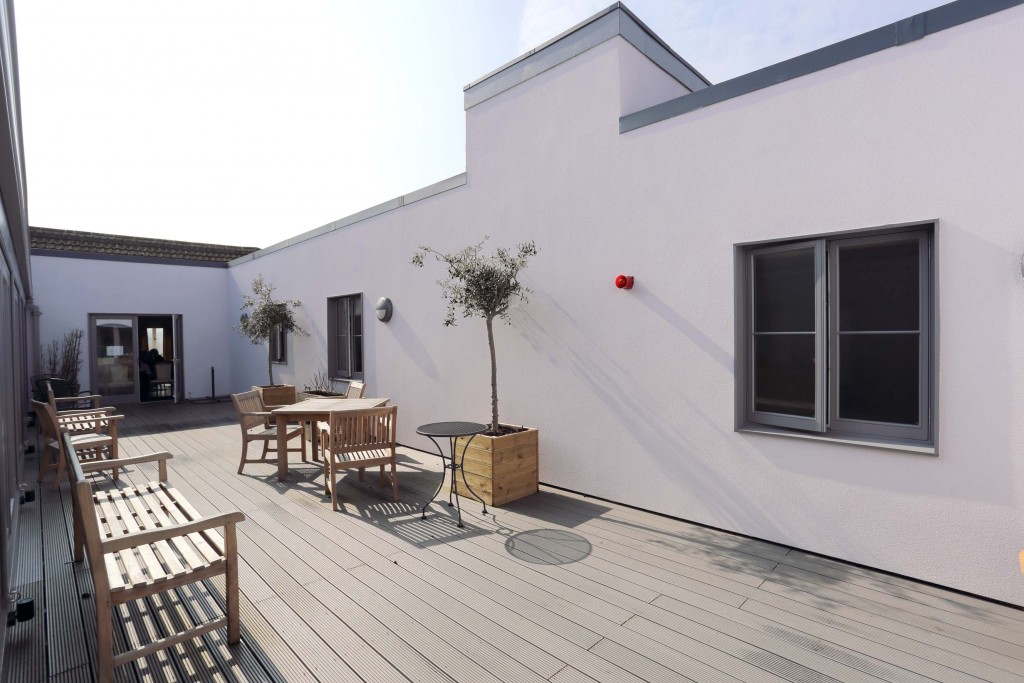 A major part of the project included the addition of a mezzanine floor which combined both lounge and dining facilities for those residents who prefer to remain on one level due to mobility difficulties. The 60 year old property was of traditional brick construction and some brickwork has been left exposed to provide interesting detail.
Architectural practice Jonathan Lees Architects LLP, Bristol, was responsible for the detailed external design and completion of the common spaces including the roof terrace, staircase and grand central foyer.  The specification of a smart, fresh render finish satisfied the exterior remedial treatment, the application of which was contracted to W H S Exterior Render Limited, Kingswood, Bristol.
The 1000m² application involved the cleaning and preparation of the brickwork fascia using weber.rend aid, a polymer modified preparatory key coat.  The powder blend includes an integral bonding agent which requires only the addition of clean water on site.  weber.rend aid provides excellent suction control across both high and low suction substrates.  It is resistant to water penetration and improves the weather resistance of the specified weber.rend OCR.
weber.rend OCR is a pre-mixed, dry powder base-coat render formulated with Portland cement, lime and sand to comply with British Standard mix designations.  The addition of ECO Smart™ cement replacement technology promotes a more sustainable future by reducing the product's environmental impact.
Applicator Bradley Weaving of WHS says: "Application of one-coat weber.rend OCR was specified for its ease and speed of application.  It can save us considerable time onsite compared with using site mix; at the very least three days and at best, depending on weather conditions and accuracy of the wall alignments, a possible saving of 18 days can be made which makes a considerable contribution to site efficiencies and earlier access by other trades.  We can also pump applyweber.rend OCR, which was the method we used here, whereas traditional renders can only be applied by hand.
"Around 50% of our work involves use of weber.rend OCR. It really is an exceptional product, of consistently good quality, and very user friendly."
weber.rend OCR can achieve a thickness of 16-25mm to most suitably prepared substrates, including brick, block and concrete, and can be sponge-finished after 4-6 hours.  Curing takes place over 2-3 days before the application of a decorative textured finish or traditional masonry paint.  In comparison, a traditional sand and cement render requires two or three coats of render, each requiring a curing time of 3-7 days, before the final decorative finish can be applied.weber.rend OCR is supplied as a pre-blended dry powder requiring the addition of water.  It offers excellent weather resistance and durability whilst allowing the structure to breath.
"Technical advice offered by Weber was paramount in the choice for using the system compared to other similar brands on the market," said Jonathan Lees.  "The system had to respond to unique site conditions and substrate materials whilst ensuring a clean and level finish on site with difficult and compromised access.
"The skill of the applicator and knowledge of the system and its benefits are essential," he continues, "and helped to achieve a high quality finish with minimal preparation on what was a decrepit building.  The ability to build and level the system over a series of layers means that a crisp aesthetic could be achieved with traditional detailing to complement joinery and masonry detailing in equal measure."
"In order to avoid this building looking like a commercial box the architect introduced specific design details such as bull nose edging to window surrounds and curved reveals.  This became quite a technical application which was made possible with the specification of weber.rend OCR," continues Bradley Weaving.
A final decorative and textured synthetic finish of weber.plast TF in Iced Violet has been applied to the base render at the Westbury Care Home providing a reliable and durable finish.  It is available in a wide choice of attractive colours and a free sample service is available.
These materials are manufactured in Saint-Gobain Weber's purpose-built facilities in Shropshire, Bedfordshire and Northern Ireland.  Controlled production achieves consistently high quality products with the added benefit of sustainable, local production and reduced transportation costs.
For more information about this project, or for technical support, please contact Saint-Gobain Weber on 08703 330 070, or visit www.netweber.co.uk.  Customers in Ireland should call 028 9335 2999 or visit www.weber.ie.
A free download of the new weber.app for iPhone and iPad users is also available from iTunes and from Google Play for Android smartphones and tablet users.  Follow Saint-Gobain Weber on Twitter @SGWeberUK for the latest company news and updates.