Saint-Gobain Weber's weber.pral M monocouche render has been specified for a substantial new build private home in Radstock, Bath.  This remarkable property features many traditional design details including locally sourced stone for plinth courses, quoins, cills and copings.  Together with the clean crisp lines created by weber.pral M render an attractive aesthetic has been created for this exceptional home.  A glass tower allows generous views of the beautiful rural landscape and gardens.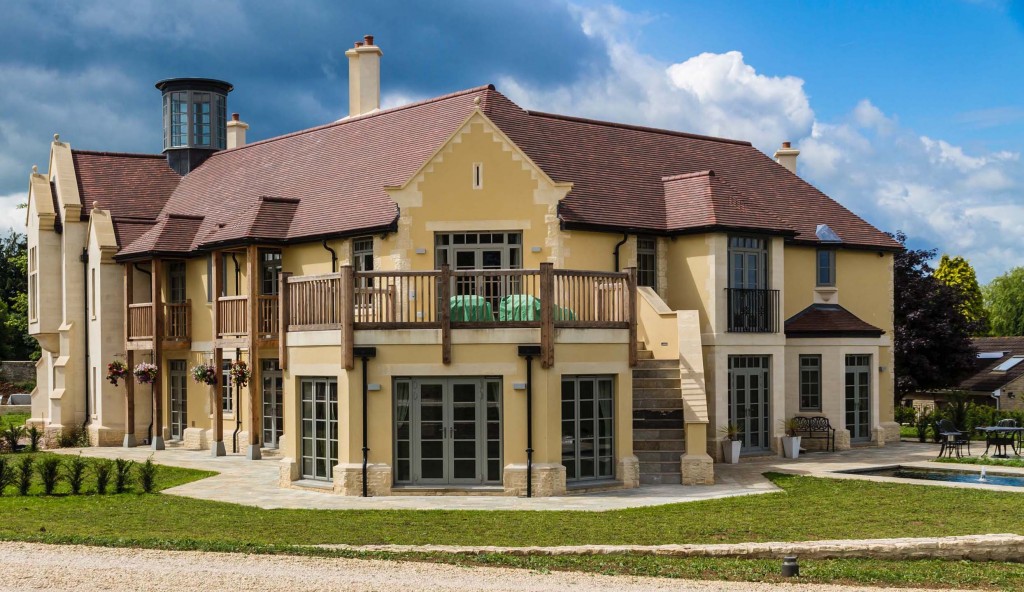 The property was originally constructed in the 1980's.  The current homeowners considered a number of improvements and extensions but local planners advised a complete rebuild.  The structure was demolished and the entire 12 acre site redeveloped to include the (manor) house, a sports complex and extensive landscaped gardens.  Smart technology has been incorporated throughout.  The project was managed by Eclipse South West Services Limited, Bristol.
"This substantial project has been interesting from the very beginning," says developer Paul Russ, Eclipse SW Services, "and while the owners wanted to make major alterations the planners would only agree to this beautiful arts and crafts property, designed by architects Mitchell Taylor Workshop, at this location.
"I have used high quality materials throughout including extensive use of local stone for detail.  The wall construction is block, for thermal efficiency, which is the perfect substrate for Weber's monocouche render.  All the hard work has paid off and resulted with this project winning the Local Authority Building Control (LABC) The Bricks 2014 building excellence award for the Best Single Unit Development of the Year."
weber.pral M, a one coat, through-coloured, external decorative render, is quick and easy to apply by hand or by spray application to assist with challenging build schedules.  It is hardwearing and low maintenance and, being weather resistant, performs well in areas of harsh exposure.  A ready mixed, cementitious render it requires only the addition of clean water on site. It can be used on most suitably prepared brick and blockwork and offers a variety of ways to achieve distinct, architectural features including ashlar detail.
The render application was carried out by North Bristol Plastering, Bristol, a specialist finishing and rendering contractor.  "We reviewed several render finishes at the design stage and the client agreed that weber.pral Mmonocouche render in Buff would provide the best enhancement for the wall structure and would complement the other decorative materials used in this project," says Steve Lovell, North Bristol Plastering.
"We completed 75% of the application in one go and have returned to finish other smaller areas as the build progressed.  The decoration on the structure is very detailed and we applied the Weber render by hand for control and accuracy, although we often use spray application.  We take great pride in our work and we are particularly pleased with this project.  The Weber render has worked particularly well."
Saint-Gobain Weber is the first manufacturer of monocouche renders to be awarded an A+ rating as defined in the BRE Global 2008 Green Guide to Specification.  This audited material helps specifiers to make selections that will collectively reduce the environmental impact of their buildings while achieving a higher number of BREEAM material specification credits.
Weber products are manufactured from carefully selected raw materials at purpose-built facilities in Bedfordshire, Shropshire and Ireland where quality and consistency is achieved.
For more information about this project, or for technical support, please contact Saint-Gobain Weber on 08703 330 070, or visit www.netweber.co.uk.  Customers in Ireland should call 028 9335 2999 or visit www.weber.ie.
A free download of the new weber.app for iPhone and iPad users is also available from iTunes and from Google Play for Android smartphones and tablet users.  Follow Saint-Gobain Weber on Twitter @SGWeberUK for the latest company news.