The market leading, high performance weberpral M monocouche render by Saint-Gobain Weber has been architecturally specified in the extension programme of a popular restaurant in the tourist area of the western Southern Uplands of Scotland.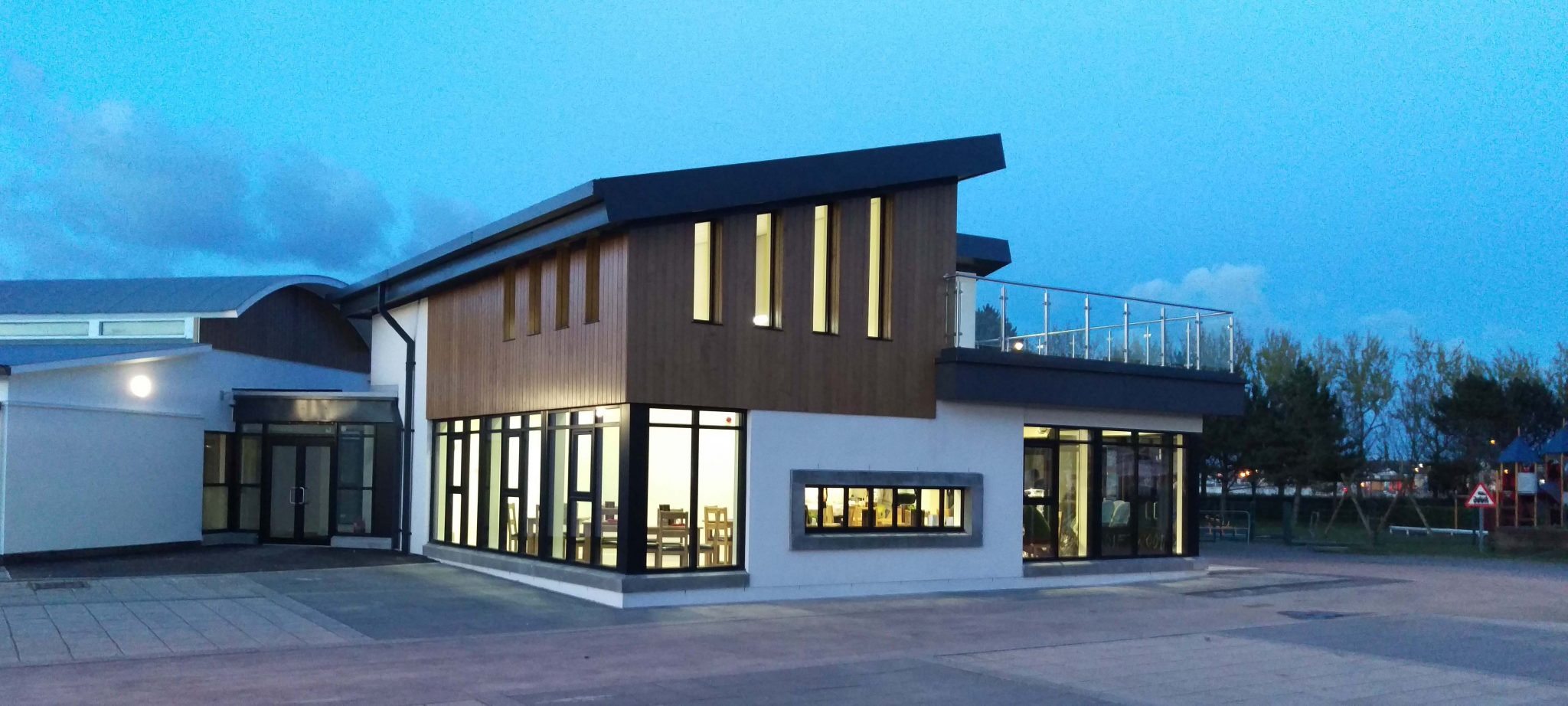 Standing on the shores of the gleaming Loch Ryan, the Driftwood Restaurant is a popular venue for tourists exploring the beautiful area of Dumfries and Galloway. Nestling by the water's edge, just minutes from the Stranraer ferry terminal that connects Scotland with Northern Ireland, the Driftwood has recently been extended and refurbished to meet the expanding "staycation" business that is boosting Scottish tourism.
Dumfries and Galloway Council are the property landlords of Driftwood who carried out a business assessment that established the need to expand the property to meet the required capacity and the commercial viability of the restaurant in servicing the local and visiting community. The design and build project was handled by DG First, the Council's in-house construction and maintenance division, and plans were drawn up by Alan Hewitt of the Property and Architectural Services department. The design almost doubled the size of the structure using timber frame with a blockwork skin which has been finished with weberpral M monocouche render.
Factory produced to ensure product consistency weberpral M is a cementitious, through-coloured render suitable for one-coat application to appropriate brick or block work substrates. Produced from carefully selected raw materials, weberpral M monocouche render is formulated for pump application which allows quick and efficient installation. This contributes significantly to shorter programme periods, reducing associated scaffolding and site costs and permitting the completion of ground works at an earlier state. It is supplied ready-mixed with only the requirement of clean water to be added on site and is applied in a two pass operation to a thickness of 20-28mm; it is then scraped when green giving a minimum render thickness of 15-25mm.
Weber recommended applicator J & J Runcie Plasterers Limited, Stranraer, carried out the render to the new structure. "The architect specified weberpral M from the experience gained on many housing refurbishment and new build projects in the region. As an applicator, we always choose Weber products for their quality and ease of application," reports James Runcie. "The Chalk colour selected really sets the Driftwood Restaurant off to its best in this parkland setting. We machine applied the render as weberpral M is perfectly formulated for this fast and accurate application method. We are very pleased with the finished result."
Recent changes to the formulation of weberpral M have been designed to be fit for combat in the war against unsightly algae. Saint-Gobain Weber has worked closely with French microbiologists to understand the effect of the composition of the render and the effect that external factors have to play, such as surface condensation, temperature and rain fall. By changing the product formula as classified in EN998-1 weberpral M effectively repels water from the surface helping to ensure that Britain's homes and buildings remain looking better for longer.
Saint-Gobain Weber is the first manufacturer of monocouche renders to be awarded an A+ rating as defined in the BRE Global 2008 Green Guide to Specification. This audited material helps specifiers to make selections that will collectively reduce the environmental impact of their buildings while achieving a higher number of BREEAM material specification credits. weberpral M has excellent weather resistance and durability whilst allowing the structure to breathe. Its through-coloured characteristic requires no decoration, is truly low maintenance and offers a variety of ways to achieve architectural features. It is available in a palette of 24 attractive colours.
For more information, or for technical support, please contact Saint-Gobain Weber on 08703 330 070, or visit www.netweber.co.uk
Customers in Ireland should call 028 9335 2999 or visit www.weber.ie
A free download of the new weber.app for iPhone and iPad users is also available from iTunes and from Google Play for Android smartphones and tablet users. Follow Saint-Gobain Weber on Twitter @SGWeberUK for the latest company news and updates.