The latest Government figures*, suggest there are over 22,000 fires in UK non-domestic buildings every year. The Heating and Ventilating Contractors' Association (HVCA) estimates that a quarter of these can be attributed to cooking and extraction appliances. To confront this, and protect UK buildings when a fire does break out, leading insulation manufacturer, Saint-Gobain Isover, has launched an innovative new product, U Protect Black Alu.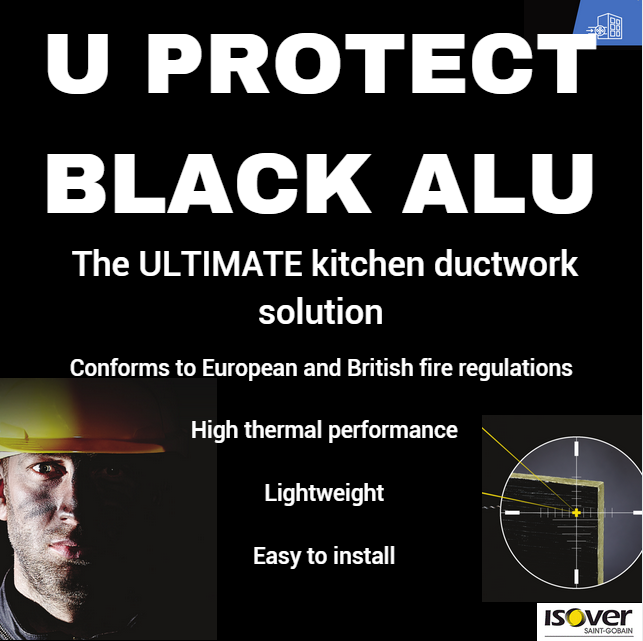 Designed to significantly slow the spread of fires in kitchen ductwork, the solution is the only insulation of its kind that meets both British(BS9999/BS476:Part24) and European (EN1366-1) safety standards, giving up to two hours of fire resistance.
As U Protect Black Alu uses Isover's unique ULTIMATE TM technology, the product is much lighter and thinner than stone wool alternatives dependant on application, making it easier to install, while offering an unparalleled level of fire protection for end users.
Michael Hunter, technical manager at Saint-Gobain Isover explained: "Under the Regulatory Reform (Fire Safety) Order and the Scottish Fire Safety Regulations, building owners in the UK have a legal responsibility to reduce the risk of fire in their premises.
"U Protect Black Alu offers end users unrivalled fire resistance for kitchen extract ductwork and can be used in a wide range of buildings, from schools and universities, to restaurants and hospitals – anywhere where passive fire protection measures are needed.
"Our product's distinctive black facing means that contractors and building owners can be reassured at a glance that buildings and necessary ductwork are suitably insulated. According to our latest market research, U Protect Black Alu is also more aesthetically pleasing than traditional silver insulation. Black is definitely the new black."
For more information about U Protect Black Alu, visit www.blackopsmission.co.uk or www.isover.co.uk/