Inspirational properties in 'The Collection at Fortescue Fields', a new mixed development in the quaint and historic village of Norton St Philip feature weber.pral M monocouche render by Saint-Gobain Weber.  The award winning development by Bloor Homes, in conjunction with land acquisition and property development experts Lochailort Limited, London, was designed by Professor Robert Adam of Adam Architecture, London.  Robert Adam is a major figure in the development of traditional and classic architecture.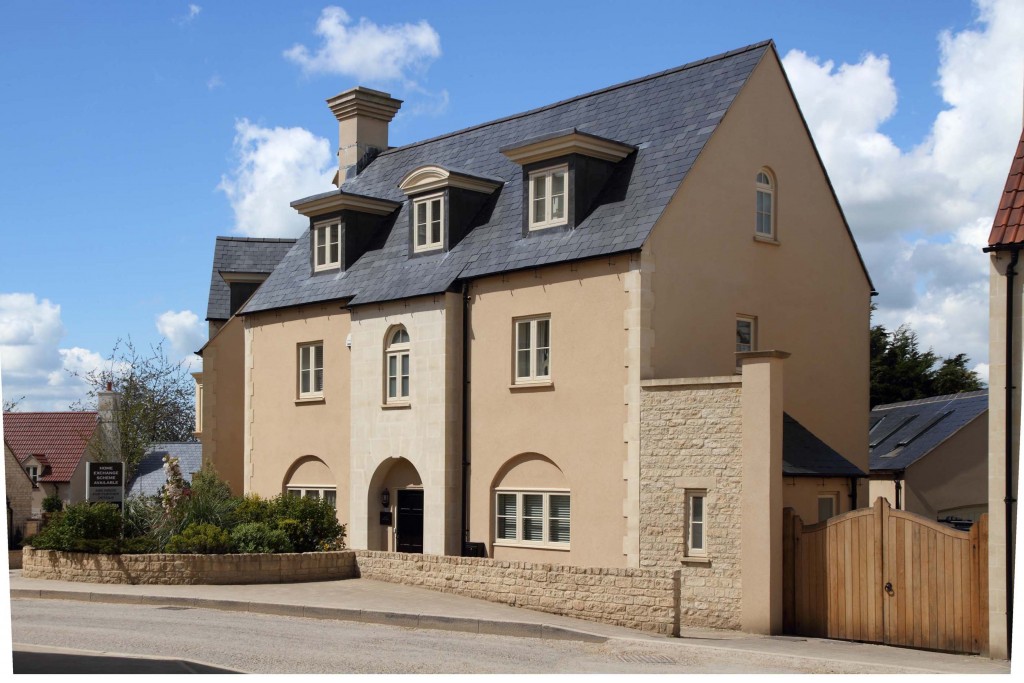 The development features a stunning collection of 38 individually styled homes designed to blend sympathetically with the local vernacular and has adopted a wonderful combination of styles and detailing.  The attractive Georgian-inspired architecture makes rich use of rendered façades, sometimes enhanced with Bath stone, rubble stone or stone quoins.  Cast iron dressings, feature surrounds, canopies and porches lend complete individuality to these homes.  In addition to residential properties the development has a shop, doctors' surgery and commercial office space.
"We keep an eye on the future, combining traditional building materials and using modern methods to reduce maintenance," says Michele Rose, sales director, Bloor Homes South West.  "We are very proud of 'The Collection at Fortescue Fields' which offers superior homes for today's way of living."
Render application is being carried out by family-run business Burnham Plastering & Dry Lining Limited, Weston-Super-Mare.   "This is a challenging project as every property is different and there are some beautiful traditional details to incorporate," says Anthony Searle, contracts manager.  "We have a lot of experience working with Weber monocouche render which is easy to use, reliable and of consistent quality.  weber.pral M is ideal for spray application which has helped us to gain time on the more straight forward areas of some of the designs." weber.pral M is being used throughout Fortescue Fields in Ocre Rose, selected from a palette of 24 colours.
"Bloor Homes South West only specify Weber renders for their developments in this region which is fine with us and we know every job will turn out as good as the last one."
Saint-Gobain Weber is the first manufacturer of monocouche renders to be awarded an A+ rating as defined in the BRE Global 2008 Green Guide to Specification.  This audited material helps specifiers to make selections that will collectively reduce the environmental impact of their buildings while achieving a higher number of BREEAM material specification credits.
weber.pral M, a one coat, through-coloured, external decorative render, is quick and easy to apply by hand or by spray application to assist with challenging build schedules.  It is hardwearing and low maintenance and, being highly weather resistant, performs well in areas of harsh exposure.  A ready mixed, cementitious render it requires only the addition of clean water on site and is formulated for efficient spray application.  It can be used on most suitably prepared brick and blockwork and offers a variety of ways to achieve distinct, architectural features including ashlar detail which has been incorporated in some of the render finish at Fortescue Fields.
weber.pral M is manufactured from carefully selected raw materials at purpose-built facilities in Bedfordshire, Shropshire and Ireland where quality and consistency is achieved.
For more information about this project, or for technical support, please contactSaint-Gobain Weber on 08703 330 070, or visit www.netweber.co.uk.  Customers in Ireland should call 028 9335 2999 or visit www.weber.ie.
A free download of the new weber.app for iPhone and iPad users is also available from iTunes and from Google Play for Android smartphones and tablet users.  Follow Saint-Gobain Weber on Twitter @SGWeberUK for the latest company news.