House render 'GoRend HBS' now comes in sustainable and weatherproof plastic packaging. The extremely strong material is easily recycled, makes it easy to store and stack the bagged render, and is better for the environment.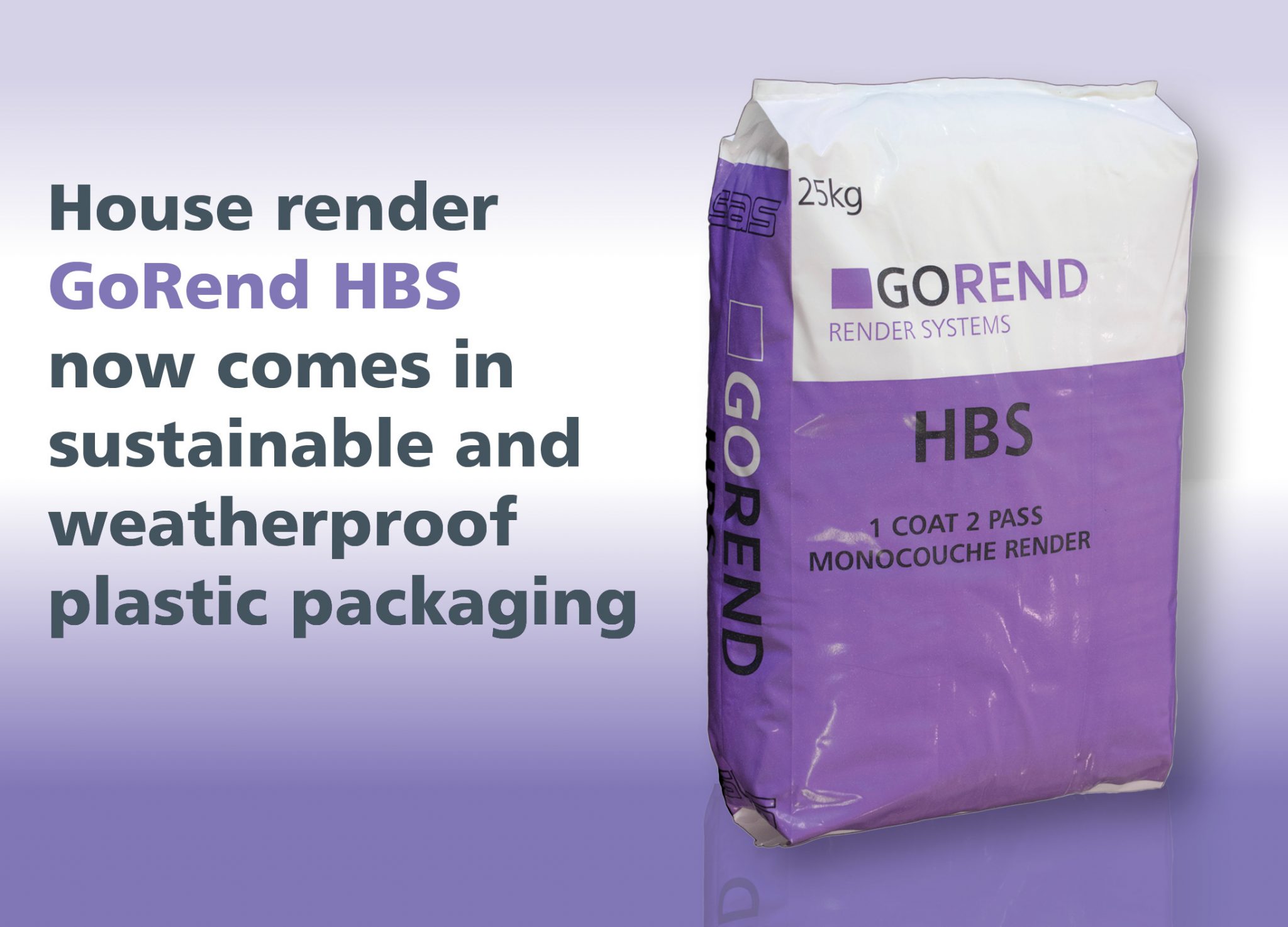 The recently reformulated GoRend HBS is a one coat render that, due to quick application and a low maintenance finish, is suited to large scale new-housing developments as well as smaller works. The new packaging has benefits onsite as the 25Kg bags of the dry, pre-mixed render can be stored safely outside, will not take on moisture and can be stacked and moved without fear of bursting.
With amazing workability and a great feel the new formula GoRend HBS was released earlier this year and has been impressing applicators. Gerry Gould, Technical Consultant for the manufacturer, said "It mixes to a reliably good texture and has excellent workability, so flat, sharp surfaces can be achieved quickly. We worked closely with formula technicians, describing what we wanted to improve the product for the applicator. The new formula GoRend is fantastic to work with, I think anyone who tries it will be immediately impressed."
UK manufacturers of GoRend chose PolyPack as the new packing system for the render, with an independent analysis of the product by BASF concluding that the new bags are 'up to 39% more environmentally friendly than paper bag solutions across the entire life-cycle' and 'are the most environmentally compatible solution for packaging powdery goods'.
GoRend HBS is available at the same competitive price and available in 12 colours. Delivered from the SAS Europe UK warehouses, stock colours can be on site the next day.
SAS Europe are manufacturers of render systems, including the ProRend range of renders, external insulation, basecoats and paints, ProWall rendered rainscreen, ProBead trims and ProMesh fibreglass reinforcement. SAS Europe provide complete systems for complex structures, all render and accessories for large developments, or just the products you need. This UK manufacturer offers fast delivery on stock items, and accurate timing information for custom products allowing projects to run to schedule.