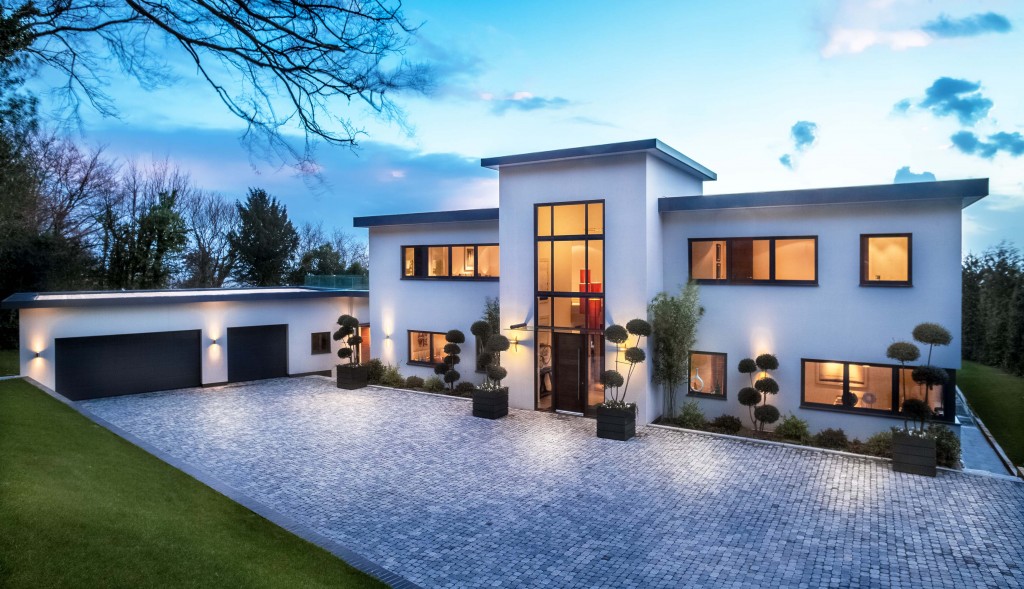 A stunning contemporary style new-build home in Surrey has been finished with high performance monocouche render by leading construction materials manufacturer Saint-Gobain Weber. The £3.5m+ country home was designed and built by award-winning Millgate Homes, Berkshire, and sits alongside two six-bedroom country homes and six luxury apartments to form a boutique residential development on a nine-acre site just outside Oxted.
This prestigious and historical site is a milestone project for Millgate as it is the first time they have deviated from their classic and traditional design style. The property is of open plan design with clean, crisp lines in keeping with today's minimalist architectural style.
This first ever mixed vernacular project has been led by Millgate's chief in-house architect Greg Meier who appointed Markham Drylining Limited, Leatherhead, Surrey, to carry out the external render application which has played such an important role in the overall aesthetics of the building. The brief to create a sleek, modern exterior for this cutting edge home was achieved with the use of weber.pral M monocouche render in Pearl Grey.
Markham Drylining worked closely with Millgate's technical team in preparing sample panels of different materials and finishes from which Millgate selected the BBA (British Board of Agrément) approved weber.pral M. This high specification render offers the multiple benefits of through-colour One-Coat Technology which is recognised for its ease and speed of application. By reducing the drying time associated with a traditional multi-coat system by as much as 50%, significant on-site cost savings can be made which contributes to project efficiencies and earlier completion.
Rob Hall, director of Markham Drylining, says: "We always try to work with weber.pral M as it helps us to deliver our clients' aspirations. It is of a consistently high quality which makes application easier and reduces waste while One-Coat Technology speeds the whole application process. This render can be hand or spray applied but we chose hand application on this project."
Rob continues that he will always try to alter a specification in favour of this render for the quality of its durable, decorative and weather resistant finish and for the valuable technical support provided by Weber.
Saint-Gobain Weber is the first manufacturer of monocouche render to be awarded an A+ rating as defined in the BRE Global 2008 Green Guide to Specification. This audited material helps specifiers to make selections that will collectively reduce the environmental impact of their buildings while achieving more materials credit.
Greg Meier adds: "Making a simple design look interesting has been part of the challenge. My favourite feature is the clean, crisp lines of the building created by the contrast in colour between the light render and dark grey windows and deep overhanging soffit and fascias."
The development is located within a designated area of Outstanding Natural Beauty on the Kent-Surrey border. The beauty of the area contrasts dramatically with the bold lines and contemporary design of this new building which was Highly Commended in the London Evening Standard's New Homes 2014 Award in the Best Out-of-London home category.
For more information about this project, or for technical support, please contact Saint-Gobain Weber on 08703 330 070, or visit www.netweber.co.uk. Customers in Ireland should call 028 9335 2999 or visit www.weber.ie. A free download of the new weber.app for iPhone and iPad users is also available from iTunes and from Google Play for Android smartphones and tablet users. Follow Saint-Gobain Weber on Twitter @SGWeberUK for the latest company news and updates.