Keeping your plastering trowels in tip-top shape is imperative for any plasterer worth their salt. I have seen grown men cry when their trowel has got damaged and with the introduction of SuperFlex and plastic trowels then this is even more significant than ever before…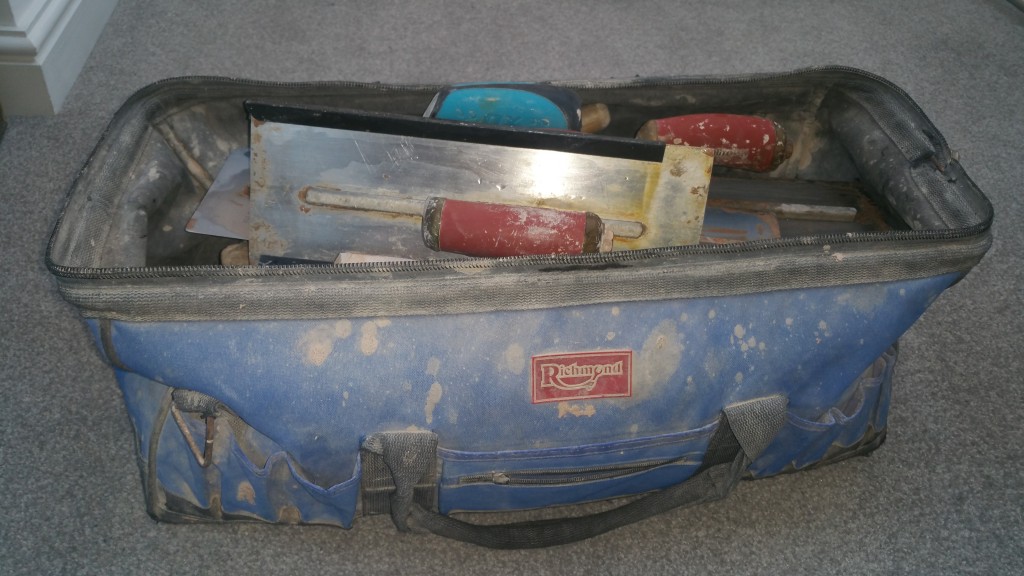 The point of trowel storage is to keep your trowels straight and try and alleviate any chance of the blades getting damaged in the way of dings or bends.
I use a trowel bag to store my trowels and with plastic paper binders down the blades to help protect them even further. The trowel bag is durable tool bag that cost about £15 about fifteen years ago, and it has done its job, but it still is not 100% safe.
The other tool storage option is using a trusted old builders bucket. To be more precise a black builders bucket. The bucket that typically gets promoted to this fine task is a bucket that leaks…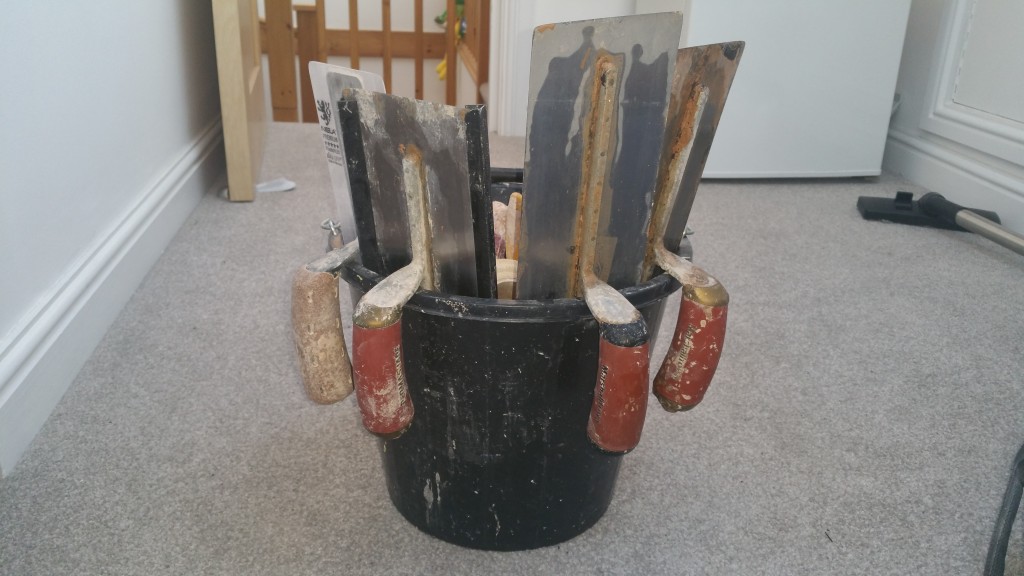 I have also used the tall "plasterers" buckets in the past but not very often as I like to hook my trowel handle over the edge of the bucket and then the bottom of the bucket is kinder wasted space but whatever you get the idea.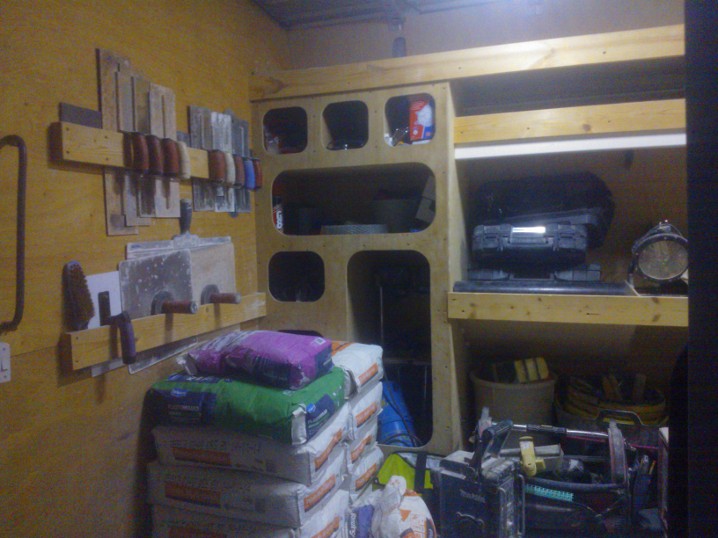 Storing trowels in the van is a different story and to be honest, it can be risky… If you are storing your trowels in your van the, you will most likely have some racking like this in your van… which does what it should do and has been done like this since the turn of time but when you need the said trowels you will still need to get them from the van to the job.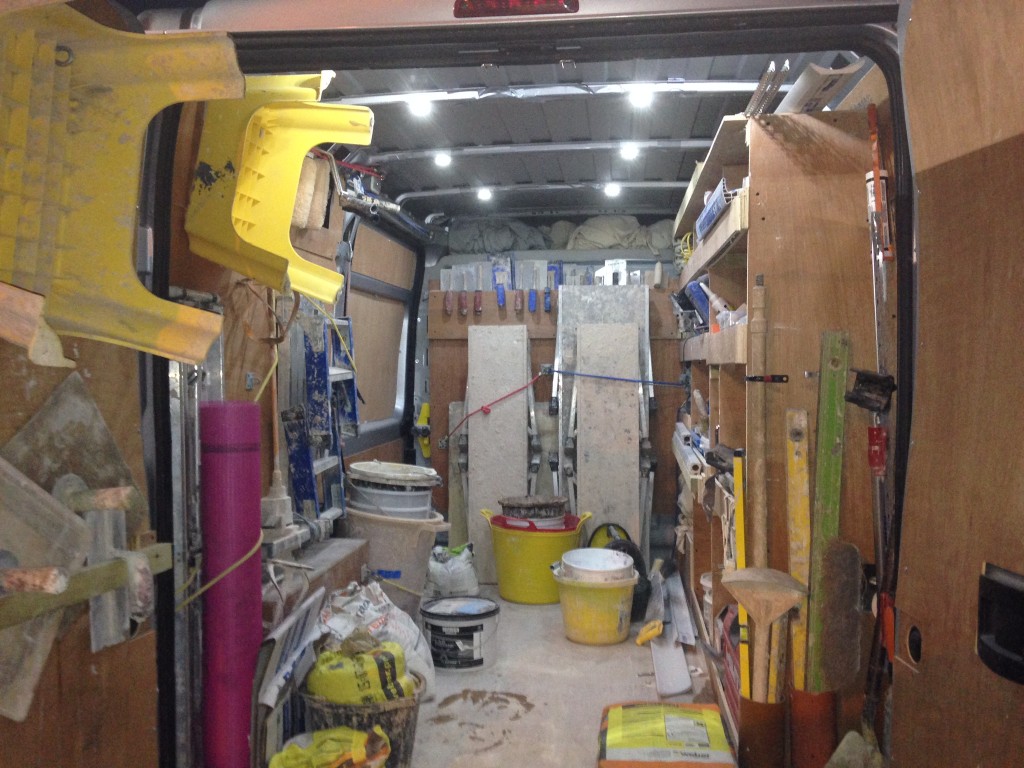 I was up at Gold Trowel North for some Venetian Plaster training and Rob Jack, who is well known on TPF bought out his trowels in a very sexy looking case, and I just had to take a photo this is how he stores the trowels.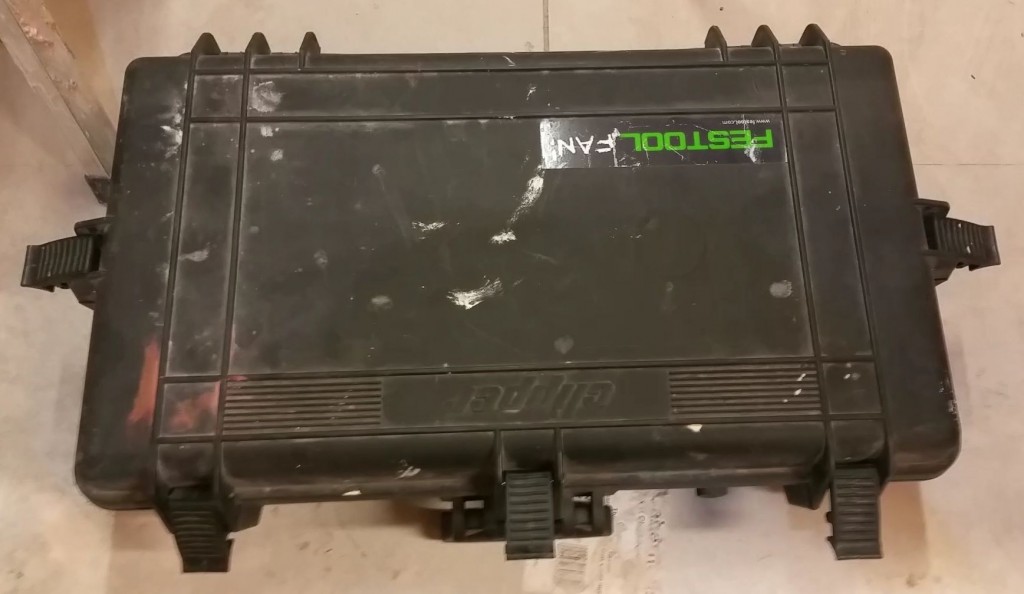 It's a tough case with handles and all the trowels fit in nicely that he needs for Venetian plastering.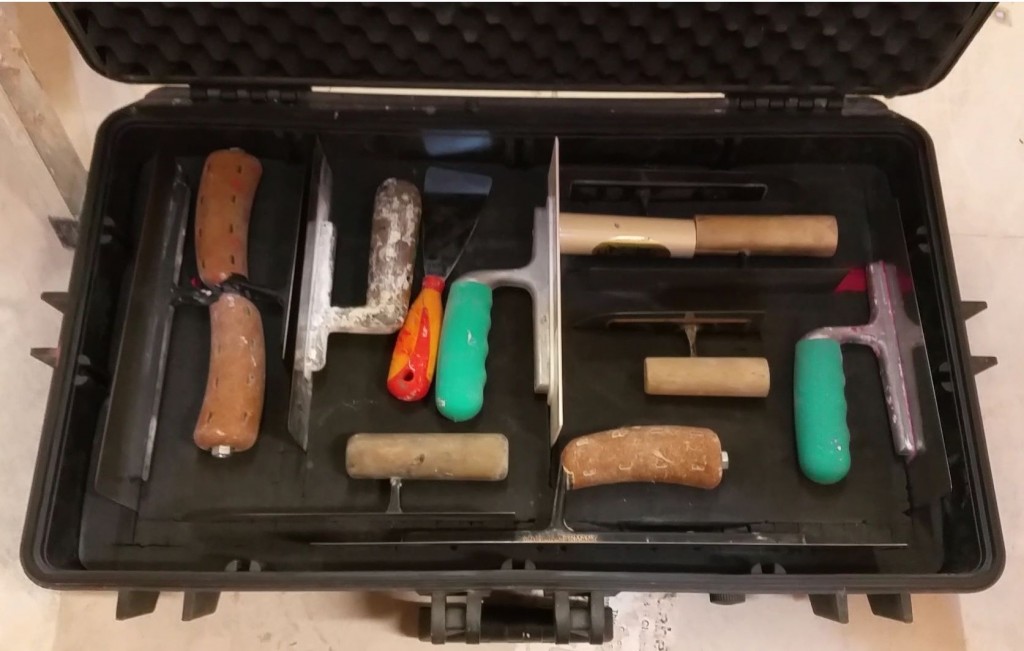 Let's move on from these cases, and let us look at a new case brought to us from Plasterers 1 Stop Shop.
The PUTZ Trowel case will hold five Plastering trowels up-to 18″ in length and in the image, the cases are holding 2 x NeLa SuperFLEX MKII 18″ Trowels, 1 x NeLa MediFLEX 18″ Trowel, 1 x NeLa Midget SuperFLEX and also a NeLa Premium 16″. Although these trowel cases show NeLa trowels they can carry a range of trowels including, Marshalltown, Ox, NeLa, Refina, Tyzack and many more.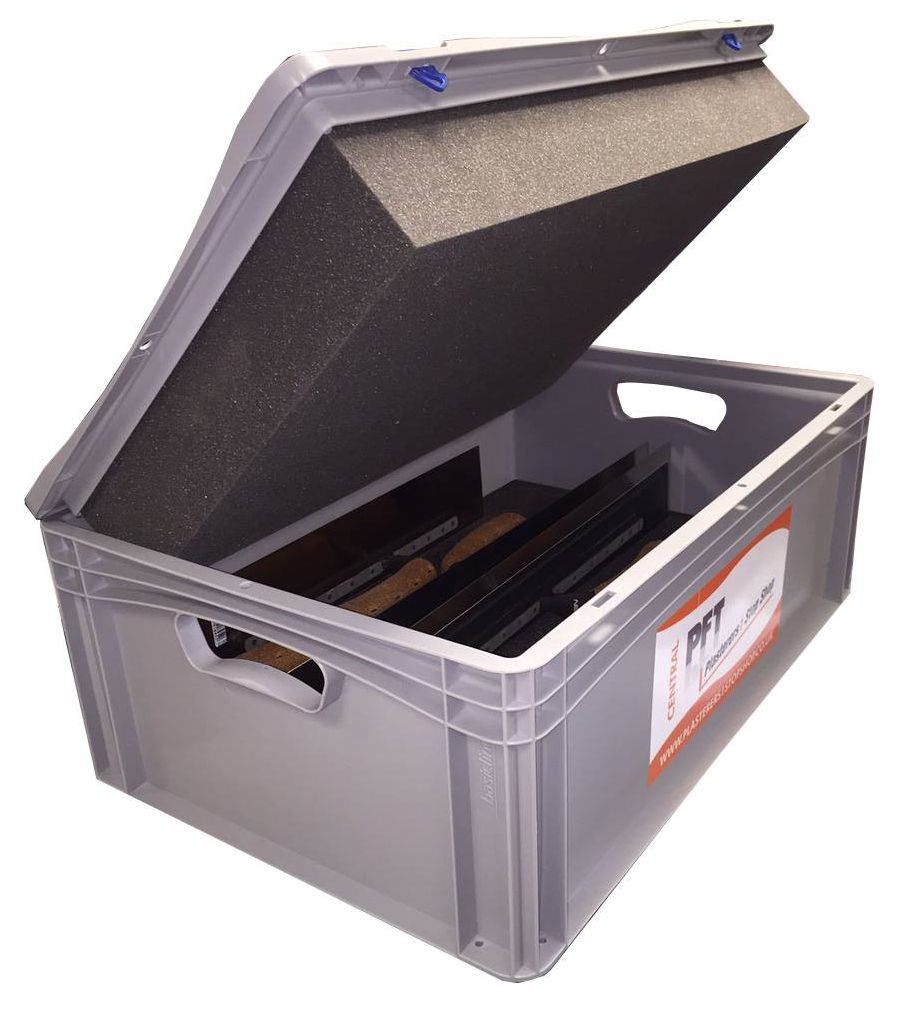 The trowel cases come with pre-cut foam which can take a range of trowel sizes. The case itself is made from Polypropylene, has solid sides and base along with a lockable hinged lid.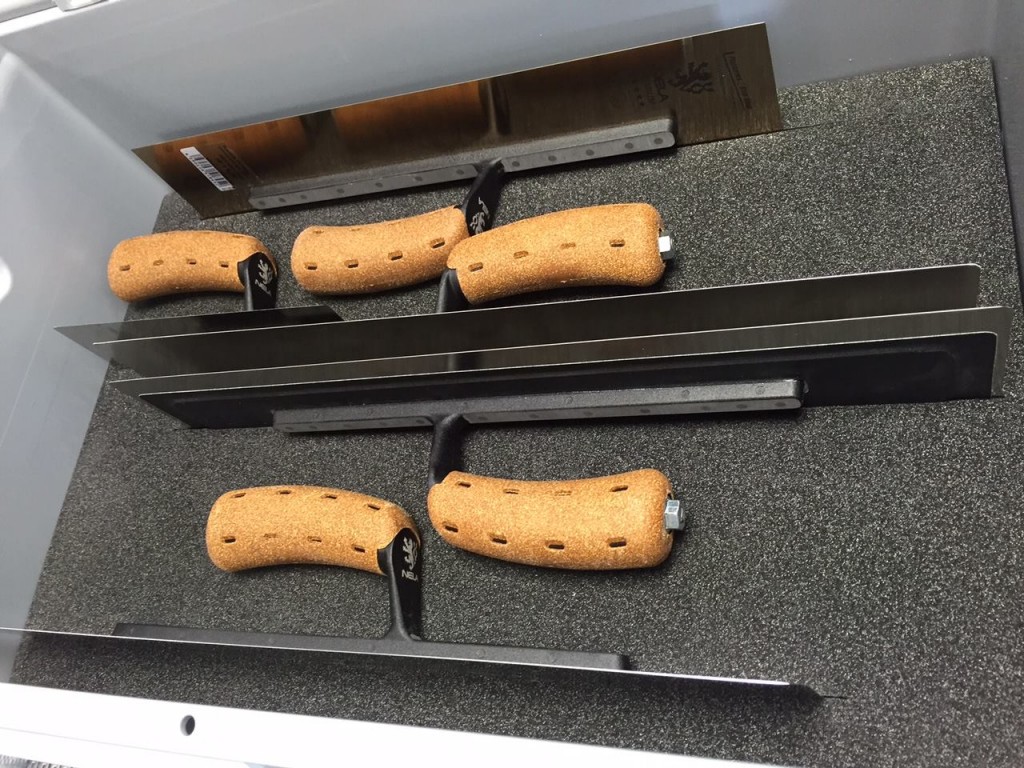 The price of this PUTZ Trowel case is about £33, and there has been some debate whether the cost is worth it. To be honest, you need to weigh up how much it costs to buy the box and then price in the foam and then make it work as it should and by that point I would have just bought the box and gone to the pub with the extra spare time I had.
The other way to look at it is that you are protecting your trowels, and all it takes is one of your trowels to get damaged, and it would have been worth buying the trowel carry case.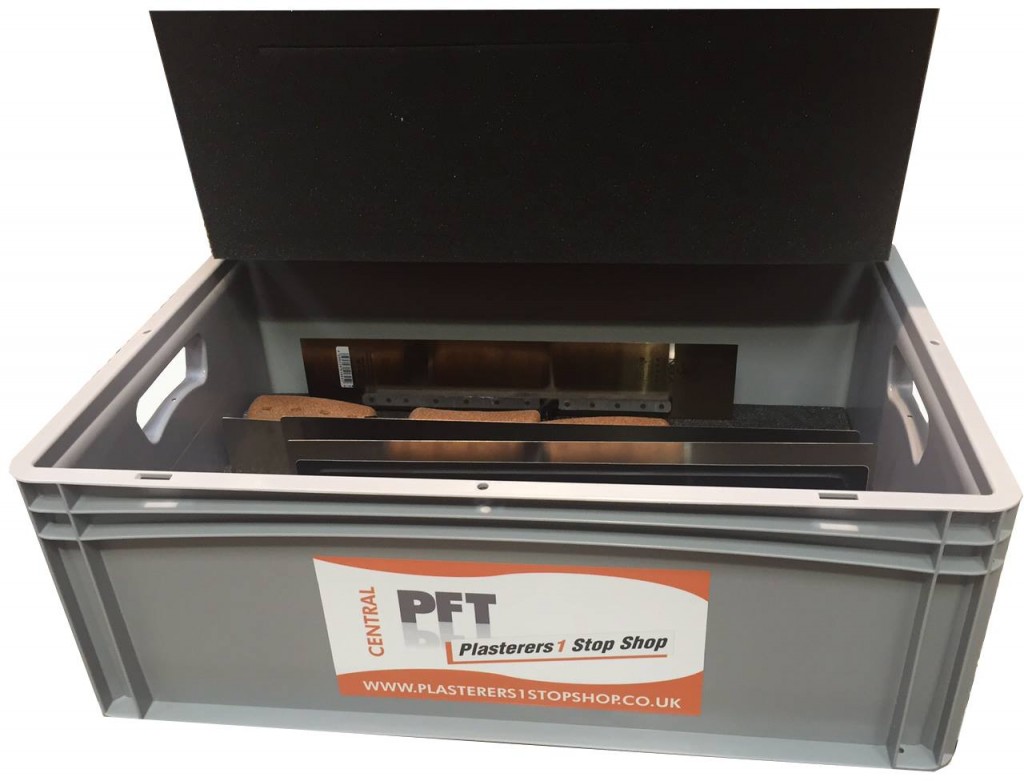 I am sure in years to come there will be some other ways to store your trowels one of the ideas was from Marshalltown and this bag goes around your bucket but it never really took off over here in the UK.
If you do have any interesting ways that store your trowels, then please email your pictures and I will include them.
Thanks again for reading about Plastering trowel storage and I hope you are enjoying the rest f Plasterers News