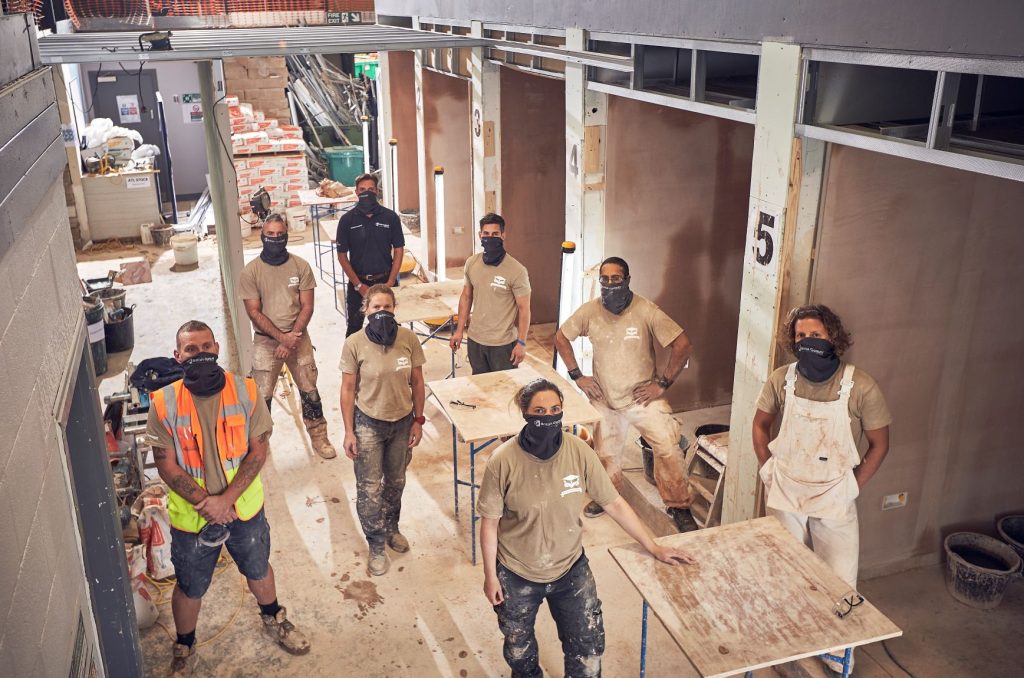 In a positive move for the future of skills and talent in the plastering industry, British Gypsum has announced that its Site Ready Skimming Course has been successfully developed into a nationally recognised qualification, working in collaboration with the qualifications awarding body NOCN.
From the 1st October 2020, colleges and training providers offering the accredited course will now be able to award attendees a 'NOCN Cskills Awards Level 2 Certificate Plaster Skimmer' qualification upon its completion.
This development is the result of many months of hard work between British Gypsum and NOCN.
British Gypsum's Training Partnerships Director, Dave Hall, said: "We are thrilled that the Site Ready Skimming Course has now been developed into a recognised UK qualification. It has taken the team at British Gypsum a number of years to develop the initial course, ensuring that it equips students with the necessary skills needed to become a competent Plaster Skimmer and gives them the practise needed to hone their techniques ready for the workplace.
"The course has now been taught through both our own and other specialist training acadamies for over a year – and with amazing feedback. Seeing the results it delivers and knowing that it would help address the skills gap within the industry we were confident that it was time to begin discussions with NOCN to develop it into a nationally recognised qualification."
Expanding on the high level of practical hands on training, two additional new units have been added to the original course – Introducing Health and Safety in Construction and Introduction to Self-Employment in Construction. Both of these have been designed to further equip individuals with the knowledge needed to succeed in the workplace.
The practical 'Skills for Plastering' unit of the course remains largely unchanged from the initial six-week British Gypsum Course. It teaches students the trowel skills and techniques necessary to be able to skim plasterboard on site, including finishing internal angles, working to wet angles, the application and finishing of angle beads to external corners and around openings, working on splayed angles, as well as working around services in both flat and window walls. Plastering large areas to represent commercial projects is also a critical teaching subject on the course with learners stretched and challenged to complete the work to deadlines. The course also covers the correct use of the latest plastering tools and methods as well as identifying bad practice.
NOCN said: "We aim to support the construction industry and the introduction of new talent. It was a pleasure to work with Dave Hall at British Gypsum on this development. He had a clear idea on how to address a recognised skills gap in the industry, making the whole development quick and straightforward. This has resulted in a qualification which provides new entrants with the opportunity to develop their skills and, making them attractive to future employers. We look forward to a continuing relationship, working with British Gypsum to support the skilled workforce of tomorrow."