External Wall Insulation (EWI) by Saint-Gobain Weber has been specified for the extensive renovation of Bacton Tower.  This 61m, 22-storey hi-rise tower block, located between Wellesley Road and Haverstock Road in Gospel Oak, Camden, North London, was built in 1967 and provides 120 studio and one-bedroom apartments.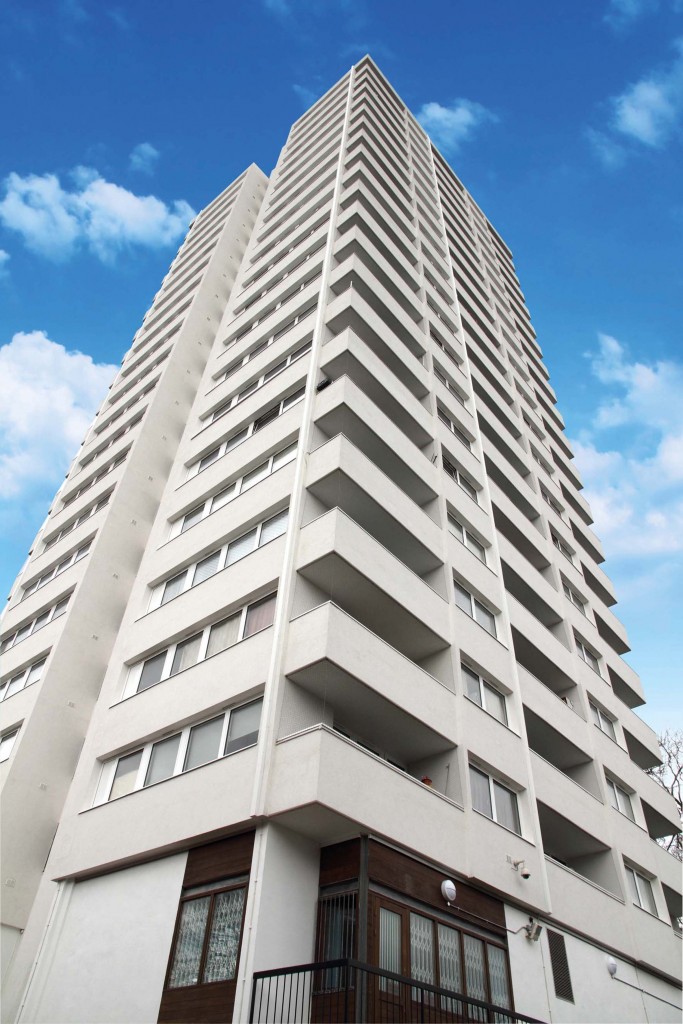 During 2014, through their Better Homes programme, Camden Council delivered a complete interior and exterior refurbishment to the property resulting in greatly improved thermal efficiency and a highly rejuvenated aesthetic appearance.   weber.therm XM, a lightweight render protected EWI system, has been applied to the walls of the building and the complete structure, including stairwells, corridors and walkways, finished with a protective coat of high performance weber.sil TF in Winter White.
The renovation project was designed by AK Design Partnership LLP, Romford, Essex, a practice that excels in estate regeneration schemes, for main contractor Keepmoat.   Network Weber applicator Primars Coating Services Limited, Edgeware, Middlesex, was contracted for the application of 2,500m² of weber.therm XM EWI and finishing works. In the nine-month project a further 2,000m² of non-insulated walling was finished in weber.sil TF coating.
Councillor Julian Fulbrook, Cabinet Member for Housing, Camden Council, said: "I'm delighted with the progress and improvements we have made for the benefit of our tenants and leaseholders.  These homes will now be more energy efficient which will help to reduce heating costs and residents are already commenting on improved comfort and a more attractive and brighter looking property."
Prior to the EWI application Saint-Gobain Weber calculated a U-value of 1.77W/m²K for Bacton Tower with a target U-value of 0.30W/m²K.  Duel density mineral fibre insulation was specified for this project to meet fire protection regulations, and 110mm thick panels were mechanically fixed to the concrete substrate walls of the building.
Primars installed the British Board of Agrément certificated and Energy Saving Trust listed multi-coat system to the insulation applying a 6mm meshcloth reinforced coat of weber.rend LAC.   This is a polymer-modified, cement-based mortar which is applied in two passes.  The surface was then primed with weber PR310 in preparation for the final coat of weber.sil TF, a silicone-based, textured, through-coloured decorative finish which is highly water repellent, durable and weather resistant and provides optimum façade protection.
Primars' contracts director, Julian Turner, commented on this major improvement project: "Although this was of course a 'live' building during the EWI application, the residents were enthusiastic from the start having been well briefed and informed on the thermal and visual improvements they could expect. Removal of the previously applied coatings to the uninsulated walls in preparation for weber.sil TF was labour intensive but the completed building looks excellent."
Other work carried out by Camden Council included replacement aluminium double glazed windows, new kitchens and bathrooms and the installation of a green roof to residential flats.  The council also installed a new pipe network to connect the tower block to the Royal Free Hospital district heating network.  The gas-fired combined heat and power unit (CHP) at the hospital provides the domestic hot water load for the building as well as a proportion of the space heating.  This arrangement will result in lower energy bills for residents and the system is more sustainable as the network utilises the waste heat from the Royal Free to heat the Bacton Tower apartments.
For more information about this project, or for technical support, please contact Saint-Gobain Weber on 08703 330 070, or visit www.netweber.co.uk.  Customers in Ireland should call 028 9335 2999 or visit www.weber.ie.
A free download of the new weber.app for iPhone and iPad users is also available from iTunes and from Google Play for Android smartphones and tablet users.  Follow Saint-Gobain Weber on Twitter @SGWeberUK for the latest company news and updates.