Leca® Insufill, the innovative lightweight aggregate and weber.floor 4310 high performance, self-levelling floor screed, has been donated by Saint-Gobain Weber for BBC1's DIY SOS The Big Build Veterans Special.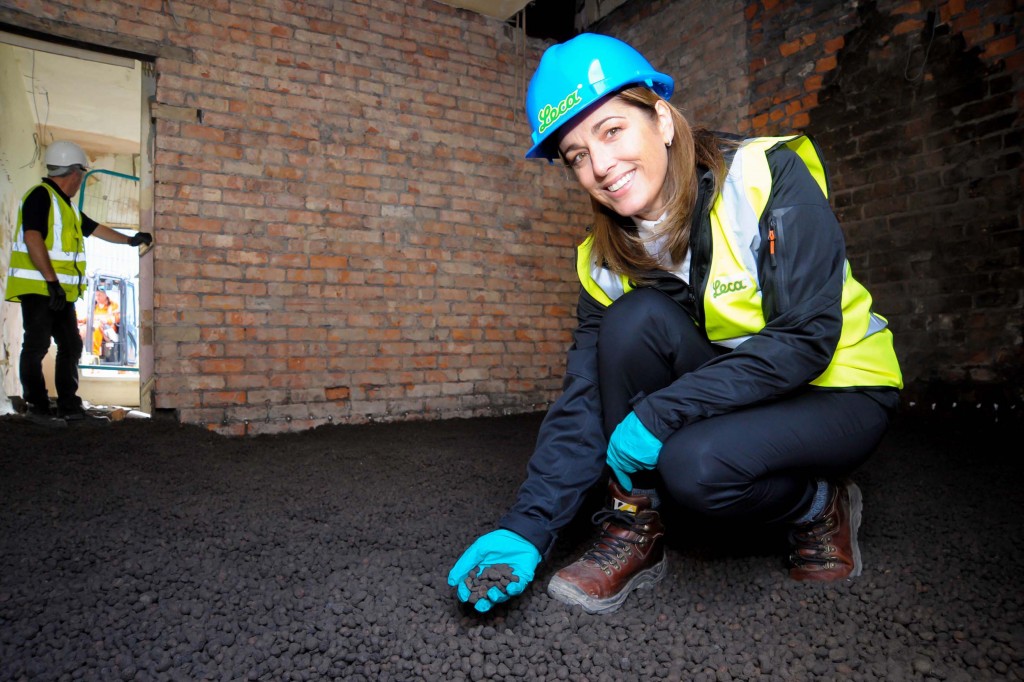 This ambitious project saw eight empty and derelict Victorian properties on Canada Street, in the Newton Heath district of Manchester, transformed into liveable homes for ex-service personnel. The properties are being adapted to create three much needed homes for veterans and their families.  One of the properties will be converted to a support centre where the ex-soldiers can receive advice, therapy, training and employment opportunities.
"This has been a real challenge for everyone involved," says Lorraine Blundell, national business development manager, Saint-Gobain Weber, "and we are so pleased that our products have helped to transform these properties to comfortable homes.  Our technical teams have enjoyed working with Manchester City Council, BTP Architects, Haig Housing, the veteran's charity, and main contractors Wates, Kier and ISG, to name but a few."
Leca® Insufill, a lightweight, expanded clay aggregate, insulation fill material, has been used to fill the empty voids beneath the decayed timber floors of the properties. Some 230m³ of the material has been delivered to Canada Street and pneumatically blown into position from specially adapted vehicles.  Leca® Insufill is quick and easy to install saving many hours of manual labour in comparison to traditional hardcore and provides a sound and well insulated substrate for the application of weber.floor 4310. This high performance levelling floor screed creates a strong, smooth and durable floor.  It is pump applied for speed of application and its fast drying and curing properties allow light foot traffic after only two hours.
"With such a short build programme, just 15 days, it has been a race against time for Nick Knowles and his team and it was essential to specify materials that can be installed quickly and efficiently, with minimal man power, and still achieve a high quality finish with excellent insulation properties," continues Ms Blundell.
Ex-service personnel account for a large percentage of the homeless in Britain; one in every 10 rough sleepers are ex-military.  Both homeless and military charities have warned that the problem will worsen if urgent action is taken.
"There are over 635,000 empty properties in England alone and we really hope The Big Build will act as a big prompt to other local authorities, communities and businesses to salvage these properties and put them to good use.  Our ex-service men and women deserve more than homelessness.  We hope by creating this new community in Newton Heath that these heroes can get back into everyday life and get the physical and emotional help they need."
A major element of this project includes 'streetscaping' the entire area and rejuvenating the facades of all 62 homes to improve the environment for the neighbourhood as a whole.  Veterans have also been given the opportunity to learn new skills and have taken part in the build.
More information about Leca® Insufill and the Weber floor range, and for technical support, please contact Saint-Gobain Weber on 08703 330 070, or visit www.netweber.co.uk.  Customers in Ireland should call 028 9335 2999 or visit www.weber.ie
A free download of the new weber.app for iPhone and iPad users is also available from iTunes and from Google Play for Android smartphones and tablet users.  Follow Saint-Gobain Weber on Twitter @SGWeberUK for the latest company news and updates.