Saint-Gobain Weber's External Wall Insulation (EWI) has been specified in Camden Council's dramatic refurbishment of the Denton Estate, Camden, North London.  The low-rise estate is a major community formed of 19 four-storey apartment blocks together providing 127 homes.  Located on the corner of Malden Crescent and Prince of Wales Road, Denton Estate was constructed in 1965 using a cast concrete frame with brickwork infills.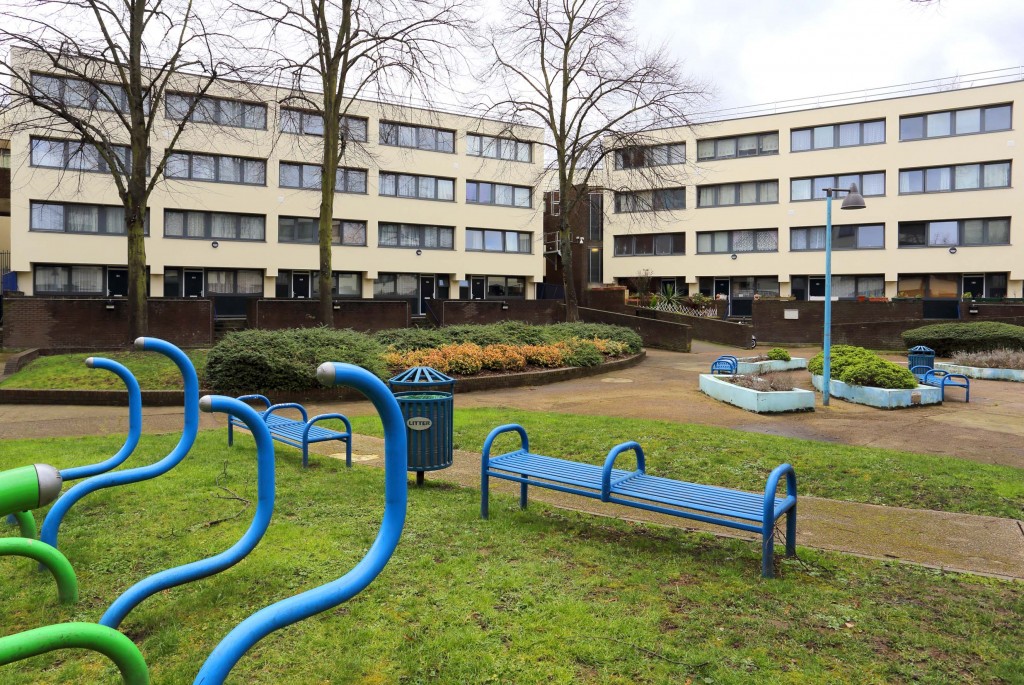 Camden Council's property portfolio has a scheduled upgrade programme and during 2014 the Denton Estate was transformed with major internal and external improvements. Visually, aesthetics have changed for the better with the application of weber.therm XM, a lightweight render protected external wall insulation system, which has created a striking appearance to the properties.  Now the external walls have a smooth, render finish and a bright, welcoming façade which replaces the tired, dull and discoloured original brickwork.  At the same time, the thermal performance of the properties has been dramatically improved from a U-value of 1.40W/m²K to a very comfortable 0.28W/m²K with the application of 12,000m² of weber.therm XM EWI.
The main contractor for this major refurbishment project was Keepmoat, and AK Design Partnership LLP, Romford, Essex, a practice which has great experience in estate regeneration, produced the project details.  Camden Council approved the proposed render application that would cover the original brickwork providing a new identity for Denton Estate.
Councillor Julian Fulbrook, Cabinet Member for Housing, Camden Council, says: "These buildings are an example of the investment we have made in improving homes on the Denton Estate making them more energy efficient, so helping with heating costs and, very importantly, reduced CO₂ emissions.  We considered our residents' opinions in the new design of the buildings; it is important that they have their say in the look of their new homes.  Residents have since reported that they feel more comfortable and warmer, and the estate looks much brighter.  It has been a tremendous improvement."
British Board of Agrément certificated and Energy Saving Trust listed weber.therm XM EWI was specified for this project incorporating the use of 90mm thick grey expanded polystyrene (EPS), as specified by Saint-Gobain Weber, which was applied to the substrate with mechanical fixings and adhesive.
Network Weber applicator Primars Coatings Services Limited, Edgeware, Middlesex, installed the multi-coat system onto the high performance insulation, applying a 6mm meshcloth reinforced coat of weber.rend LAC. This is a polymer-modified, cement-based mortar which is applied in two passes.  The surface was then primed with weber PR310 in preparation for the final coat of weber.sil TF, a silicone-based, textured, through-coloured decorative finish which is highly water repellent, durable and weather resistant.  Vanilla was chosen from an extensive range of colours adding a fresh, modern appearance to the Denton Estate apartment blocks.
During the 12-month application program Primars had up to 14 operators on site at any one time. Julian Turner, contracts director, explains: "The actual surface areas on the Denton Estate buildings are quite narrow, mostly a metre wide. This means that pump application is not possible and hand application takes time. The satellite picture of the finished project really does show the dramatically changed appearance of the Estate which has been very well received by the residents."
Improvement works have also included the replacement of inefficient single glazed, powder coated aluminium windows, doors and screens with double glazed, contemporary-style upgrades and new roofs have been installed.  The Denton Estate green roofs are intentionally 'vegetated roofs' which consist of a waterproofing membrane, growing medium and vegetation overlying a traditional roof structure.
For more information about this project, or for technical support, please contact Saint-Gobain Weber on 08703 330 070, or visit www.netweber.co.uk.  Customers in Ireland should call 028 9335 2999 or visit www.weber.ie.
A free download of the new weber.app for iPhone and iPad users is also available from iTunes and from Google Play for Android smartphones and tablet users.  Follow Saint-Gobain Weber on Twitter @SGWeberUK for the latest company news and updates.