After a rigorous series of tests, the British Board of Agrément (BBA) has certified the Safeguard Europe's Dryzone Express Replastering System which enables a skilled operative to treat rising damp, re-plaster and complete re-decoration in 24 hours. The system developed by Safeguard – the UK's leading specialist in damp- and waterproofing, and masonry repair solutions – condenses the process of treatment and room reinstatement to a fraction of the time required by traditional methods.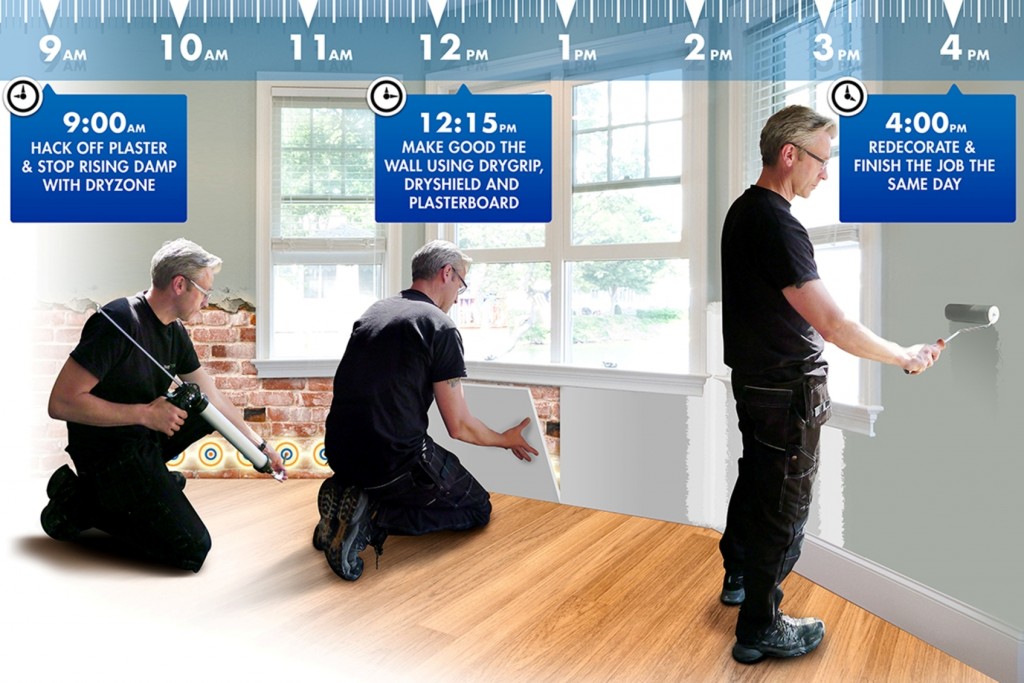 The BBA issued its Agrément Certificate to Dryzone Express Replastering System for use on existing internal walls as an effective barrier against salt and moisture transfer following injection/insertion of a chemical damp-proof course (DPC) system as well as for damp and/ or salt-contaminated chimney breast walls.
An Agrément Certificate is the mark of quality, safety and reliability that means the product is fit-for-purpose and is only awarded to those products and systems that have successfully completed a series of comprehensive assessments. These include laboratory tests, on-site evaluations, quality management checks and inspections of production and provide clients and specifiers the assurance that the product will perform as described.
In the case of the Dryzone Express Replastering System, the BBA looked at four key factors: bond strength; resistance to salt transfer; resistance to moisture transfer; and durability. It concluded that the system has satisfactory adhesion to dry, damp and salt-laden masonry substrates and will provide an effective barrier against salt and moisture transfer while giving "a durable band on both damp and dry walls, equivalent to that of traditional dot and dab applied to a dry wall".
Three elements comprise the system: Dryzone Cream to provide the chemical DPC; Dryshield Cream to prime walls; and Drygrip Adhesive to direct bond plasterboard to treated walls.
Suitable for brick, coursed stone, rubble infill and cavity walls, Dryzone Cream is up to three times faster to install than alternative chemical injection systems and is also safer in use because it is odourless, non-caustic, solvent-free and non-flammable.
Easy to apply by brush or roller, Dryshield Cream is a breathable, salt-resistant water-repellent that weakens the crystal strength of salts forming in or at the masonry surface as damp evaporates and forms a robust bond with the masonry structure. Developed for 'dab' fixing plasterboard directly to masonry surfaces, Drygrip Adhesive forms a strong and long-lasting bond and is resistant to both salts and damp. Once fixed, the boards can be tape-jointed and skimmed as in ordinary drylining situations.
As certified by the BBA, the Dryzone Express Replastering System also provides a time-saving solution to deal with chimney breasts that are contaminated with moisture-attracting hygroscopic salts. Conventional methods, such as waterproofing slurries and renders, involve applying multiple coats over several days when using Dryshield Cream and Drygrip Adhesive will deal with the issue within a day.