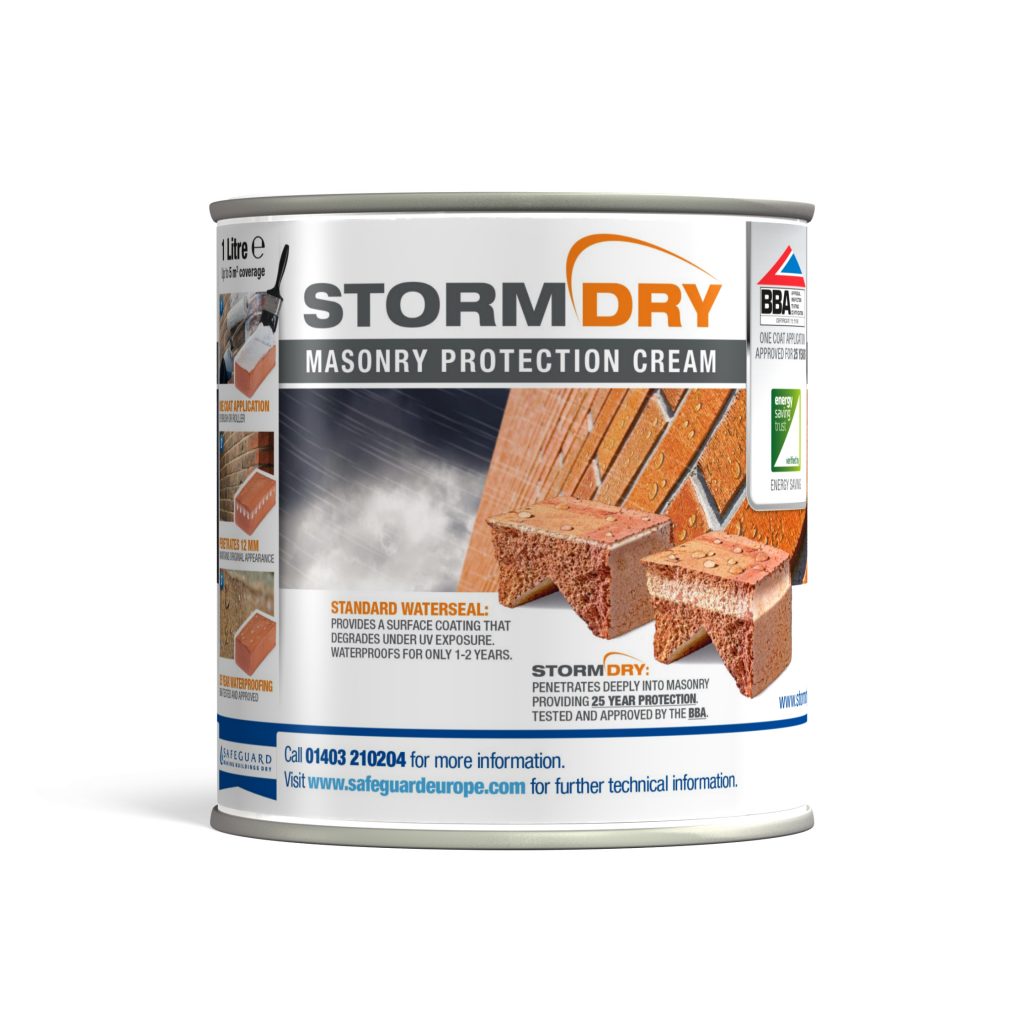 Safeguard Europe – the UK's leading specialist in damp-proofing and waterproofing technology – is now offering its market-leading Stormdry Masonry Protection Cream in handy one litre tubs; providing a cost-effective solution for those dealing with localised rain ingress through masonry, and tradespeople wanting a convenient 'on the van' option for when needed.
Stormdry Masonry Protection Cream stops rain penetrating external walls, keeping them warm and dry. The Energy Saving Trust has granted Stormdry 'verified' status from the as high levels of moisture in the masonry, such as those in exposed locations, will lose heat faster than dry walls. Keeping walls dry by applying Stormdry will maximise their thermal performance.
Stormdry can be applied to wet walls that will dry out through it because of its permeability. Unlike other rain penetration and damp-proofing treatments, Stormdry lines the pores of the masonry so that water can escape as vapour but cannot enter in liquid form. This 'breathability' also enables Stormdry to help counter to the damp issues encountered in cavity wall insulation because the wall can dry out while being protected from any further water penetration that will affect the insulation's performance.
Easily applied by either brush or roller, Stormdry cures colourlessly to the original finish of masonry in just 12 hours. The cream penetrates far more deeply than other water repellents – up to 12mm in fletton bricks – so that it can also bridge cracks and better keep out moisture. For larger projects, or for those using the product regularly, Stormdry also comes in three, five and 20 litre tubs.
With an active ingredient level of 40% – compared to concentrations as low as 2.5% for some competitors – Stormdry is not only far more effective at excluding moisture from masonry; it also has a significantly longer life expectancy of up to 25 years.
This claim to longevity is backed by the British Board of Agrément (BBA) as part of its product process, where Stormdry was subject to accelerated ageing tests. Other performance criteria considered by the BBA included: water repellency, condensation risk, freeze/ thaw resistance and UV resistance.
Safeguard Europe's range of market-leading, proven damp-proofing solutions is supported by the company's own highly qualified and experienced staff. The support and know-how they offer is extended to contractors, specifiers and property owners and includes technical advice, specification help, research and even in-house laboratory analysis of plaster and masonry.