BrickFix – from Safeguard Europe, the UK's leading specialist in damp- and waterproofing, and masonry repair solutions – is a highly effective crack-stitching system. Suitable for brick, block and stone walls, it provides a simple, quick and cost-effective solution to both reinforcing existing bed-joint masonry and re-connecting cracked masonry. No special skills are required and the application kit contains all that is required to perform a professional repair.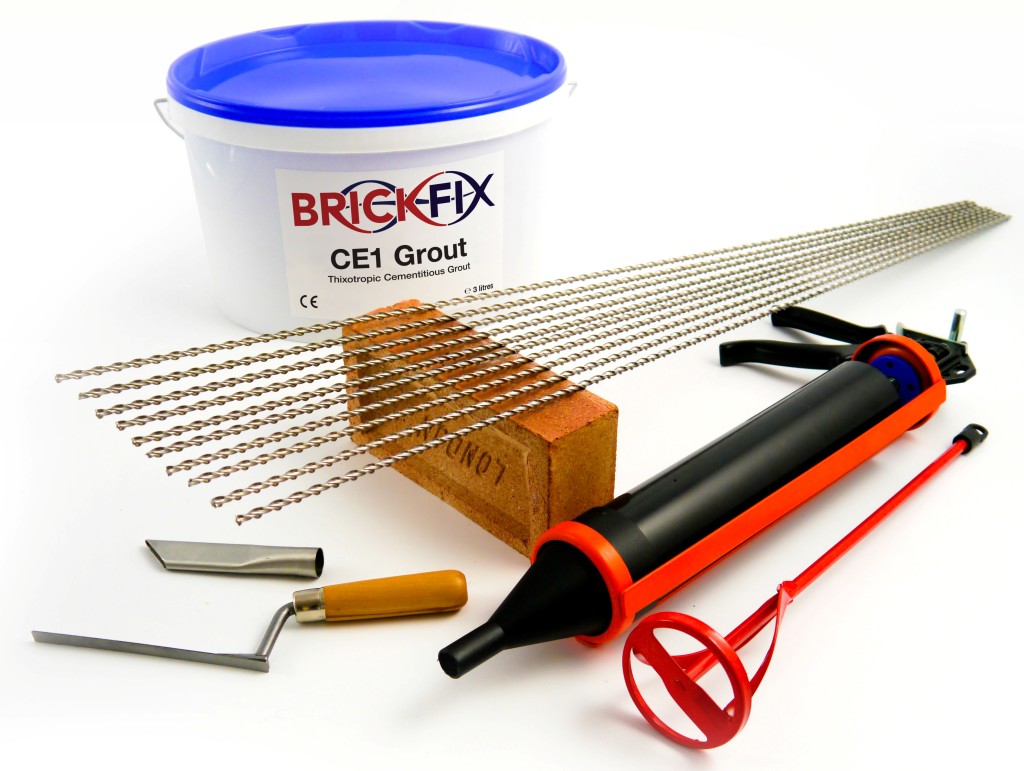 The repair itself is non-disruptive, minimises the likelihood of further cracking and absorbs any localised stress to minimise or eliminate the need to rebuild the wall. The kit consists of CE-marked 6mm diameter helical bar manufactured from standard grade austenitic stainless steel (available in 1, 3 and 10m lengths), a two-part BrickFix Grout, a mixing paddle and application tools, including pointing gun, nozzle, and finger trowel. Bar sections can also be supplied in 'marine grade' 316 austenitic stainless steel where extra corrosion resistance is desirable.
Installation is straightforward, with all other tools that are required and not forming part of the kit – such as a power drill or angle grinder – being reasonably expected to form part of any professional trades' toolbox.
First chase out and clean the mortar course 500mm either side of the crack. Then, having mixed the two-part grout – supplied as liquid and powder – inject it into the void using the gun and nozzle supplied. The grout flows easily after being agitated so that it fills the void to the desired depth, but then will quickly set and reach its full compressive strength. After the first bed of grout is injected, the helical bar is pushed in using the finger trowel so that it is firmly embedded.
Easily bent, the helical bar can be made to fit around cracks near corners and the irregular pointing found in older and random pattern masonry. A second layer of grout is then applied, making sure there is enough room left to allow for repointing afterwards.
Each BrickFix bar should be fixed at intervals of four to six brick courses, or 300-450mm, while the slot depth and depth of bar varies according to the thickness of the wall. In a 102mm wall, the slot should be 30-35mm deep and the bar should be installed at a depth of 20mm, whereas in a 215mm wall the slot should be 40-45mm deep and the bar needs to be laid at 30mm deep.
It should be noted that this method of crack repair can only stabilise the symptoms of cracked masonry walls. It will not cure the cause of the crack (e.g. subsidence) and for this reason a structural engineer should ideally be consulted before undertaking crack repairs. Full details of installation and a practical demonstration can be viewed online at http://www.safeguardeurope.com/applications/crack-repair.php