It's been a bit of slow start to be honest on our project. We have been battling with the lack of time with The Plasterers Forum® and with me traveling all over the country to see companies and organising events over the last few months so as you can imagine taking on this renovation was always going to be a stretch and with me being quite picky and somewhat anal about the standard of finish I want to achieve its going to take a little longer than planned.
The first job with any renovation and that is to start ripping stuff out…
With the rip out you feel like you are achieving a lot as you see big changes, and they happen very quickly. It only took a couple of hours to remove the whole kitchen and a few hours to get the bathroom suite out but what took the slowest or one of the slowest jobs was removing that goddamn polystyrene cornice that was in every single goddamn room. What a headache and there was not an easy way to do it. There were a couple of rooms that had real or should I say gypsum based coving but still that was put up properly and was taking a lot of taking down.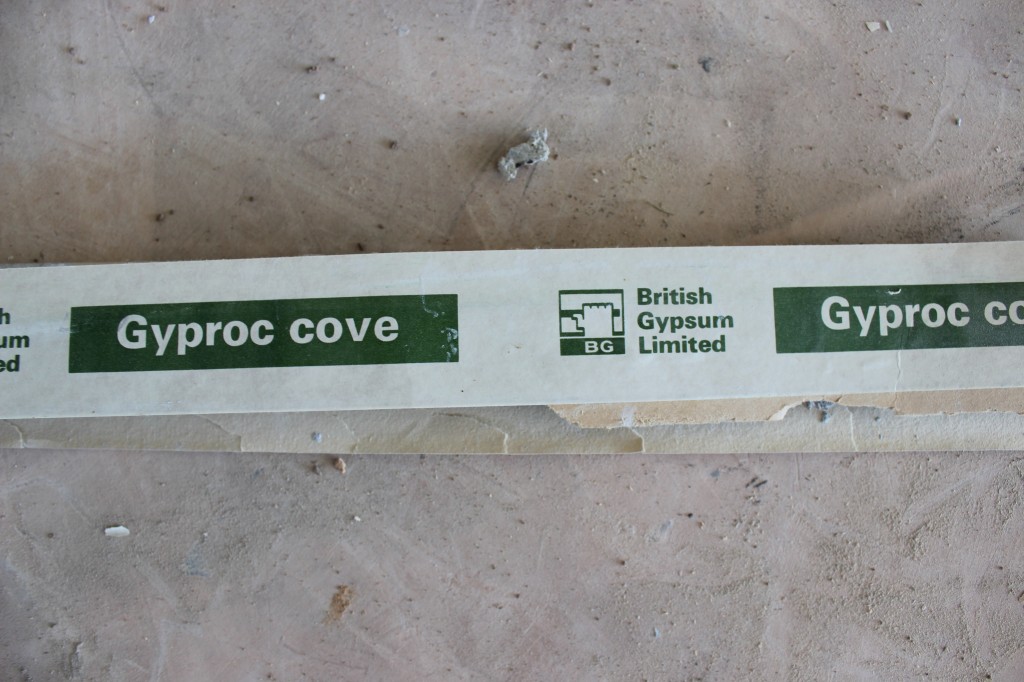 One of the biggest disappointments with this build was that when it was first painted, none of the walls had a miss coat of paint, and the paint was just sitting on top of the plaster. So one of the lovely jobs I have given Jane is to peel all the old paint off the walls. It is a soul destroying job but seeing as the walls will need re-plastering I don't fancy having plaster blowing especially as its my own property.
The next job on the cards after we have ripped most of the rooms out was to remove the airing cupboard. With this removed it will give me a fairly decent-sized bathroom, and we can the put the hot-water cylinder in the eaves in the loft. This is one of the things I had to battle with Jane about, and that is because she was losing her airing cupboard. I may have to make her a smaller one in one of the ashlar walls in the loft conversion.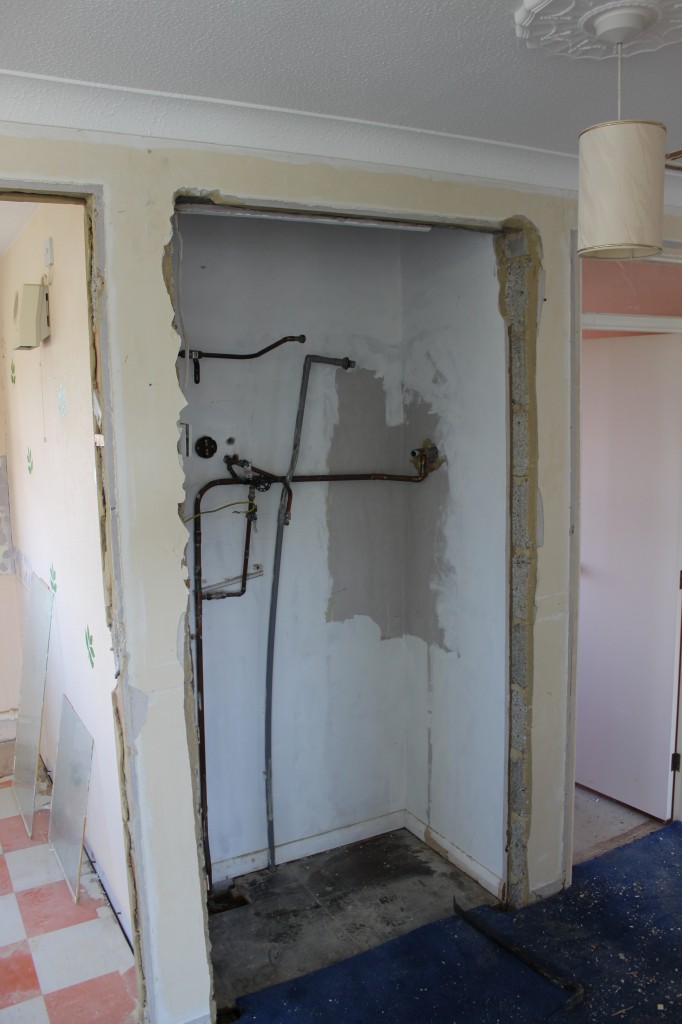 Every wall in the property is block and so any wall removal is quite tiring especially for a pencil pusher like me. I spent nearly a whole day removing the airing cupboard and lots and lots of breaks. It was a lot harder than I remember from when I was on the tools many years ago, but eventually I had the walls down and instantly you could see how big the bathroom was going to be and also how much of a wasted space it was having the airing cupboard where it was.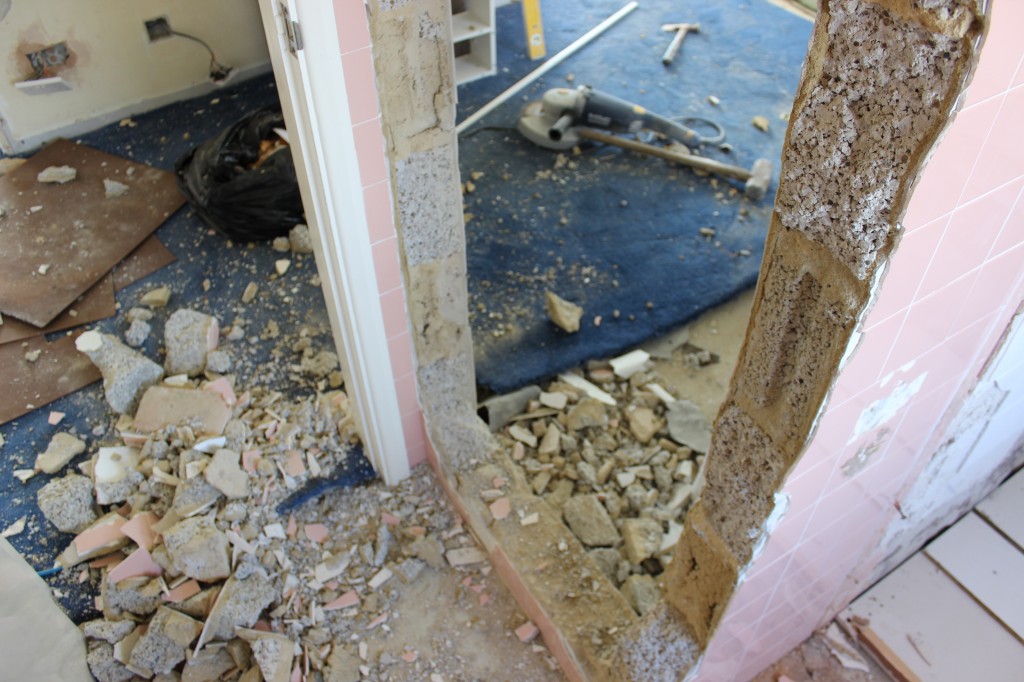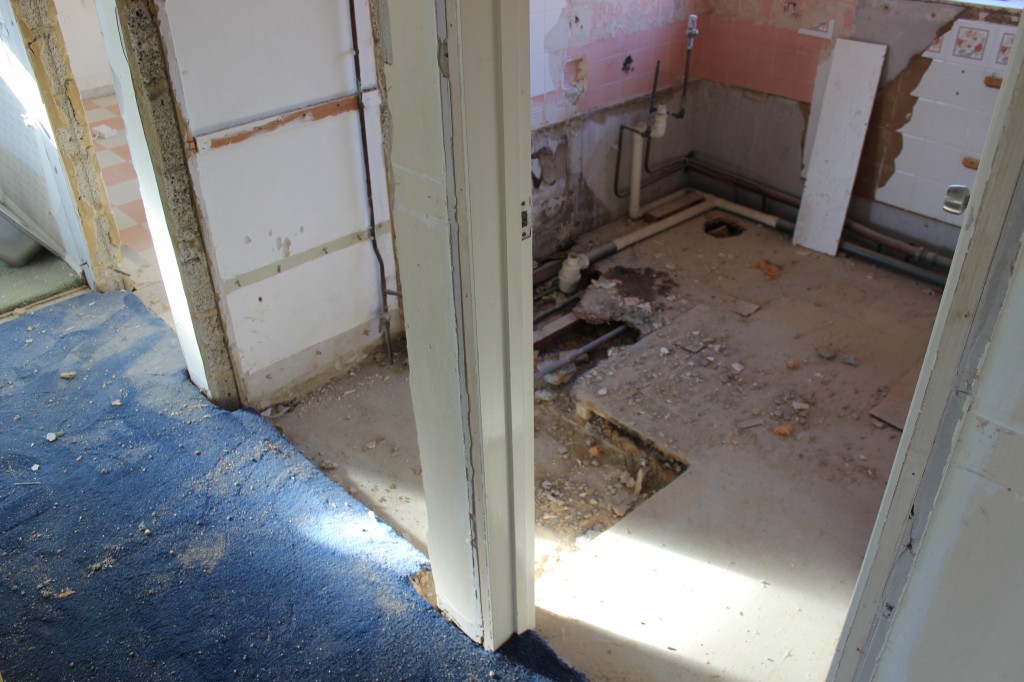 I could have used plasterboard and stud work to fill in the doorways, and it would be a lot quicker but I kinda felt bad for the building and I was a little reluctant to do that so I decided to see how well my block laying was and block the airing cupboard doors up.
Everything has to be plumb and square with me. I am that person that when I am using a level, the bubble has to be in the middle and not resting on one of the lines like most brickies do.
I was armed with some ready mixed sand and cement a brand-new brickies trowel and pile of breeze blocks, and I started. I was also tying in the new block work with the old block work using brick ties up every course of blocks. I could lie to you and say it was easy and that the wall was perfectly level with even mortar joints but reality was it was a little pissed, and my gaps varied somewhat. However, thankfully, I am pretty ok at floating and the wall is well within the parameters, and so I was quite happy. It wasn't bad for a first attempt, and so I headed off to the pub for a quick pint to celebrate.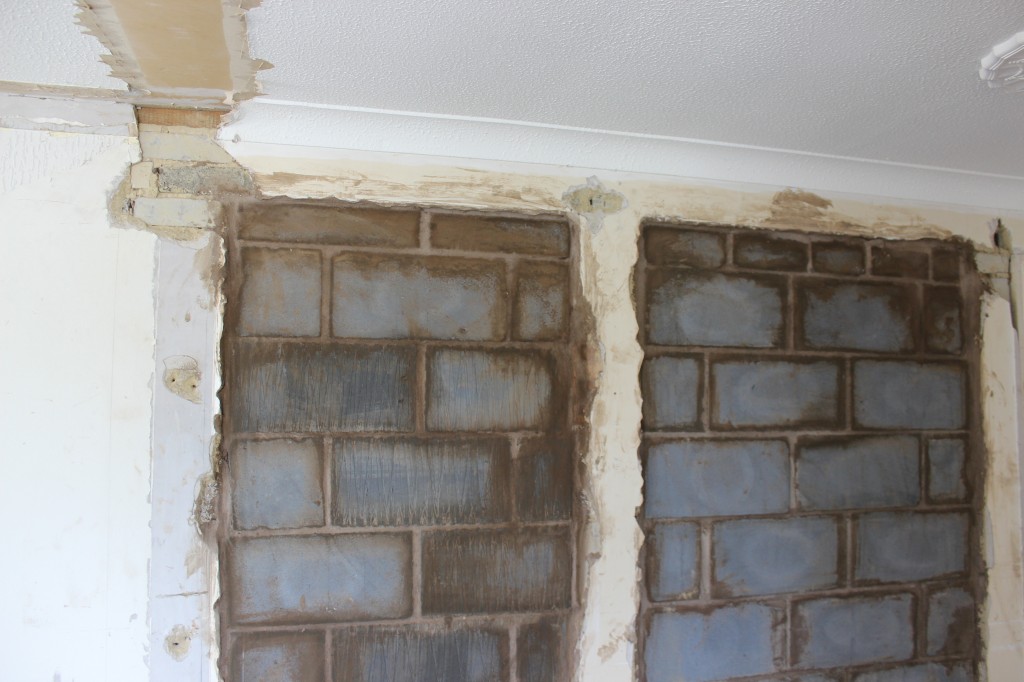 The next task was to open the kitchen up into the lounge with a 1800 hole and install a lintel. I have installed tonnes of lintels above doors and what not but never have I done one quite as big as this. I posted a few questions up on the plasterers forum and got some very helpful tips and advice, and a few suggested I get hold of some acro props. A quick facebook status and my friend who is a builder was on his way around to drop a couple off for me. While he was there he explained a way of doing it, and I thought hang on maybe he could help me as I am going to need a hand anyway to lift the lintel in.
Of course, he said yes and the following day I was knocking a small hole trough to the kitchen from the lounge, so I could brick up the old doorway and get things ready for when he came around in a few days to help/do the lintel.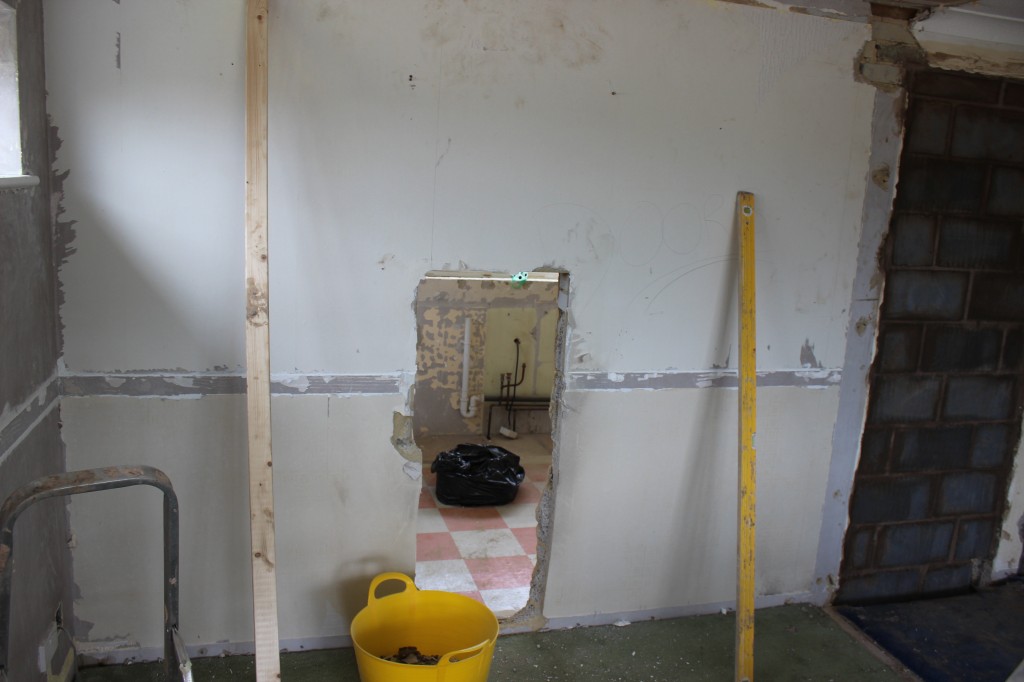 My builder friend came around on the Monday and commented on my wall and congratulated me on it, which made me feel pretty good.
Due to the early start, I was pretty much in a zombie state, and my mate just plodded on without me filling the flat up with dust and crap with the diamond cutter and generally making a lot of noise. Luckily, the neighbours below us are slightly deaf but thankfully this time they were on holiday all week, so we could get away with being a bit noisier than usual.
The lintel went in without too much of a problem, and my OCD was happy as everything was perfect and my builder friend was also quite pleased as well especially when I gave him a few folding pictures of the queen to say thanks.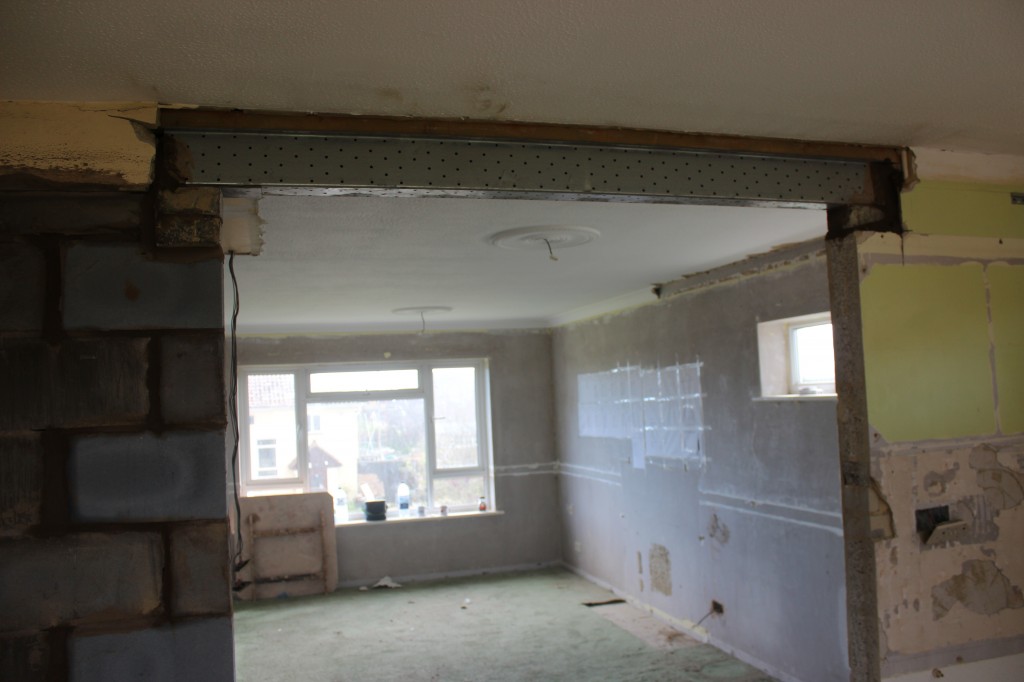 OK So we have three walls down now and the lounge has been opened up into the kitchen and that makes a massive difference. I have also removed some really terrible glass paneling from between the hallway and the lounge as well as that was awful even though it did let in lots of light.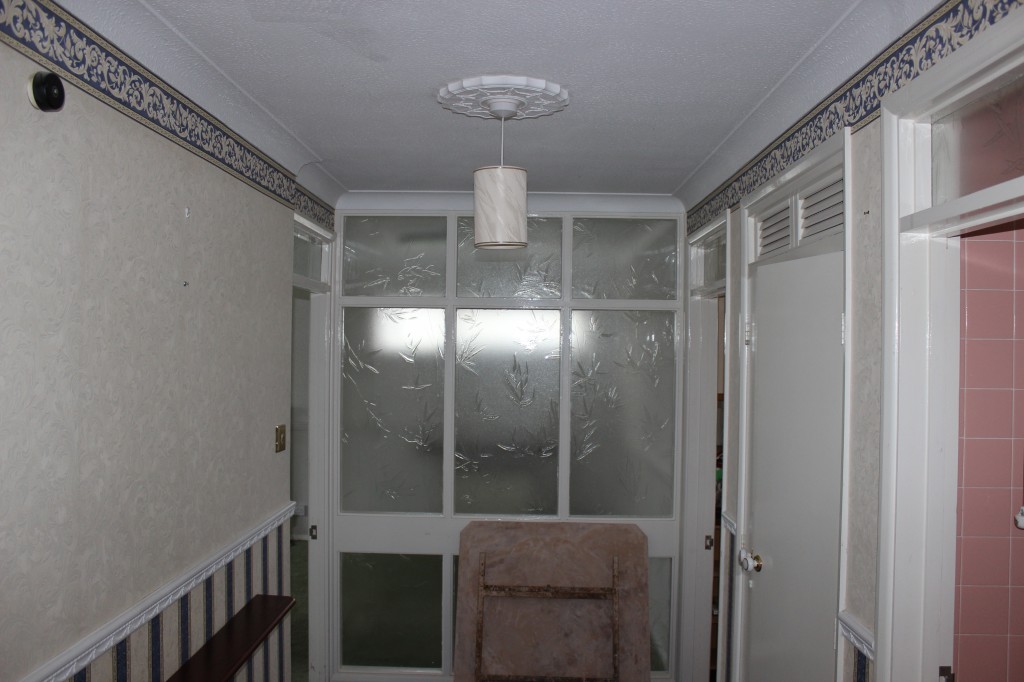 We feel that we are winning, but we really have not even looked at the loft yet, and that is a task that I have been pondering about for a while now and even with the help and guidance from my friend, the builder and my building control architect chap I was struggling to understand how the loft structure was going to work.
Hopefully, you are enjoyed reading about our project. It's not exactly grand designs but still I hope it was worth the read.