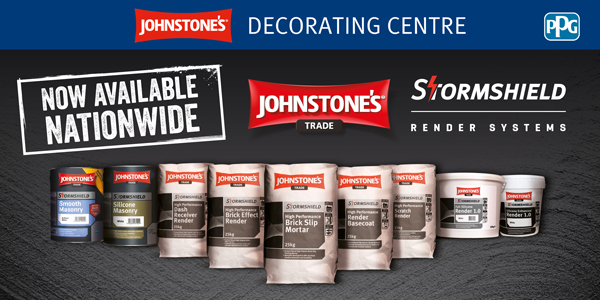 Johnstone's Decorating Centres has announced that the Johnstone's range of render systems is now available from all of its 177 stores nationwide – which means that professional decorators and renderers can quickly and easily get their hands on the full range of expert solutions.
What's more, there's a specialist same-day tinting service available in 22 of its stores, offering colour mixing to order, while you wait. In all other stores, tinted products can be supplied within just 48 hours.
Claire Jackson, marketing manager at Johnstone's Decorating Centres, said: "We're always looking for ways to enhance the service we offer to our customers, and we know that speed and efficiency is really important to them. That's why we've made our range of specialist render solutions as accessible as possible through all of our Decorating Centres across the country.
"It's not just about the products themselves, though; getting hold of render products in particular colours can often add an additional challenge. We're aiming to make this as simple as possible by helping our customers to get their hands on tinted products either straight away in one of our 22 hub stores, or within 48 hours in all other stores.
"The range available in the Johnstone's Decorating Centres includes BBA approved systems to suit all applications, so whatever the job demands, you can be certain that we have all you need to help you deliver a professional finish that you and your clients will be proud of."
All Johnstone's systems are formulated and tested to the most stringent standards for quality and durability, ensuring peace of mind for tradespeople and their customers.
For more details, or to find a local Johnstone's Decorating Centre, visit www.paint247.co.uk.