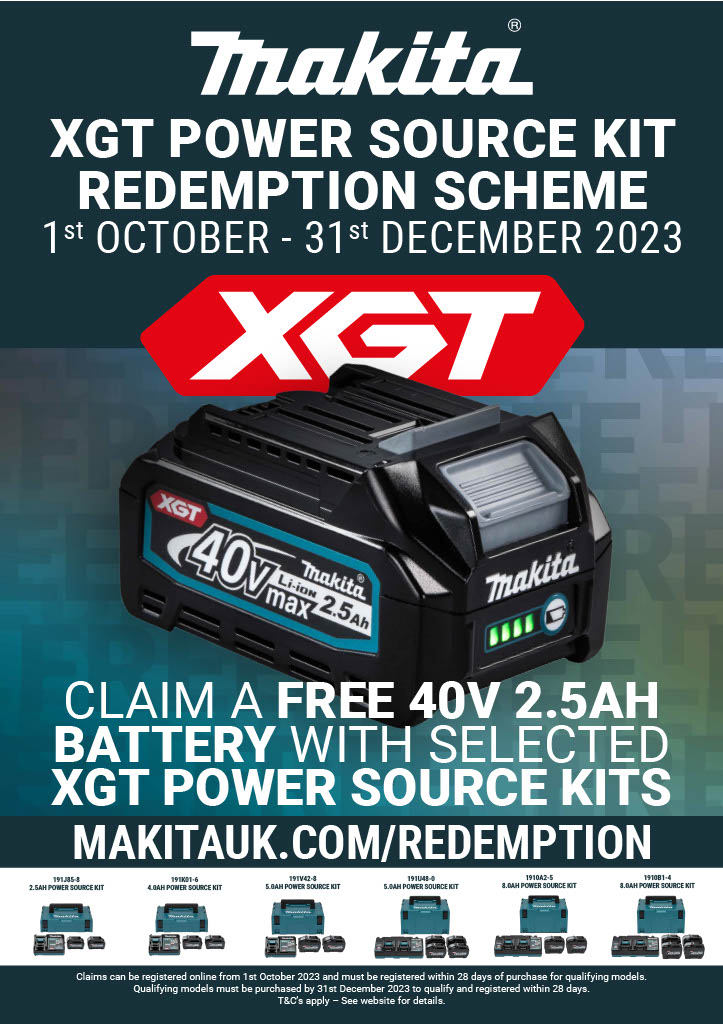 Leading power tool manufacturer Makita has launched a new redemption promotion for its XGT Power Source Kit range. Running from the 1st October until the 31st December 2023, end users can claim a free 40VMax XGT 2.5Ah battery when they purchase a selected XGT Power Source Kit.
Makita Power Source Kits are an ideal way for end users to start or expand a cordless system of XGT 40VMax tools. There are six qualifying Power Source Kits available in total as part of Makita's latest promotion: Four kits with two batteries (2.5Ah, 4.0Ah, 5.0Ah, and 8.0Ah options) and fast charger, and two kits with four batteries (5.0Ah and 8.0Ah options) and a twin-port fast charger. All are supplied in a robust Makpac carry case.
Purchasing a Makita Power Source Kit enables you to select your preferred battery options, and then select your XGT tools from a wide range of body only models as a cost-effective option. The Power Source Kit and body only products enables customers to build their own kit of XGT products specific to their job requirements.
With a high number of XGT models also available in Makpac cases, you can simply connect the Makpac tool cases to your Power Source Kits for improved storage and safe transport.
Makita's latest promotion allows end users to claim a free BL4025 2.5Ah XGT Battery (retail value of over £100) with qualifying XGT Power Source Kits. This Li-ion battery is a powerful general use battery with an LED charge level indicator for use with Makita's range of 40VMax and 80VMax XGT tools. The heavy-duty battery can be charged in just 28 minutes with a rapid charger, for optimum performance and productivity on site.
Kevin Brannigan, Marketing Manager at Makita UK, said: "Our XGT range is designed to help our customers work faster, more efficiently and safely with cordless technology that offers optimum power, high performance and exceptional run time. Batteries can be easily changed between tools, depending on the task and with our latest promotion, we're helping end users enhance their cordless experience with a free battery."
Makita's latest redemption will run until the 31st December 2023. Customers who purchase any qualifying XGT Power Source Kit from an authorised dealer between 01.10.23 and 31.12.23 must register their purchase online via the redemption promotion website within 28 days of purchase to claim their free product (see website for full Terms & Conditions and qualifying criteria). Customers will receive their free 2.5Ah (BL4025) 40VMax XGT Battery on successful application.
For more information about Makita's redemption promotion, visit: www.makitauk.com/redemptions