Ecobuild is one of the biggest events on any manufacturer or suppliers calendar, and I made a conscious decision this year to get there and really get involved in the event. Ecobuild is all about building a sustainable future and making use of the natural products we have available that are renewable, and I have to say it was a great event.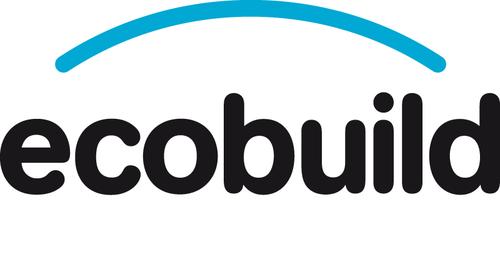 I had to leave my little village on the south coast at a little before 6am, and head to my friends place about an hour around the south coast as we were sharing a lift as car parking at the Excel is ridiculous, and we are both shrewd, but still it was the energy-efficient way to do it (possibly).
We arrived at Ecobuild at around 10am and the first stand I went to see was the SpecFinish magazine, and I had an extremely interesting conversation with Adrian Marsh, who is the editor of the magazine, and we discussed what parts of the markets we target, etc. and how we are very similar but target two totally different markets. Make sure you drop past and see SpecFinish and subscribe to their magazine.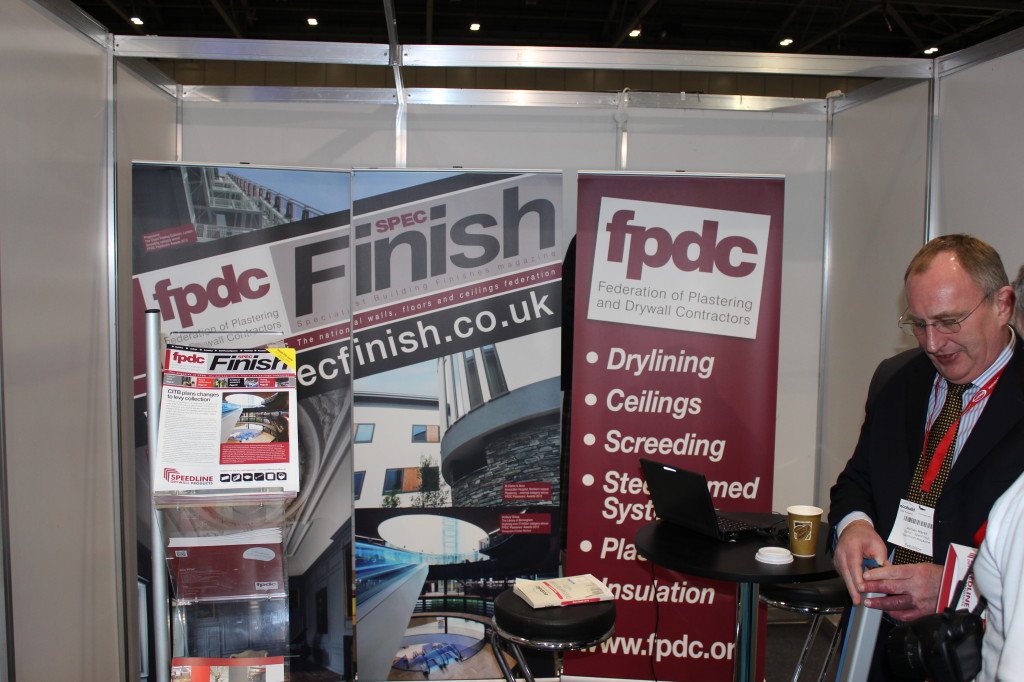 One of the reasons for going to Ecobuild was to meet some of The Plasterers Forum Sponsors that support us and the first person I bumped into was Richard Lord from Knauf Aquapanel, and we wandered around the show for while chatting about how TPF has been helping him and Aquapanel and just generally shooting the breeze.
There was so much to see at Ecobuild that there was very little time to actually browse and so I had to be strict with my agenda and I got cracking and started talking to the companies that support us and the stand blew me away the most was the Mapei stand. The stand was very easy to understand, and it looked amazing with live demos going on.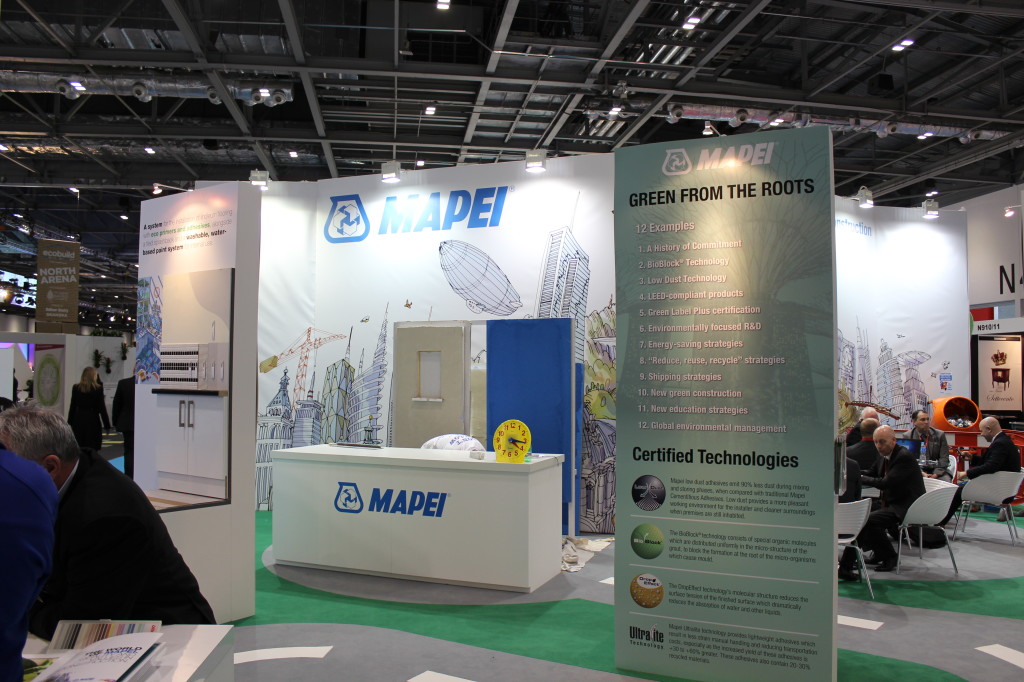 I didn't really stop for lunch as I was busy walking around and talking to people, and I was quite surprised at how many times I was recognised and greeted by people just wandering about Ecobuild. I lost count on the first day how many people knew about The Plasterers Forum and made an effort to say hello. It's always nice to meet new people and talk about a subject that we are all passionate about.
I also met Scott from Speedskim and chatted for a long time and I am now the proud own of some revamped speedskims to use on my next little plastering project which is going to be happening very soon. Speedskim really is growing and Scott was recognised by lots of people at the event and was stopped numerous times by people wanting to know more about the tools. As always great to catch up and see what they are currently up to.
The end of the first day came quickly, and we were still milling about at 18:30, and we knew that we had a long drive home so we decided that we were going to return the following day and tie up all the lose ends. I arrived back at home on the south coast at around 21:00 and I quite literally fell asleep. What a day!!!
I woke up at around am to my mobile phone going crazy, and it looked like the forum servers were under attack, and so I decided to get up and get that sorted out and very quickly that was sorted. However, I was wide awake and decided that I may as well start the journey up to the excel for the day 2 of the Ecobuild event.
Today I was going by motorbike as I hate London's traffic, and also I will be damned if I am paying for the extortionate price of parking. Furthermore, it was a lovely sunny albeit frosty morning I was at the excel for 09:00, and I found the bike parking but obviously excel had not thought this through and made the bike parking in deep gravel so that made for lively few seconds.
The first port of call was to find a company that I knew that would give me a cup of tea as I could not feel my fingers, and I was exhausted. Riding a bike in central London is most definitely character building 🙂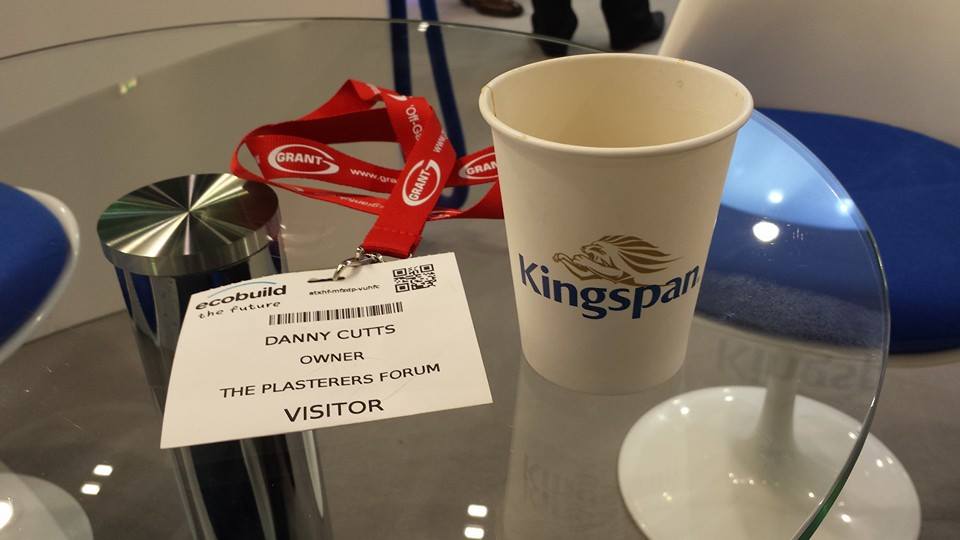 Today I had a strict agenda, and I had to be out of Ecobuild early.
Today the show was busier, and the stands were alive with people and there was definitely a buzz about the show. I was getting around the show talking to companies and spreading the word about TPF and putting faces to names and generally getting involved. I spoke to a lot of new companies, and I am positive the future is very bright.
I Also met Ryan from Plasterers 1 Stop Shop, and we wandered about the show, but we spent a lot of the time on the Mapei stand, and I was enjoying the EWI demonstration that Ade was doing, and I have not really had a great deal of experience in the external wall insulation market, but I am keen to have a go and I did get a chance to have a play.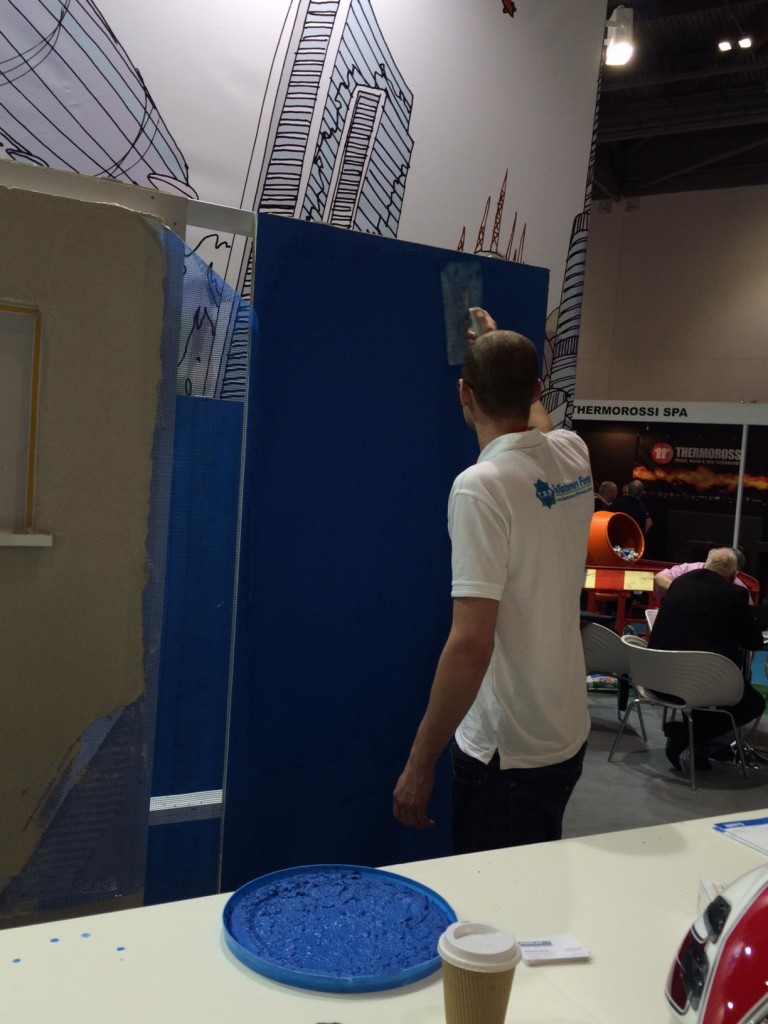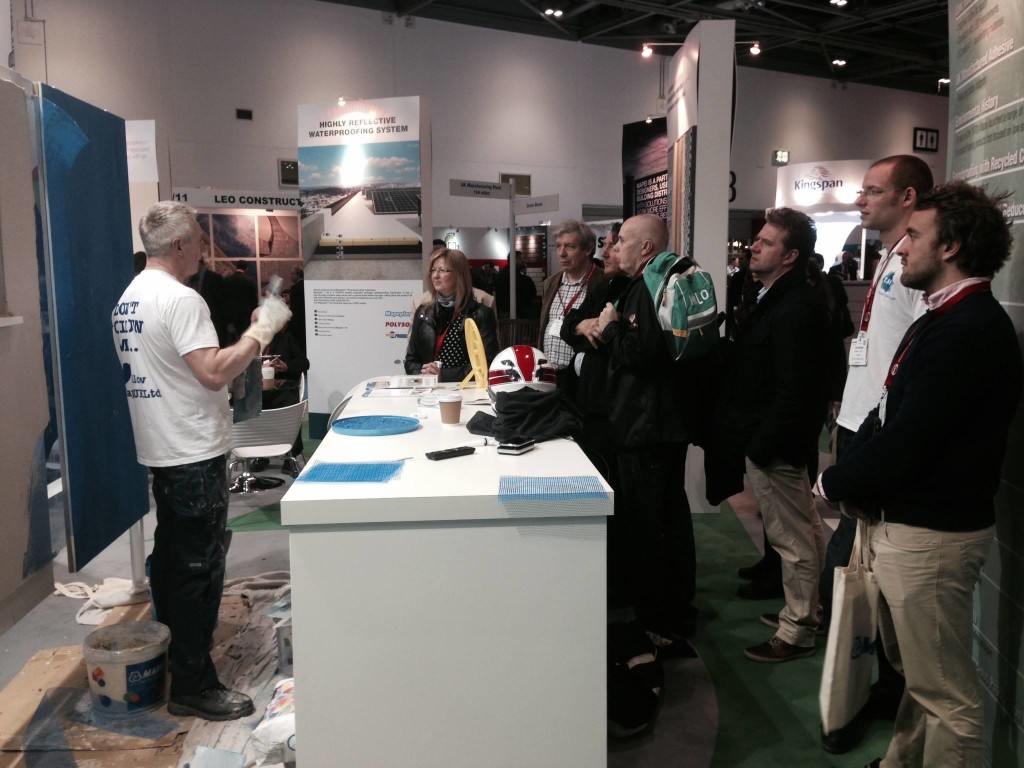 The second day ended really quickly again I still could have gone back for day 3 to see even more but at TPF Towers, we are mega busy and so that had to be the end of the Ecobuild event for 2014.
I would like to thank all the companies, which spoke to me and showed your support for our fast-growing network, and I look forward to chatting further with you over the coming weeks. Make sure you get to Ecobuild next year as I think it's going to be an even better show than this year.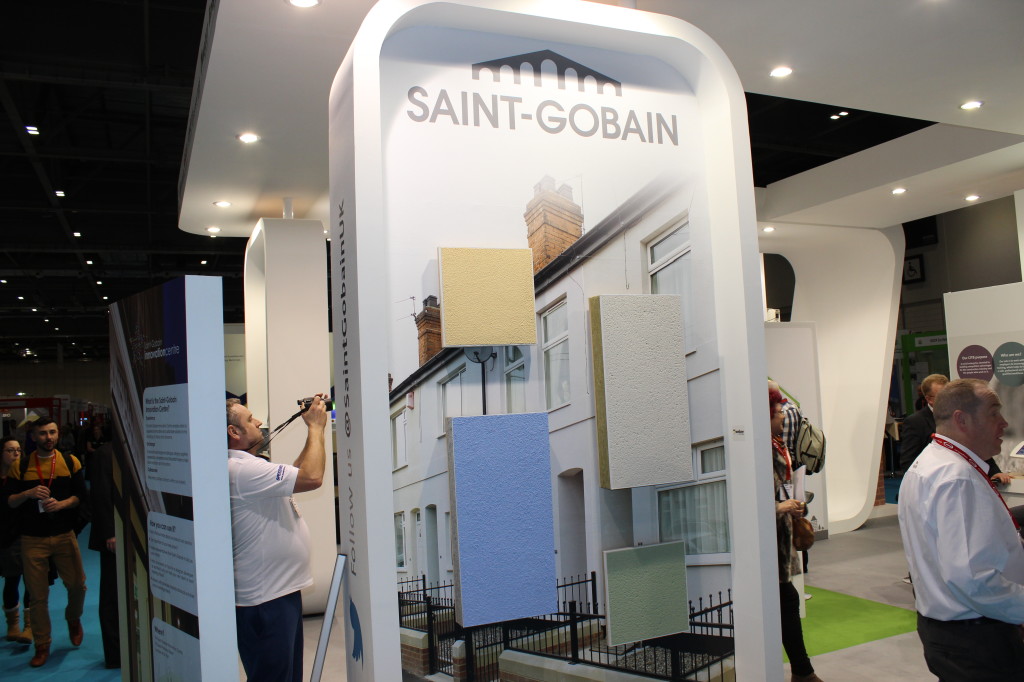 The Plasterers Forum and Plasterers News are growing and are very quickly being recognised with in the industry and from the feedback from the show I am quite excited by what the future holds for our very big network. If you have any questions or would like me to come along and discuss how our network can help you or your company then please get in touch and I will be more than happy to help.