The new Saint-Gobain Weber Façade Colour Simulator allows construction professionals and property owners to create a realistic impression of a building in a single colour, or in combinations of colours, in a matter of minutes.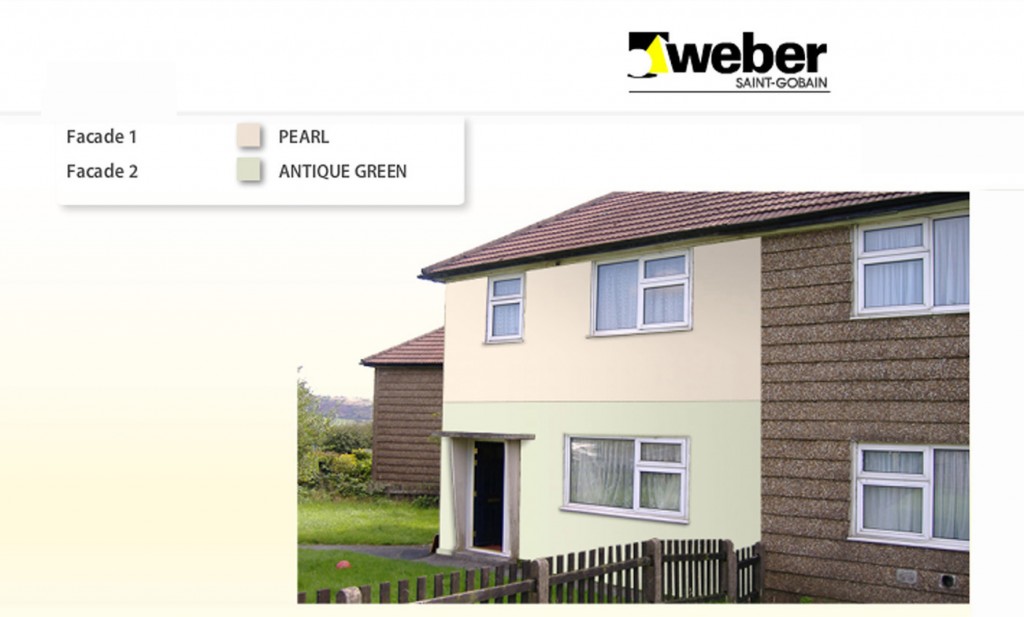 Visitors to www.netweber.co.uk should select the Colour Simulator tab, upload an image of the specific building or project, and by following the simple prompts it is easy to experiment with colours to create the perfect scheme.  A choice of render systems offers 24 monocouche colours, 23 weber.therm XP M1 render colours and over 250 colours in the synthetic finish range. This wide colour collection provides endless opportunities to colour different façades with up to three different colours.
Alternatively there is the option to select a property from a library of standard building types, such as a school or commercial property, a high rise apartment block, a terraced or detached house and a variety of non-traditional housing types such as BISF, Airey and Cornish, to create a digital overlay.  Select the required building type, chose theWeber render product and colours for Façade 1 and Façade 2, view the scheme and print the image.
"The Façade Colour Simulator is for illustration purposes only and the colour representations are as close as website resolution permits," says James Mead, marketing manager, Saint-Gobain Weber.  "We always advise requesting a free sample allowing customers to make a final colour selection from a true sample."
Existing buildings can be rejuvenated while new build projects benefit with the application of high performance Saint-Gobain Weber renders and decorative finishes and achieves a high quality, durable, and weather resistant surface.  The comprehensive range offers fast and efficient application onto a variety of substrates and includes traditional finishes and advanced, flexible coatings.
For more information about the Façade Colour Simulator, or for technical support, please contact Saint-Gobain Weber on 08703 330 070, or visit www.netweber.co.uk.  Customers in Ireland should call 028 9335 2999 or visit www.weber.ie.  A free download of the new weber.app for iPhone and iPad users is also available from iTunes and from Google Play for Android smartphones and tablet users.  Follow Saint-Gobain Weber on Twitter @SGWeberUK for the latest company news and updates.