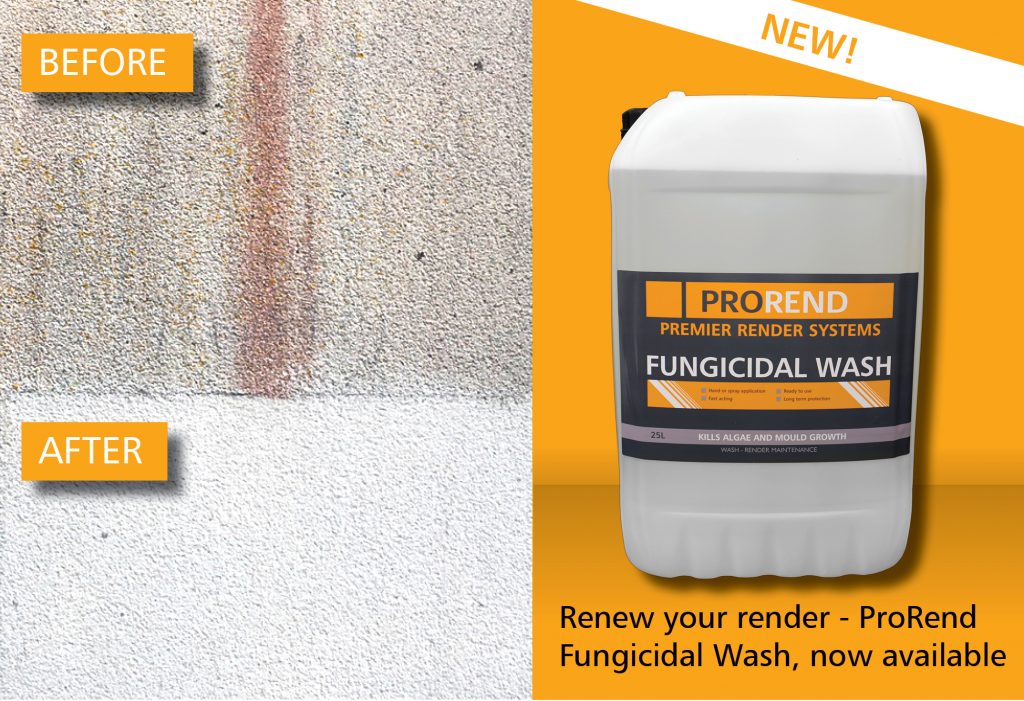 ProRend Fungicidal Wash is easy to apply with long-lasting results

Use ProRend Fungicidal Wash to make your render new again. Over time, rendered walls can become marked by unwanted organic growth. This new exterior wash from UK company SAS Europe removes marks caused by algae, mouldy water stains, as well as bacterial, fungal and organic growth from masonry.
ProRend Fungicidal wash is a water-based masonry wash containing only carefully selected biocides, highly effective against a broad range of bacterial, algal, fungal and mould species. It is used as a masonry cleaner and steriliser to kill green, black and other organic growths residing on walls or other masonry surfaces.
Thoroughly tested by our technical team, Gerry Gould Technical Consultant said, "This wash performed beyond expectations, taking some pretty dirty walls back to almost new." You can apply by spraying, or by brush or roller, and you will need to wear appropriate protection while applying. Gerry recommends agitating with a stiff brush on stubborn stains, before leaving for 48 hours and then pressure washing off the dead growth.
This is an ideal way to renew your render without painting. ProRend Fungicidal Wash is fast-acting with long-term protection on render, concrete, brick and stone.
Use ProRend Fungicidal Wash to renew your render, suitable for professional use or by the competent homeowner. Available from SAS Europe with delivery across the UK.
SAS Europe are a UK manufacturer of external render systems, rainscreen cladding and insulation systems. We supply the highest quality external products for your build projects, and have an experienced technical team to get the results you want. A family run company with 35 years of experience, we pride ourselves on our values and commitment to staff and customers.