The Plasterers Forum has been giving out freebies for a long time now and every time we do give something away I get in inundated with requests from people wanting to buy the items as well which instantly gave me the idea of actually setting up a shop and give the readers and members of The Plasterers Forum and Plasterers News the chance to get hold of some of the merchandise that we have on offer.
So let's go back in time and see what was the first item of merchandise that we sold on The Plasterers Forum and how that has evolved over the years to becoming a fully-fledged fan shop. Well, the first item was the Plasterers Forum mugs, and I first was getting these printed by a local company and after a little research and practice, I went out and bought all the equipment and set up a mug printing business and started selling custom mugs to companies and all the money I made from the mug sales I put back into the forum and started giving away mugs.
Our mugs started to get really popular, and they were springing up everywhere, and I started to see them appear at training schools at industry events and to be honest they became quite famous. However, it did not end there. I decided that I should be graphic'ed up as much as I possibly can and the next merchandise to hit the public were the Polo shirts…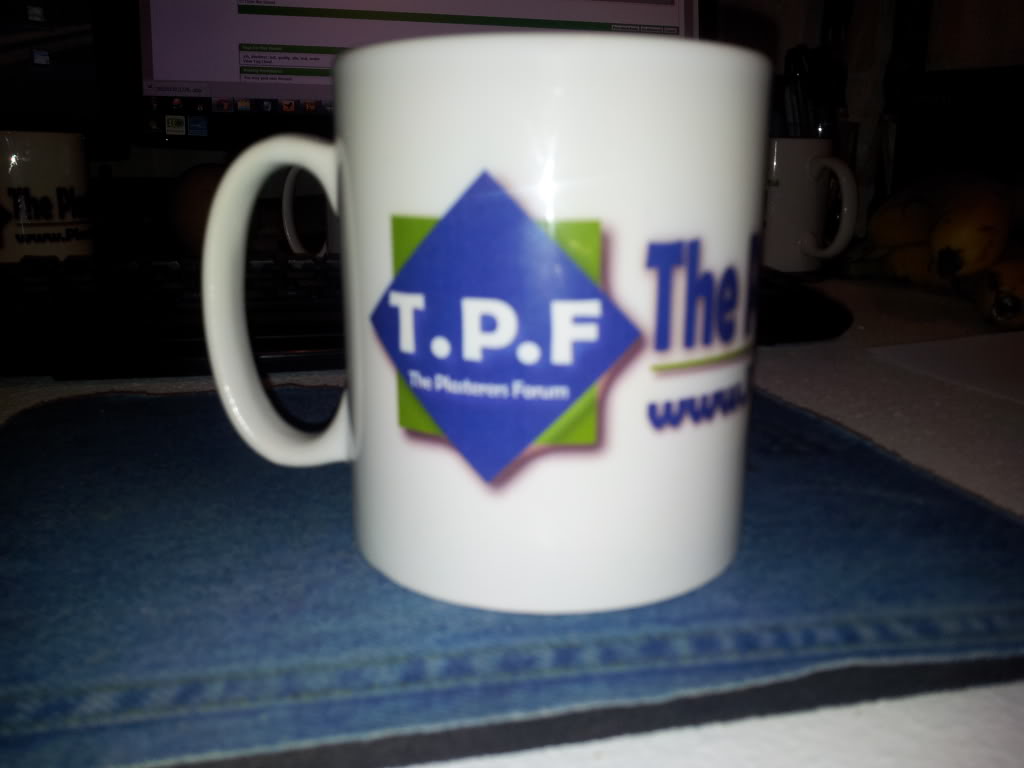 These shirts were popular and became even more popular when my lovely wife modeled one, however, the cost of getting these shirts was expensive and giving them away for free made me very twitchy, and I only could give a few away. Then I found a fantastic supplier who increased the quality of the shirts and also managed to meet me at a good price point. However, I am still not in a good position to give them away but still these polo shirts look great and with the embroidered logos, I know a few plasterers that did get one have now also added their logos to the polo shirts.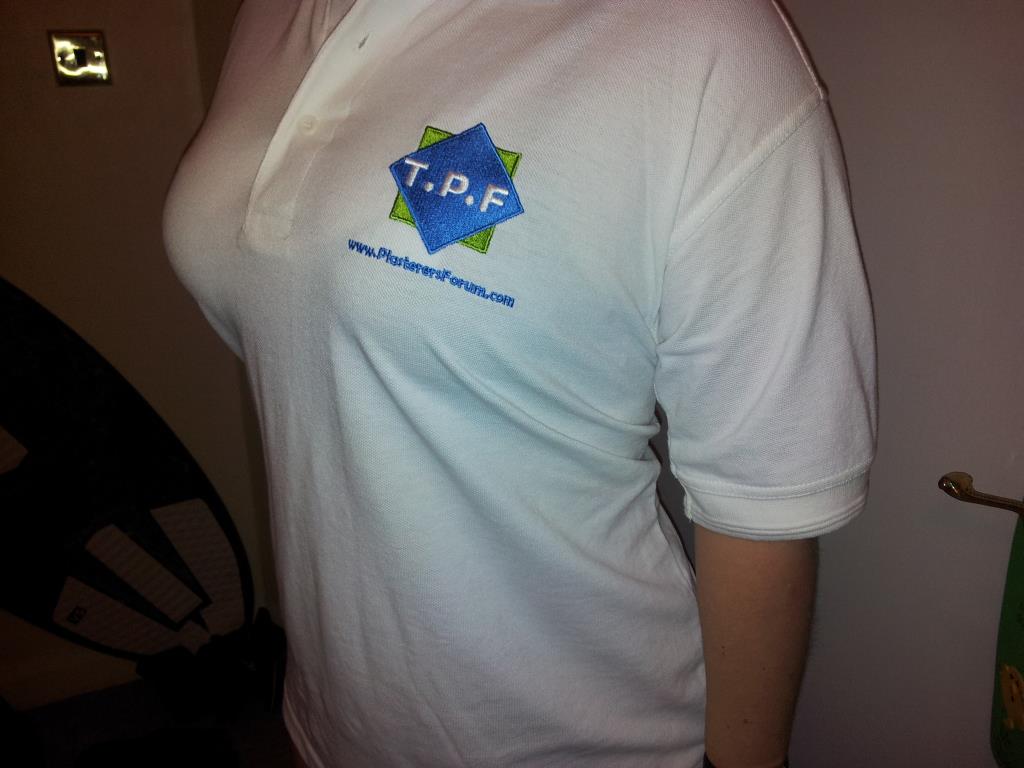 The next merchandise to the shelves were the normal black T-shirts and these were the first products to display the registered trade mark ® and that was a big step for us getting the trademark and finally seeing it actually in all its glory. Furthermore, this is the first time I ever saw The Plasterers Forum logo on black, and I have to say it stands out fantastically.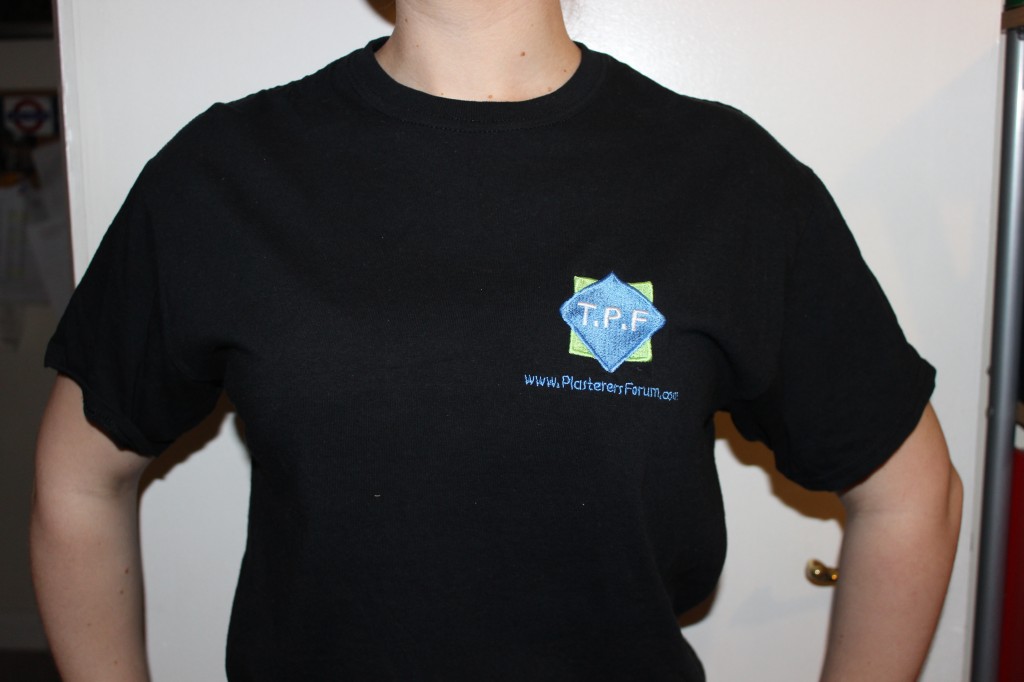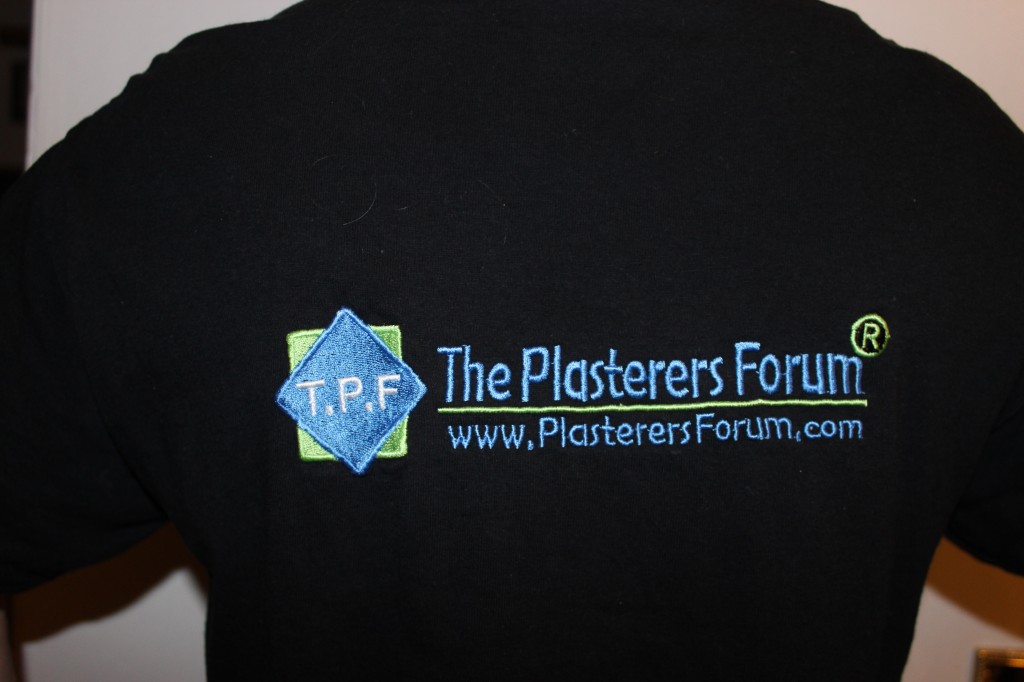 At the same time as getting the T shirts done I also decided to get some bumper stickers done. I had been asked a few times for our graphics so that plasterers all over the UK could display the sticker on their vans and well after sending it to around 10 different people it was a good idea to get some done. Well, I was blown away by how great these looked, and I soon started to get photos of them on the vans, and I was really impressed and they simply look great, and I think you will agree.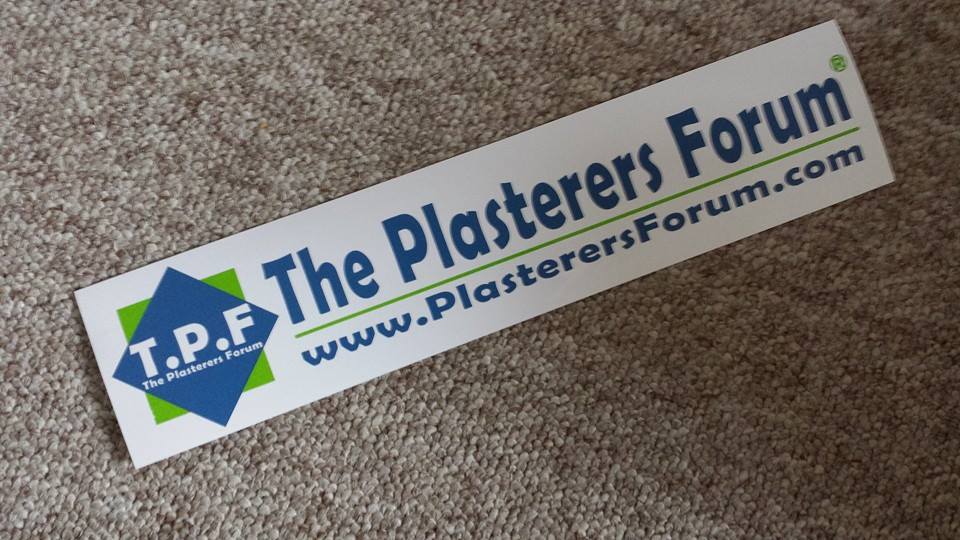 There has not been anything that looks as great as The Plasterers Forum Pint Glasses… oh yes!!
Every Friday night on the forum there is always a discussion on what people are drinking and members have been posting photos of their drinks, and often they drink them out of their TPF mugs, and I thought it would be a good idea to have them drinking their beer and lager out of pint glasses like it should be. Well, with a bit of fettling and tweaking with a local Laser engraving company, we came up with the pint glass, and I have to say it looks fantastic, and I am very very pleased with how well they have come out. I think you will agree that the pint glasses look stunning.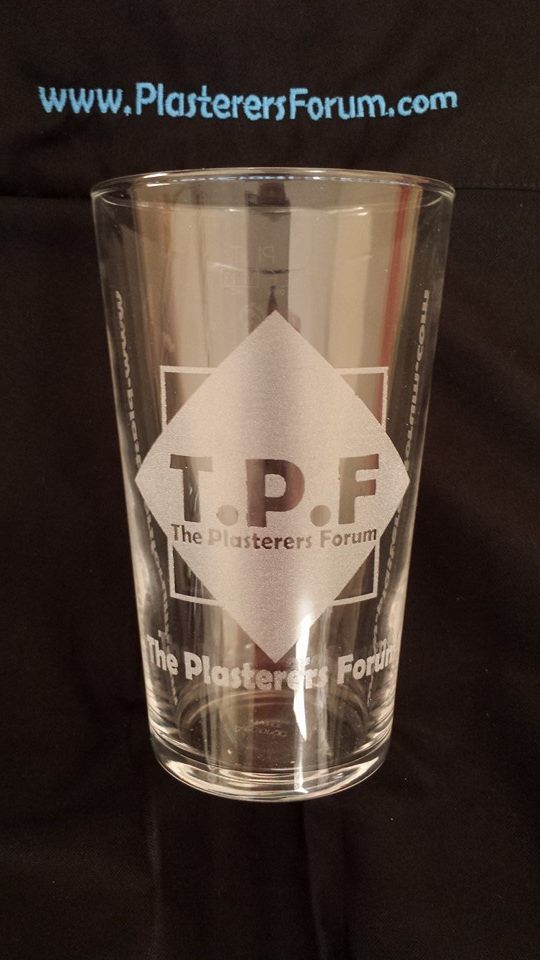 If you are interested in purchasing any of our merchandise then, please head over to our shop http://www.plasterersnews.com/shop/ and take a look. We will be donating money to charity for every item that is sold, and at the moment we are donating to Make_A-Wish Foundation®.
If you have any questions or requests then, please do get in touch with us.