Following a hugely popular event in 2015, the UK's biggest trade show for construction industry professionals, Jewson Live, is back for a second year.
Featuring a fantastic speaker line up and top trade deals, this free to attend event takes place at the National Exhibition Centre, Birmingham, on 15th December 2016.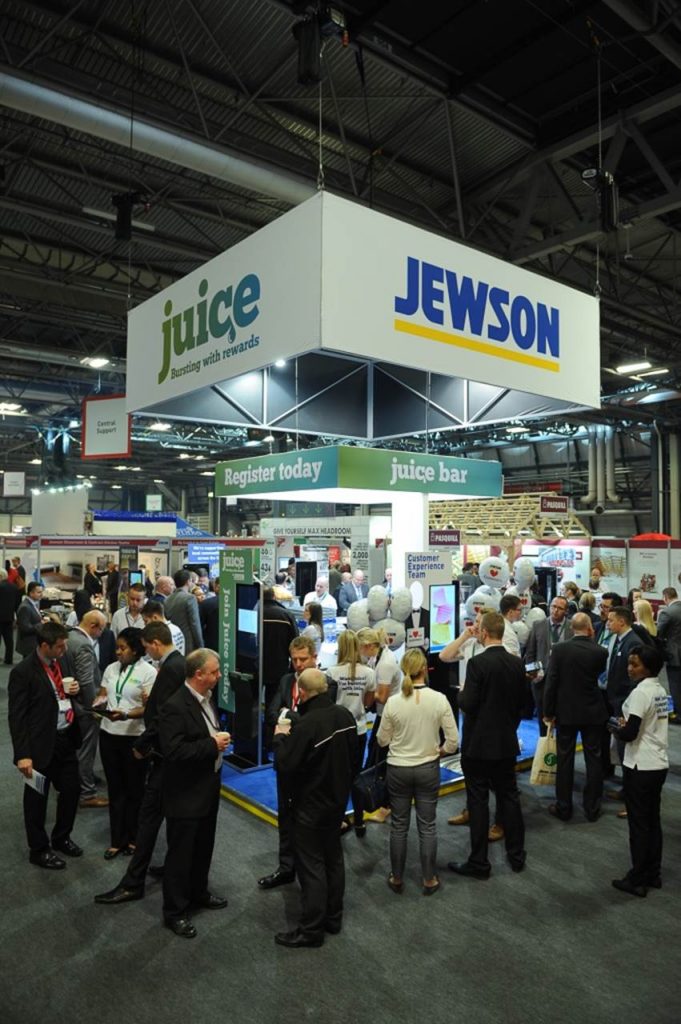 Over 180 leading construction brands will be exhibiting at the show, offering product demonstrations and practical advice on the latest building techniques and services.
The event will also feature a stellar line-up of speakers – from footballers to famous architects. Names already signed up include, Architectural Designer and Television Presenter Charlie Luxton, former England Footballer Dion Dublin, and former international Rugby Union Star, Neil Back MBE.
David Fenton, Marketing Director for Jewson, said: "Whether you're a bricklayer, plasterer or carpenter, Jewson Live offers something for everyone. As well as advice and special offers, the show is an opportunity to get together with like-minded people and discuss what's going on in our industry.
"It's a great place for tradespeople to get the tools and knowledge they will need for 2017 and beyond. It's not all work though: we've got a few surprises planned for the day too!"
New for the 2016 show, Jewson is offering Juice by Jewson, loyalty programme members the opportunity to redeem rewards at the show, for delivery in time for Christmas. Pre-order of rewards to collect at the show, will also be available.
To register for your free place at the event, visit live.jewson.co.uk.
Full speaker line up
Stacey Temprell, Marketing Director, Saint-Gobain
HOW CAN A HOME IMPROVE COMFORT, HEALTH AND WELLBEING?
Stacey Temprell will explore the increasingly popular trend of healthy and comfortable buildings and shed light on what homeowners and renters want from their living environment
Charlie Luxton, Architectural Designer and TV Presenter
BUILDING POSSIBILITIES
Charlie Luxton will talk about the latest industry trends, and the exciting developments in modern building design
Lee Wilcox, Andy Taylor, Adam Barrie founders of online construction industry community On The Tools
THE ON THE TOOLS STORY
Lee, Adam and Andy will tell the story behind On The Tools, and talk about their plans for 2017 and beyond. A key feature of the talk will include details of the launch of their recruitment app, which will allow construction workers in the UK to offer and find work local to them.
Dion Dublin, former England footballer, and Neil Back MBE, former international Rugby Union star
A LEAGUE OF JEWSON'S OWN
Former England striker, Dion Dublin and Rugby World Cup winner, Neil Back MBE will go head-to-head at Jewson Live in a unique quiz-show competition.
Every Jewson Live attendee will be given the chance to win a place on stage, for either Team Dion, or Team Back in a panel game to win a whole host of prizes.
Marcus Jefford, Director, Greenworks Training Academy and Martin Taylor, Commercial Director, Local Authority Building Control
SERVICES AND SOLUTIONS TO AVOID NON-COMPLIANCE IN CONSTRUCTION Non-compliance can be the biggest concern of any build project. Marcus Jefford and Martin Taylor will discuss services and solutions, including SAP, post build testing and building control, which can support you in reducing risk and increasing efficiency.