NEC Birmingham
24th & 25th September
Stand Number D11
Timber Expo 2013 at the NEC will offer contractors, local authorities and specifiers another chance to see the latest innovations suited to timber construction from Knauf, a leading manufacturer of lightweight building products and systems. Among the highlights will be Knauf Aquapanel Exterior, Knauf Flooring products, new Knauf Vinova as well as the Company's range of Readymix Plasters which now includes Sheetrock Ready-mixed Finishing Compounds.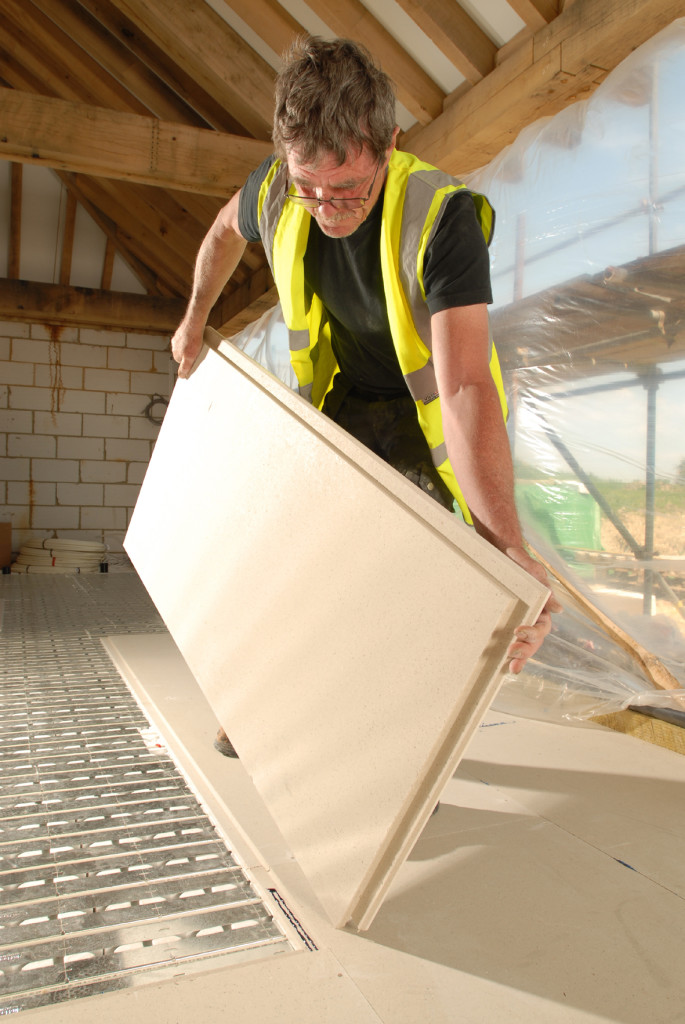 Ideal for timber frame construction, Knauf Aquapanel Exterior is an aggregated Portland Cement building panel with polymer coated glass fibre mesh embedded in both surfaces that provides a fast track, all-weather cladding. The panel is water-proof and so will not swell or lose stability. It also resists weathering, mould and changes of temperature – the system has a proven freeze-thaw cycle, and is used throughout Europe from Norway to Greece.
Knauf Aquapanel Exterior has excellent impact resistance, and is safe and hygienic. The 16kg/m2 boards are simple to install – just 15 minutes per square metre, screwed to steel or timber. Joints are taped and filled, and the basecoat and reinforcing mesh are applied to the surface, before finishing as required.
Suitable for new build and refurbishments, Knauf Brio Dry Floor Screed offers many real advantages over traditional wet screeds and timber decks such as better stability, the speed and ease of installation, and higher quality.  It can also take high loads and yet retain its elasticity – bowing is simply not an issue.
The Knauf Brio range also works well with the underfloor heating (UFH) systems – favoured in sustainable development because it is thermally transparent – temperature changes are achieved almost immediately – and because it is far simpler to install UFH beneath a dry screed floor than either wet screed or decking.
Specifically designed for fast-track construction programmes, Knauf's range of Readymix Spray Plasters significantly cut on-site timescales while improving health and safety with no mess, fewer movements and no water required. These plasters have a high polymer content, that not only enables them to flex with the building without cracking but also reduces humidity in the building during construction as they have a far lower water content than traditional internal plasters.
Less prone to chips and cracks than traditional plaster, these plasters offer an excellent quality finish and are supplied pre-mixed to the correct consistency for spray application, no direct water supply is required on site and wastage is less than 1%.
New to the Knauf offer, and also being previewed at the show, is Knauf Vinova – gypsum-fibre panels with a finished surface and an ideal choice for interior walls and ceilings. Installed with a simple substructure and clip system, KnaufVinova panels provide the ultimate in form, surface and structure in wall and ceiling claddings.
Offering superb impact and fire performance, the panels can be coated, painted or laminated with wood or digital print for maximum design and creative flexibility.