Ready Mixed Spray Plaster developed by Knauf – the UK's leading manufacturer of lightweight building materials and systems – delivered the finest finishes on the fast-track construction programme to develop a major new hotel in the centre of London.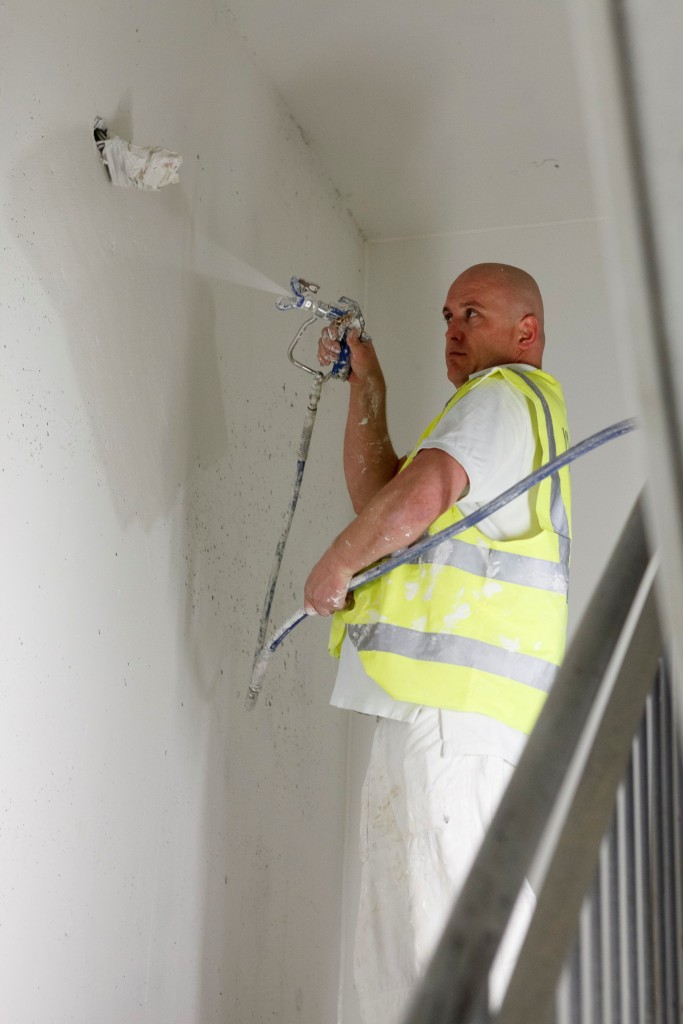 Operated by Motel One, the German budget design hotel brand, Motel One London-Tower Hill was constructed by main contractor McAleer & Rushe for Endurance Land and Aberdeen Asset Management. Its 291 bedrooms were finished with approximately 33 tons of Knauf Deco Plus Plaster, which provides a textured finish and is applied using a rotary screw worm pump machines. Project manager Peter Devlin of McAleer & Rushe, commented: "We were familiar with the product and had used it very successfully on a similar fast-track hotel project developed and built by McAleer & Rushe at Blackfriars that had to be ready in time for the 2012 Olympics."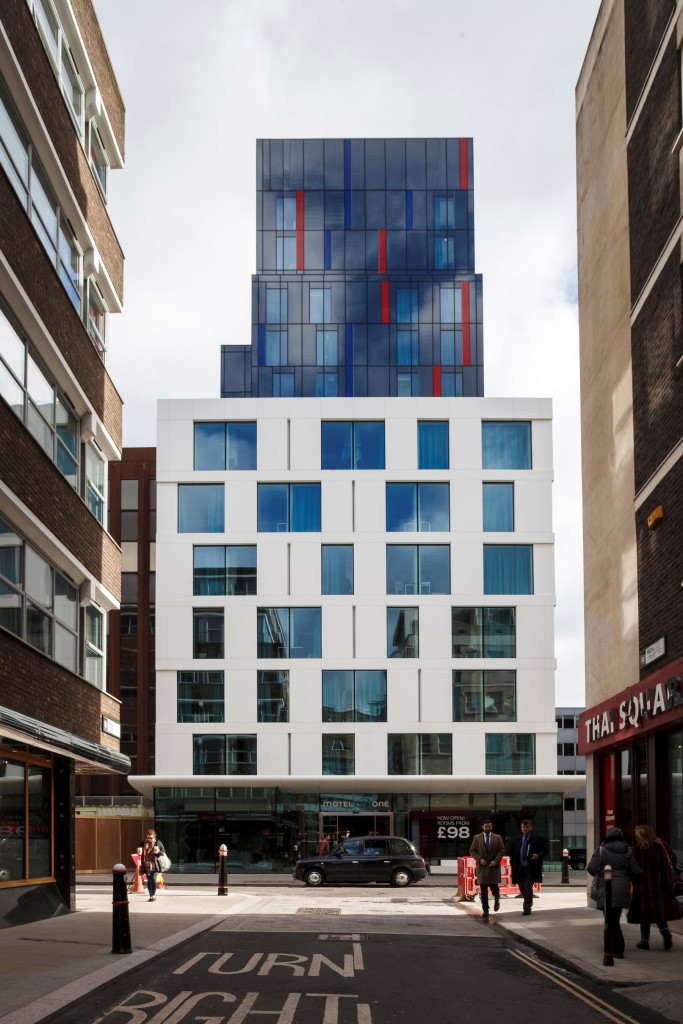 The Ready Mixed Spray Plaster has other advantages too, cutting both waste and the need to add water on site while reducing hazards because there is no need for step ups or platforms as the plaster can be sprayed up to a height of 3 metres from floor level.
"The major advantage with these products is the speed at which you can apply them – three or four times faster than manual application," said Matt Smith, who runs the specialist subcontractor Spray Plastering Specialists appointed by McAleer & Rushe.
He pointed out that faster application also leads to better quality because it means the job requires fewer staff on site and so it is far simpler to achieve a consistent finish throughout the project.
"We have far greater control because there are fewer people on site. We have a team of just three people and we can do 30 rooms a week. We have one guy working ahead of us filling and jointing and two people spraying plaster," he said.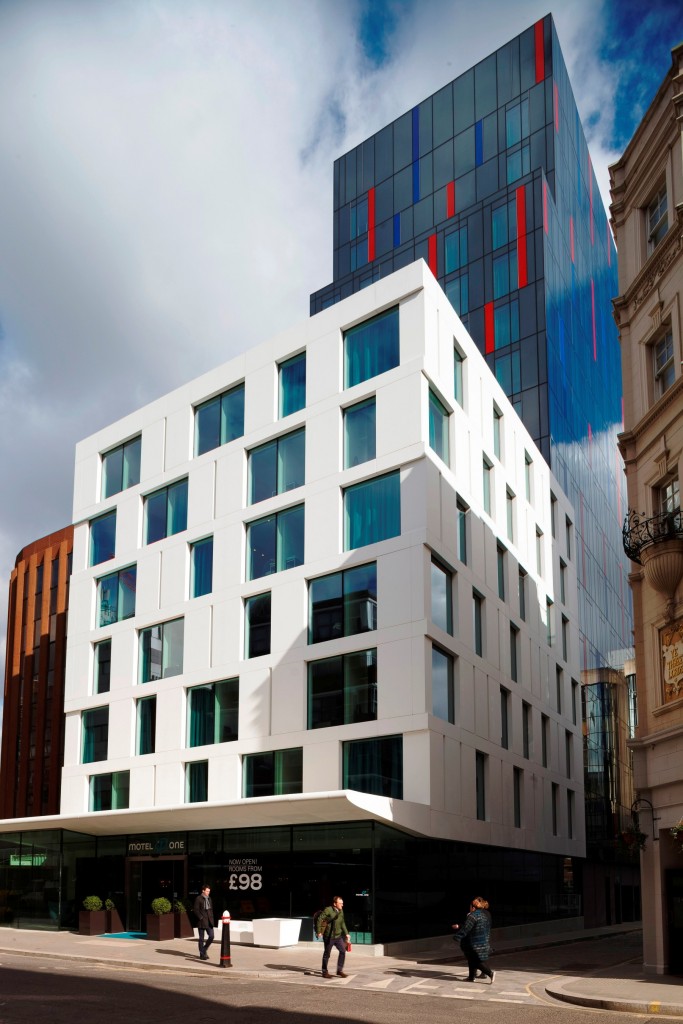 "You'd need a lot more teams working on this job to get it done in the same time using traditional methods and your would have had issues with quality because there would be variation between finishes. The fact that it is ready mixed also means we get a consistent product mix as there is no variation between batches."
Another advantage of the product being ready-mixed is that there is no need to use water on-site – a particular advantage on this job because low water pressure meant that water was only available on the first three floors.
"The only water we need is to wash our tools off, which we bring up in a hoist," Mr Smith remarked.
The lack of waste and mess was also useful on a logistically difficult site such as Tower Hill was– any plaster not sprayed onto the walls and ceilings could be used to fix beadings. "All that we have to get rid of at the end of the day are the sacks – and those we can simply roll up and put in the recycling bin," commented Mr Smith.
Knauf's range of Ready Mixed Spray Plasters enable up to 1,000m2 per week can be finished by a three man gang, while surfaces can be emulsioned within 24 to 48 hours, so the plaster can be applied by the same teams applying the paint finishes. They offer a range of finishes, including flat and smooth, textured, leathered, combed or rollered.
There are four products in the range – Knauf Plano, Knauf Deco, Knauf Deco Plus and Knauf Airless – that cover every application including thin joint block systems, pre-cast panels, Aircrete panels, concrete, brickwork, composite boards and refurbishment over previously decorated surfaces.
Knauf Plano is filler and levelling compound for use over thin joint block systems, uneven in-situ concrete and on refurbishment projects to fill cracks, holes and undulations to prepare the surface for final decoration.
Knauf Deco is a topcoat that can be applied as a 1 – 2mm top coat on Knauf Plano or be sprayed as a two coat finish directly onto smooth backgrounds such as pre-cast panels, Aircrete panels, composite boards, and – for refurbishment – over previously decorated surfaces. Suitable for the same backgrounds as Knauf Deco, Deco Plus was developed for areas of high humidity and offers extra water resistance and fungicidal protection.
Knauf Airless is suitable for the same backgrounds but applied an airless high pressure piston pump machine.
Motel One is targeting the UK as the most important market outside Germany and has already opened two hotels in Edinburgh, with two further hotels planned in Manchester and another in Newcastle. The Munich-based group's motto is "Great design for little money", with interior furnishings characterised by design classics such as the ARCO lamp by Achille Castiglioni.