Innovative fixing systems combined with top class design and technical support from Knauf – the UK's leading manufacturer of lightweight building materials and systems – has accelerated and simplified the construction of Hampshire's first 'all-through' school.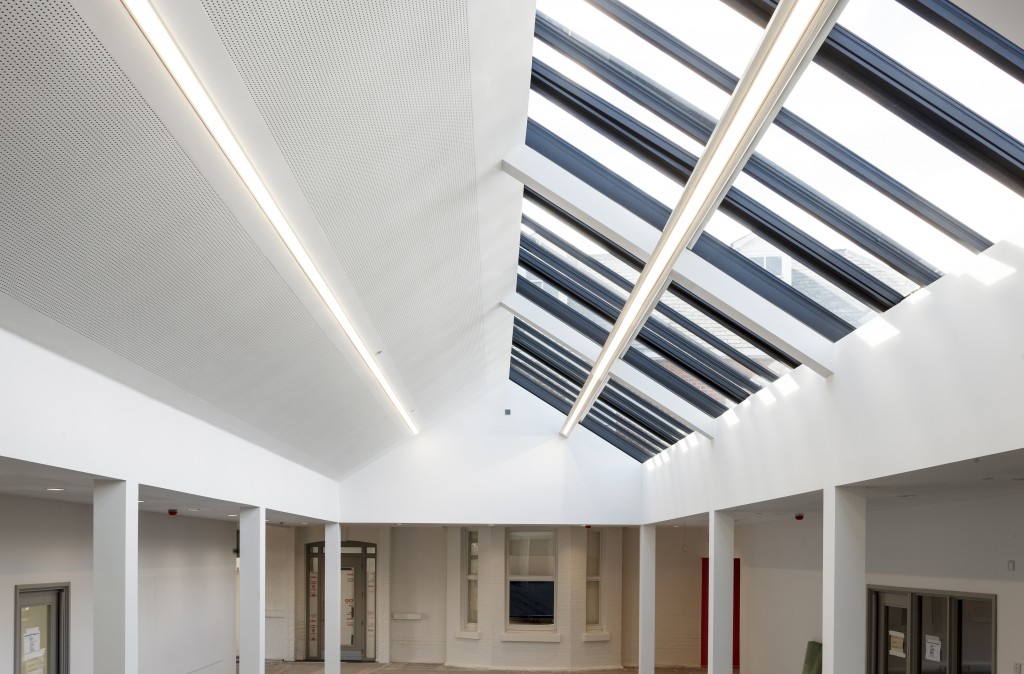 The drylining sub-contractor, MTEC Walling, believes that using Knauf's simple but ingenious Linear fixing system to install Cleaneo Akustik perforated plasterboard in the new school hall shaved around 15% from this element of the construction schedule.
And the project lead, Simon Alford from Hampshire County Council property services, comments that Knauf's simplified the specification using the same board throughout for the walls and partitions and Cleaneo Akustik for the ceilings to achieve the robust finish and to meet the acoustic standards set out in Building Bulletin 93.
As part of its response to rising demand in Winchester for primary school places, Hampshire County Council devised a £7.8 million plan to transform Westgate School from a secondary school into one that would cater for pupils from 4 years old to 16.
This involved the construction of a new primary school building with 14 classrooms attached to Rotherly House, a significant Victorian property that was radically converted to create the main hall that will be used for dining, performance and music venue, gymnasium and assembly hall.
The facade exterior of Rotherly House was retained, but all internal walls and floors were removed to create a single double height multi-purpose space designed to meet the strict Class C acoustic standards required. Similar construction techniques were also used throughout the new build classroom and teaching spaces.
The suspended ceiling consists of Knauf Cleaneo Akustik Circular 8/18 panels installed using Knauf Cleaneo Akustik Linear Caps. This system is extremely quick and easy to install: Each board has two notched edges and two lapped edges that allow for an easy and precise alignment.
Altogether MTEC Walling installed between 800m2 and 900m2 of Cleaneo Circular 8/18 using the Akustic Linear caps in the main hall of Rotherly House, the main entrance atrium and various classrooms in the new build.
"In other designs the boards are fixed by screws through the face of the board which then needs filling and sanding, which takes a lot of time when you've got more than 40 fixings per board," said Steve Jenner of MTEC Walling. "But using the Linear caps means that once the caps are in place the fixings can't be seen. This makes the job a lot faster because then all you have to do is fill the joints. The boards are also light and so quite easy to handle."
Innovative design gives Cleaneo Akustik Linear boards industry-leading installation speed because they have precision-engineered butt joints on all four edges of the board, so that they butt together quickly and easily, allowing perfect alignment of perforation patterns in a fraction of the time.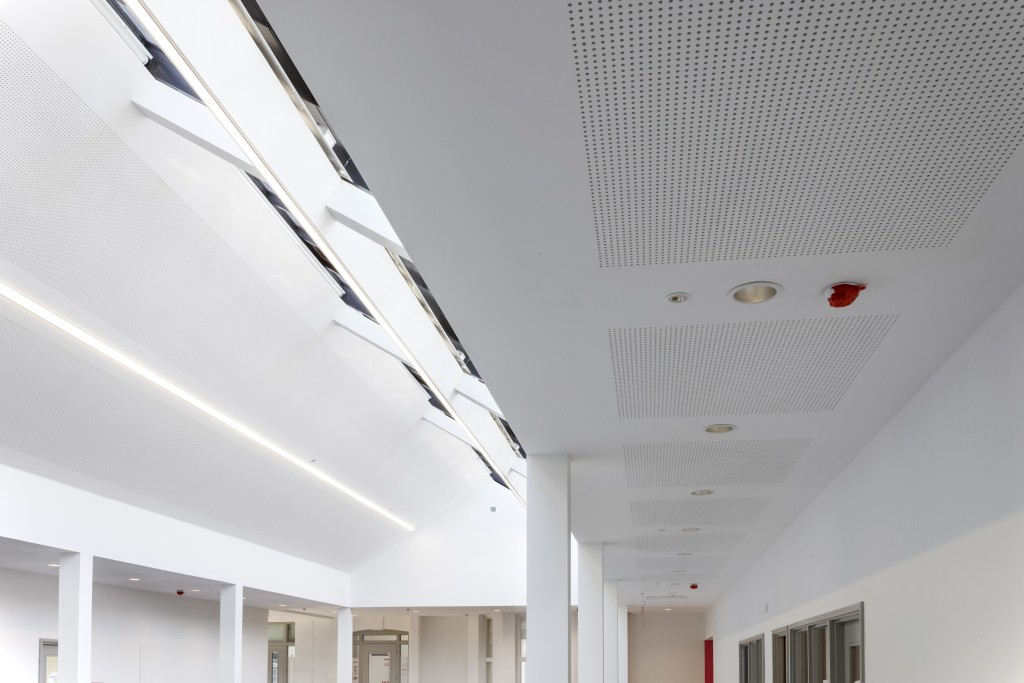 Ideal for the large public spaces that are integral to everywhere from retail centres and office complexes to hospitals and schools, Knauf Cleaneo Akustik perforated plasterboard combines unrivalled sound absorption performance and attractive design in one easy-to-install board. It reduces noise reverberation whilst enhancing the design of any space.
Sixteen different perforation styles give the specifier complete creative freedom, whilst the tested and proven sound absorption performance gives complete confidence. All Knauf Cleaneo Akustik boards are supplied with the Cleaneo air cleaning effect to reduce in-air VOCs and pollutants, and with a high-quality paper face, providing an excellent surface for direct decoration.
Designed to absorb sound (reverberant) energy, Knauf Cleaneo Akustik perforated and patterned boards have holes that allow noise to pass through but disrupt its path, taking energy out on its return and reducing echoes in a room. The clarity of speech or music can be tuned by the choice of pattern, using Knauf insulation or adjusting the void depth. The rate of absorption is classified in accordance with BS EN ISO 11654 giving each Cleaneo Akustik pattern a class rating, so that it can be adapted to meet regulations such as Approved Document E for residential, BB 93 for schools and HTM 08-01 for hospitals.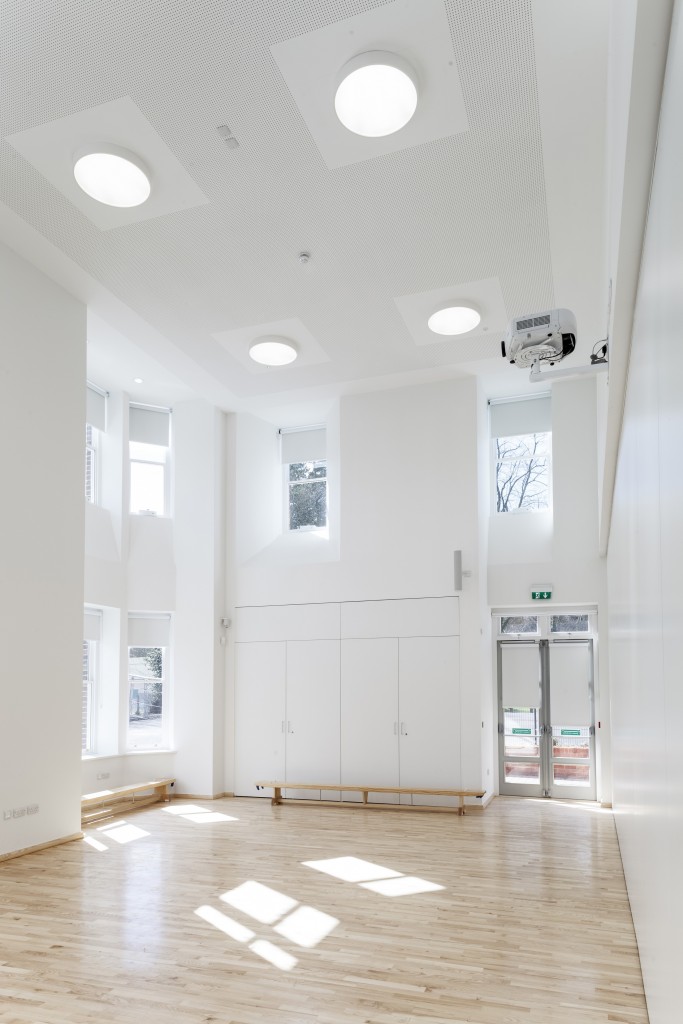 Knauf Cleaneo Akustik ceiling systems achieve a minimum Class D sound absorption performance with a void depth of just 65mm. Increasing the void depth and adding insulation with select boards can improve the sound absorption performance up to an industry-leading Class B. Knauf also offers the Danoline range which achieve Class A absorption
Knauf's technical support team will work with the acoustic consultant and the architect to choose the appropriate wall and ceiling constructions to deliver the desired acoustic performance. In particular the support team would work to streamline the design so that the number of wall and ceiling types is kept to a minimum and so reduce the number of components required on site.
In the case of Westgate School, Knauf produced a complete project pack that provided all the detailing and the products required to meet the requirements of BB93 for the acoustic performance of ceilings and partitions.
"The specification pack from Knauf really simplified matters, not only in terms of making sure that the design met the acoustic criteria but also in reducing the number types of boards required to meet the various requirements," said Simon Alford.
For instance, Knauf Soundshield Plus plasterboard enables the teaching areas to meet the strict standards laid down by Building Bulletin 93: Acoustic Design of Schools while Knauf Impact Panel is installed in corridors and circulation areas. Both products are mounted on frames of 70mm Knauf 'C' Studs. The conventional means of achieving this would be to install two 12.5mm boards on either side of a partition whereas the same performance is possible with just one layer of 15mm Soundshield Plus. Similarly the Knauf Impact Panel also means one board can be installed rather than two layers or more.
Knauf Performer partitions clad with Knauf Soundshield Plus, and using the Knauf Resilient Bar technology, can achieve up to 65dB (Rw) within an overall width of just 164mm. Knauf Impact Panel not only provides a superb, durable finish that is easily repaired and can be combined with other Knauf products to give a superior acoustic performance of up to 57dB (Rw).