Incorporating all the proven benefits of its predecessor, Apertura, the Cleaneo Akustik range of perforated plasterboards from Knauf – theleading manufacturer of lightweight building products and systems – comes newly equipped with Cleaneo Akustik technology to provide improved air quality for a cleaner and safer working environment. The range is further enhanced with four new boards that offer a four-sided tapered edge profile that enables the boards to be taped and jointed.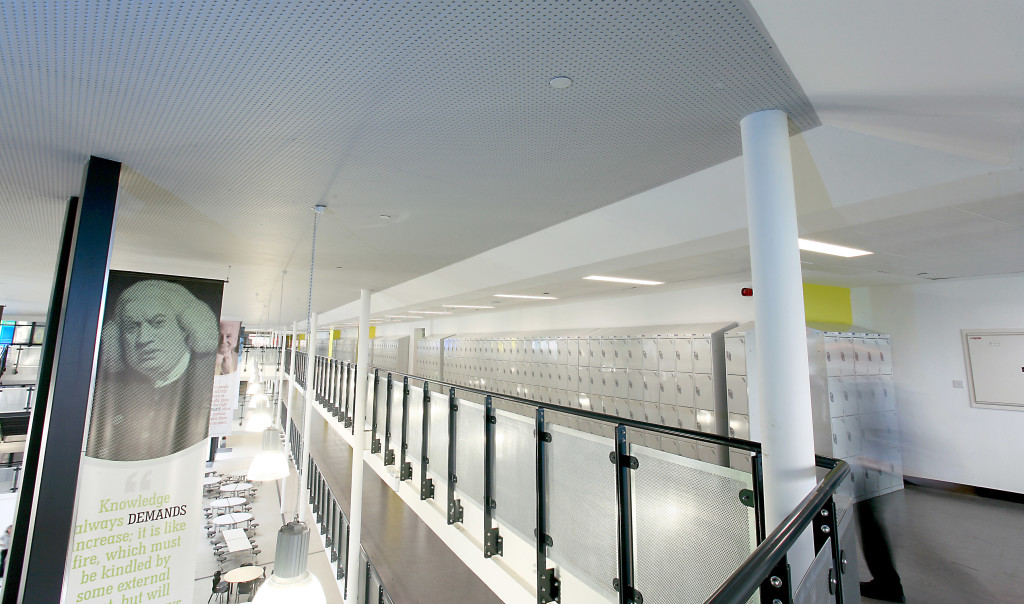 Available in twenty different perforation patterns to offer complete creative freedom, Cleaneo Akustik plasterboards cut the amount of pollutants and odours while still delivering their market-leading acoustic performance. This enhancement tackles the issue of low air quality, which arises because new energy-efficient buildings are increasingly airtight, saving energy but lowering air quality as furniture, floor coverings, glues and cleaning agents can all emit fumes into the working environment. Cleaneo Akustik plasterboards need no special maintenance and can be coated with a suitable paint without its anti-pollutant performance being affected.
Designed to absorb sound (reverberant) energy, the perforations in Cleaneo Akustik allow sound to pass through but disrupt its path, taking energy out on its return and reducing echoes in a room. Specifiers can effectively tune a room or a space for the clarity of speech or music by their choice of pattern, using Knauf insulation or adjusting the void depth.
Used in conjunction with either Cleaneo Akustik Wall liner or Knauf MF Ceiling, the Cleaneo Akustik range can provide fully-warranted acoustic systems that use proven fast drywall construction techniques to supply unparalleled sound absorption performance. These ceiling systems, used in conjunction with specific boards in the range, can achieve the industry-leading Class B rating, as classified in accordance with BS EN ISO 11654.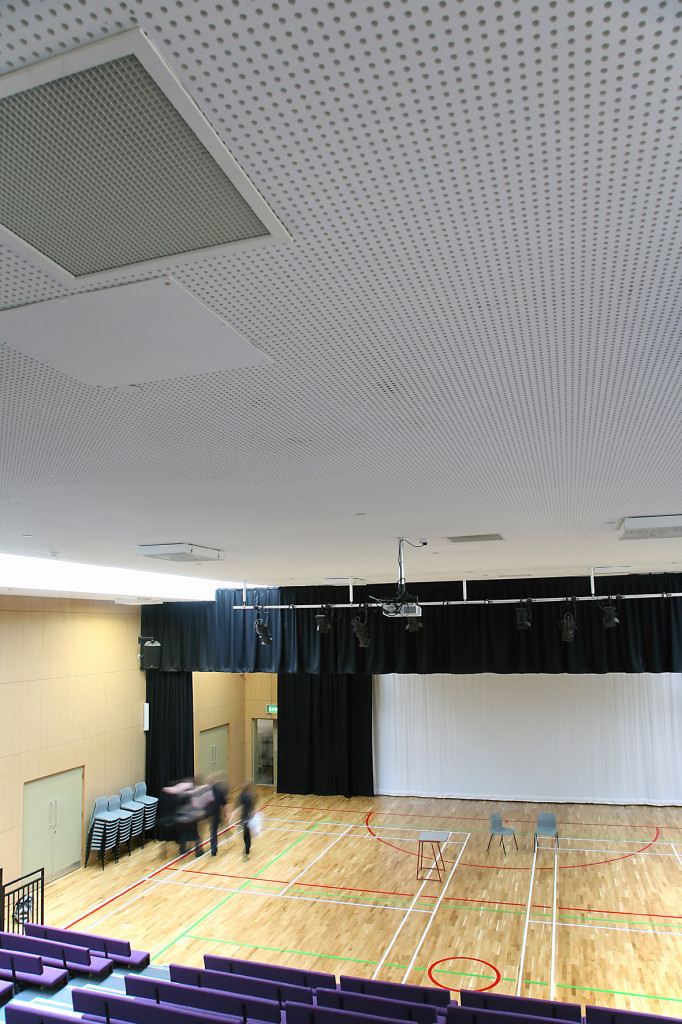 Even with a void depth of just 65mm, Cleaneo Akustik Ceiling systems achieve a minimum Class D rating for sound absorption while increasing the void depth and adding insulation with selected boards will improve the performance as required.
This versatility makes the system ideal for large public spaces in retail centres, office complexes, hospitals, schools, showrooms, conference halls and galleries. Designers also have the choice between the attractive and swiftly installed grid-style of the Cleaneo Akustik Linear board or the seamless finish possible from the range.
Offering the fastest installation of any acoustic plasterboard system available, Cleaneo Akustik Linear has unique precision-engineered lapped joints on all four edges so that the boards butt together quickly and easily, allowing perfect alignment of perforation patterns in a fraction of the time needed for alternative methods. No jointing is needed either, so the potential cost, time and mess caused by filling joints above head height are avoided.
Even screw heads need no finishing as the system uses the innovative Cleaneo Akustik Linear Cap, which fixes boards securely and discreetly through the circular perforations. As a result, no water needs to be used on site, so there is little to affect other trades.
A striking seamless finish is possible by using Cleaneo Akustik boards with Knauf Uniflott to create a strong, tapeless joint. The boards have an FF edge profile that ensures the boards are correctly spaced and limits bulging of the paper liner under humidity. This edge detail also reduces the depth of the joint between boards and closes it on three sides, producing a stronger joint, reducing the risk of cracking.
It also optimises the application of Knauf Uniflott filler to reduce material and water use on site. Cleaneo Akustik FF edges are also primed and have a slight bevel to speed up installation. The innovative edge profile combined with the board's precise dimensions and special fixing tools guarantee that the proper perforation distance is always achieved along the length of the board edges.
In those cases where a grid-like design is required – but there is no time to install the usual grid and tile system – then specifiers can choose the Cleaneo Akustik Block, plasterboards available in six designs with blocks of perforations in a grid pattern. They are supplied with either an FF edge profile or a four-sided tapered edge so the boards can be taped and jointed and are available with either black, white or grey acoustic lining.
All Cleaneo Akustik boards are supplied pre-laminated with a 45g/m2 acoustic lining in a choice of white, black or grey, to suit the desired visual effect, and with a high-quality paper face, providing an excellent surface for direct decoration.