Spray-applied Airless Plaster and GIFAfloor dry screed flooring from Knauf has enabled Central Site Accommodation, a modular building manufacturer and contractor based in Coventry, to speed up production and construction on a schools extensions programme in Mansfield, Nottinghamshire.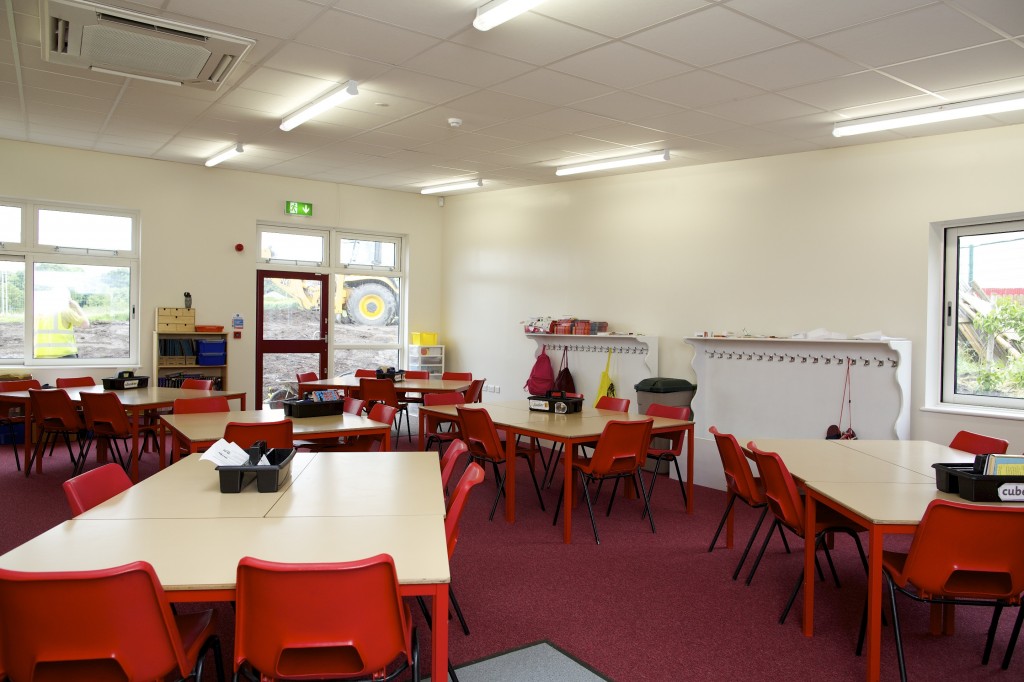 The contractor has already used the products on two extensions to the King Edward Primary School in Mansfield and is now planning to employ them on a further 20 similar projects in Nottinghamshire and Warwickshire over the following six months.
"Now that we've trialled them and we're happy with the results we plan to use them as part of our system build," said director Mike Walsh. Through using Knauf Airless Plaster and Knauf GIFAfloor the company has saved time and cut costs in both installation and making good on site, he explained.
"We try to do as much as possible off-site but we couldn't do this with other plastering systems as they would crack when we lifted the module onto a truck. This product is flexible so we don't have that problem so now we can do second-fix work such as skirtings, doorsets and decorating or fitting out toilets, and kitchens in the factory," he said. "Health and safety at the school is also improved because contractors are on-site for less time."
Knauf Airless Plaster is one of four products in Knauf's range of Ready Plasters that cover every application including thin joint block systems, pre-cast panels, Aircrete panels, concrete, brickwork, composite boards and refurbishment over previously decorated surfaces.
Ideal for off-site and fast-track construction programmes, the range significantly cuts on-site timescales while improving health and safety with no mess, fewer movements and no water required.
Less prone to chips and cracks than traditional plaster, the range offers an excellent quality finish and are supplied pre-mixed to the correct consistency for spray application, no direct water supply is required on site and wastage is less than 1%. 1,000m2 per week can be finished by a two man gang, while surfaces can be emulsioned within 24 to 48 hours, so the plaster can be applied by the same teams applying the paint finishes. Among the different textures available are: flat and smooth, textured, leathered, combed or rollered.
Similar benefits also resulted from installing Knauf GIFAfloor, an interlocking tongue and grooved flooring product that is engineered from highly compressed gypsum fibreboard, rather than cement particle flooring because it has precise flush glued joints. Also, because it is a dry screed, the product cut out all the curing and drying time that a wet screed would have needed.
"We previously used cement particle boards which would differ in thickness by 2-3mm, so we would have to machine them in the factory and then apply screed on-site. The GIFAfloor is machined to within a millimetre when it arrives and once it's down we can apply the flooring straight away," notes Mr Walsh. "But, like the particle board, it also feels like a solid floor and not like plywood."
Another plus, he says, is that the sheets are far smaller and so easier to handle being only 1200 x 600mm.
Strong and versatile, Knauf GIFAfloor systems are ideal for raised floor areas requiring continuous finishes such as sheet vinyl or hard finishes such as stone or large format porcelain and are the ideal substitute for screed, removing a wet trade from site and so saving time in the construction programme.
Designed to span over pedestals at maximum 600mm centres, GIFAfloor systems create strong and dimensionally stable floors over voids up to 1200mm high that can take even greater loads if pedestals are added at reduced centres or an extra layer of panels is installed. The result is a light but robust monolithic floor, suitable for car showrooms, airport lobbies and lightweight floors in high rise buildings. Non-combustible with an A1 fire rating, Knauf GIFAfloor's high thermal conductivity makes the panels ideal in underfloor heating systems and optimises the benefit of air and ground source heat pumps over timber or cement base floors, reducing CO² emissions as a result.
The floor system is also sustainable in terms of its manufacture and in the construction process. The panels are manufactured using fibres from wholly recycled paper that are blended with a mix of natural and flue gas desulphurised gypsum so they are 50% recycled. In construction, the panels score two water management points in Code for Sustainable Homes, reduce the cement content of the building and cut the load on tower blocks, so reducing foundation and steelwork requirements.