The full range of render systems from Johnstone's Trade – the leading paint brand from PPG Architectural Coatings – is now available in Johnstone's Decorating Centres nationwide.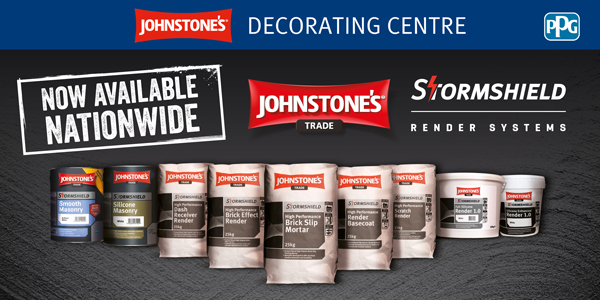 The Stormshield Render range provides the ultimate in flexibility and crack resistance, with all products having been formulated and tested to the most stringent of standards for quality and durability. Many of the products also have BBA certification, ensuring extra reassurance and peace of mind for renderers and their customers.
The exterior of every property is unique, and different substrates, environmental conditions and aesthetic requirements all need to be taken into account when planning render work. That's why the Johnstone's Stormshield Render range has a wide variety of products and systems that have been specifically designed to perform, whatever the demands:
Johnstone's Stormshield High Performance Render System
Modern, high-performance, polymer-modified render system
Formulated for application to traditional masonry substrates and developed using polymer-modified technology
The system is suitable for new and refurbishment work and has high levels of crack resistance
Johnstone's Stormshield High Flex Render System
Highly modified polymer system that brings ultimate flexibility
Can be applied direct to render carrier boards
Excellent adhesion, flexibility and crack resistance
Johnstone's Scratch Render System (Monocouche)
Great all-round render suitable for use on new build or refurbishment work
Through-coloured available in 14 pre-mixed colours
Provides excellent long-term fade protection and a reduced maintenance cycle
Johnstone's One Coat Render System
Breathable, traditional cement-based render
Simple to prepare and features wet-on-wet application ability
The whole range of Johnstone's Trade render systems is now available in over 200 Johnstone's Decorating Centres across the country, meaning professional plasterers and renderers can easily find the solution to their render needs with Johnstone's Trade, no matter the project or location. Same-day tinting is also available in 22 specialist render centres across the country.
To find your local Johnstone's Decorating Centre, visit www.johnstonesdc.com.