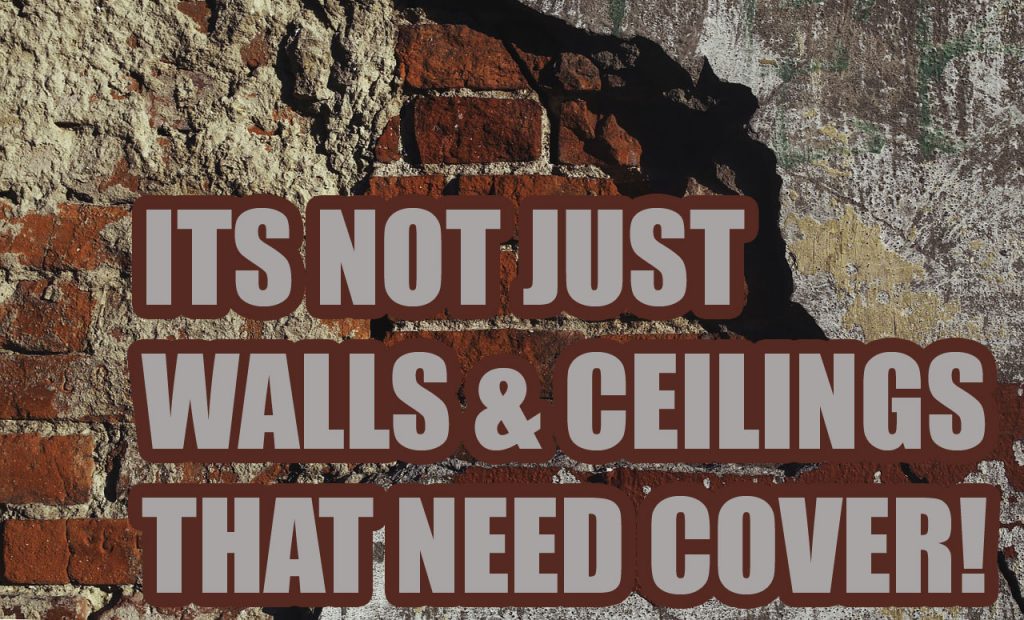 Working in the construction industry means working in one of the riskiest job sectors in the UK and plastering provides a valuable service to the construction industry. Plastering is both a rewarding and satisfying job, but with it comes the responsibility to make sure that the work that you do is both safe and properly protected.
What Risks Does a Plasterer Face at Work?
Although the normal day-to-day work is not usually dangerous, plasterers experience a rate of injury higher than the national average. Just like other construction trades, a plasterers job is physically demanding. You'll usually spend most work days on your feet, bending and stretching.
Plasterers work with their hands, holding a plasterers hawk in one hand whilst trowelling with the other. Muscle strain from lifting heavy plaster is one of the most common injuries associated with the trade. Plaster can be heavy and the work is dusty and dirty, which can irritate the eyes and lungs. Breathing in dust has been known to cause respiratory conditions, which is why the proper personal protective equipment such as goggles, masks and gloves should always be worn.
Plasterers also occasionally work at height, on ladders or scaffolding and falling from height is one of the biggest causes of death in construction, so you need to be sure that you are following proper procedures before any work at height commences and, if required, use fall-arrest equipment and safety nets.

What Insurance Does a Plasterer Need?
Would you be able to cope if a claim was made against you or your plastering business? Having the right insurance coverage will protect your plastering business from various claims and that means whilst you are working at perfecting your plastering to maintain your reputation in your occupation you'll have less worry about the financial implications of a claim being made against your business.
Public Liability Insurance – Anyone who works as a plasterer should consider public liability insurance. It doesn't matter if you are self-employed or working for a plastering company, it is essential that you are properly protected. Public liability insurance isn't required by law, but if you carry out plastering work for large commercial companies you may be contractually required to have a policy in place and we certainly recommend that you consider having it.
If you are a plasterer, by making sure you have the right plasterers insurance policy that includes public liability insurance, you will be better protected in the following scenarios:
You leave your plastering tools on the floor and someone trips over them
You drop a trowel on someone's head, causing an injury
You spill some wet plaster on a carpet and stain it
Employers Liability Insurance – If you run a plastering business that employs any amount of staff, then you are required by law to have employers liability cover. This type of insurance cover helps cover any legal costs or financial compensation brought about as a result of a claim against you, your plastering company or one of your employees.

Tools Cover – Plasterers should also consider tools cover, which is typically sold as an extension of a public liability insurance policy. Tools cover will protect you against loss or damage to any hand-held tools that are being used in connection with your plastering business.
Ashburnham Insurance provides all types of insurance policies for plasterers, including public liability insurance, employers liability insurance, tools cover and more. Simply fill out our quick and easy quote form to compare different types of cover to suit your needs.