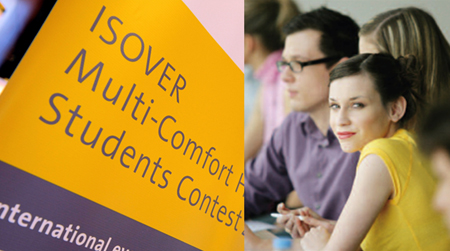 Leading insulation manufacturer Saint-Gobain Isover has announced the UK winners of its prestigious design competition for architecture students. The annual Isover Multi-Comfort House Student Contest provides a showcase for British talent at undergraduate and post-graduate level and is internationally acclaimed by industry professionals.
Teams from the University of Dundee and the University of Edinburgh scooped first and second place respectively, and will now progress to the international stage of the competition in a bid to be crowned overall champions.
This year's competition tasked students with presenting a vision for the development of the 'Gluckstein Quartier' in Mannheim, Germany, with a specific brief to design buildings with the highest degree of comfort and the lowest possible energy consumption.
All entrants were required to adhere to Isover's Multi-Comfort House principles, which focus on delivering the highest thermal comfort and reduced CO2 emissions within a visually stimulating setting. They also combine excellent acoustic comfort, superb internal air quality and first class fire protection and safety.
Dundee Masters students Dean Crosley and Ruaridh Nicol took first prize at national level for their entry, 'MacroMicro', which centred on very low energy and zero-carbon building design. Evin Loftus, Emmett MacNamara and Dan Shanahan of the Edinburgh School of Architecture and Landscape Architecture (ESALA) proposed to build Europe's first 3D printed development, securing them second place.
Both teams will now travel to Belgrade, Serbia, for the next round of judging, where entrants from around the world will compete for a cash prize, as well as international peer recognition.
Guillermo Guzman Dumont, lecturer at the Department of Architecture & Built Environment at the University of Nottingham and competition judge, commented: "As a learning opportunity, this contest ticks all the boxes. It introduces students to Multi-Comfort House and Passivhaus principles, encourages the exploration of a fabric first attitude and inspires a future proofed approach to architectural design. The competition is equally as useful as a career development tool, giving entrants a fantastic opportunity to work on a live brief, which, if successful enough may actually be implemented by Mannheim's urban administration – you can't get much better than that on a CV."
The international finals of the Isover Multi-Comfort House Student Contest 2013 will take place in May.
For more information on the contest, visit www.isover.co.uk