I was recently sent a sample Mix M8 and I have actually passed on quite a few of them to members of The Plasterers Forum just to see what they think, and the feedback has been mixed (excuse the pun) but last week I had the pleasure of  giving the Mix M8 a real test to see if it is actually any good.
Below is a video from Mix M8 just so you can see what I am talking about before I get started.
I don't get to do a great deal of plastering any more due to having lots of work to do to keep on top of running The Plasterers Forum, but last week I was doing some work for a very good friend of mine in exchange for beer and pizza but more to the point I get to play with some of the new tools that I get sent by companies 🙂
All my tools are already at his property as I have been doing  a few jobs for him and his family over the months, and it seemed pointless running tools up and down the A27 and especially as most of the time I like to go on the motorbike :-). My tools are fairly safe and do get looked after when they are there, but because we were working at his mum's new house, he had forgotten to bring the whisk part of my mixer, so we were left with the Mix M8 attachment so this was going to be a bit of a forced test rather than a voluntary test.
So for this week other than drinking plenty of beer and eating far too many takeaways we were going to be moving an en-suit and creating a walk in dressing room. Which involved us having to dot and dab a couple of walls, float out a couple of walls, tack three ceilings and then skim one 35 meter ceiling with three barreled parts to it. There was plenty of work to get on with and to be fair there was not a great deal of plastering to actually do but there was a lot of work to get done before we even get to the stage of slapping muck up a wall and waving at it.
So the Mix M8 is a mixer attachment that resembles something that you find in your kitchen, they are a bit like that new plastic floppy and brightly-coloured utensils you get these days. The first thing to do was fit it to my mixer, it was fairly easy to do using the attachment that they supplied and in a couple of minutes it was on and working. It had a bit of a speed wobble, but after a little tweak here and there the speed wobble had disappeared, which was handy and there is nothing worse than a wobbly whisk.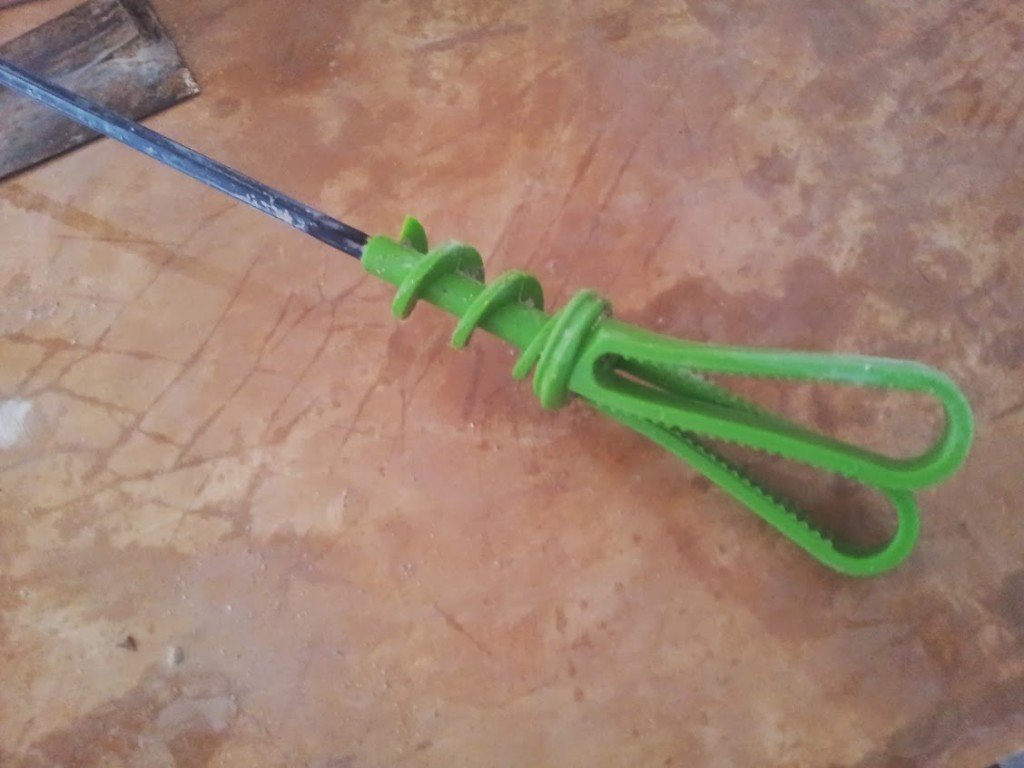 The first bucket of gear I had to mix up was Dri-wall adhesive and this stuff is notoriously sticky, and if you don't clean your mixer after using it; you will have to spend some time with  a hammer smacking the living daylights out of the whisk to get it clean. Once you have cleaned the whisk up its always a good idea to look over it and check for any sharp parts because if you don't it can rip your buckets to shreds.
So the first test was to see how easy the Mix M8 mixed up the adhesive, and if it did it efficiently.
I have to say it mixed it up pretty quickly, the two plastic prongs didn't spin out as much as I thought they would but when you push down on the mixer if the gear was a little wet it would spray out of the bucket, so I soon learnt that you shouldn't do that 🙂
The next thing I was going to do was not clean the whisk and then see how easy it is to clean, and if I needed to beat it with a hammer to get the muck off it.
For some strange reason, I wanted to keep cleaning the whisk, but I managed to resist the temptation and after two hours, the Driwall adhesive had gone rock hard on the green plastic prongs and the corkscrew parts of the Mix M8 The first test was going to be me trying to clean it with my fingers. I simply just pressed and pushed the adhesive, and it crumbled off and in a few seconds (less than 20) and a quick spin up in a clean bucket of water, and the Mix M8 looked like new… I have to say that impressed me quite a lot.
The next load of gear I had to knock up was bonding,  I like to give my crappy old walls a nice tight coat of bonding before skimming, and so I was mixing up bonding and once again, I was quite impressed at how well it mixed up the plaster. It kinder made it look a lot smoother than normal.
Something I did notice though was that if you needed to add some water to the mix, you had to lift the Mix M8 out of the mix a little and let the water run down the corkscrew bit other wise it did not seem to bring the top of the mix in.
Once again, I made the mistake of pushing down on the mixer, and the green prongs of mess did their business and threw plaster all over me but not as bad as last time.
Once again, I decide to leave the Bonding on the whisk and not bother cleaning it until the next day… now this is the real test…
The following day I was at the job nice and early and decided to see how easy it would clean using no other tools other than a bucket of water, and once again, I was impressed with at how quickly it cleaned, and yet again, the Mix M8 was just like new again.
Any plasterer that says that they have never needed to use a heavy object to clean a whisk after a rush to get to the pub or home is most definitely lying, and I know I have had to do it and to be honest I hated the thought of having to spend at least 10 minutes of cleaning bonding off first thing the following morning. However, with Mix M8 we now don't have to worry about the mad dash at the end of the job as you can always clean it in the morning.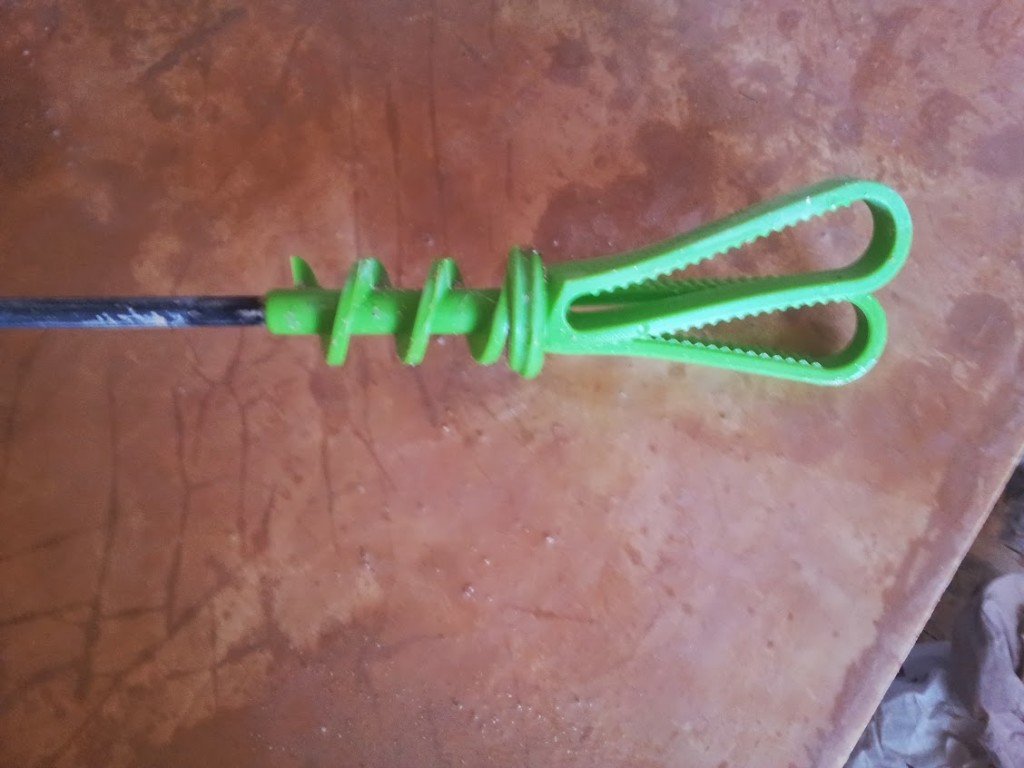 OK So today I was going to have to mix up a couple of bags of skim to set this big ceiling. I was a little concerned as time was of the essence, and I did need to get a move on as this ceiling had three barrels in it which to be honest was going to be a little pain but none the less getting the skim spun up quickly and without lumps was going to be the key to get this ceiling on and finished to a good standard.
The Mix M8 handled it brilliantly, and it mixed up the multi finish very quickly, in fact, I would say that it would mix up the finish plaster a bit quicker than my normal whisk. However, what I did notice was that there were not any lumps in the finish, and it seemed to mix the plaster a lot smoother than my existing whisk. I am not saying I normally mix up my finish plaster with lumps, but I was aware that the Mix M8 broke the lumps up a great deal quicker and once again, the plaster looked a lot smoother than normal.
So what is my verdict on the Mix M8?
I was quite impressed with how the Mix M8 mixed the plaster and also how easy it was to clean. I am not sure If I would be happy to mix plaster using my 18 volt Makita battery drill like in the demonstration videos, but if I needed to I most certainly would, and at least it wouldn't take a s long to mix. For the DIY plasterer or someone who needs to knock up a small bucket of gear, I think the Mix M8 would be ideal.
I would like to see a slightly bigger version as I feel it would be a little too small to spin up any more than a bag of multi finish in one go.
My friend who is a bathroom fitter loves the Mix M8 as he doesn't ever clean his whisks, and his van is full of whisks covered in tile adhesive and so for him the £35 is a pretty good investment and also the fact it can be used in a cordless drill which really appeals to him.
One thing that Mix M8 does say is that it doesn't do damage to your bucket, which is true it doesn't, and I put this to the test because I had to buy a new bucket as like my normal whisk, I couldn't find them either.
One other thing to consider is that because the whisk is made of floppy plastic, you will find it very difficult to stand your mixer up as the weight of the mixer folds the whisk over… that took a bit of getting use to be its something learnt to live with.