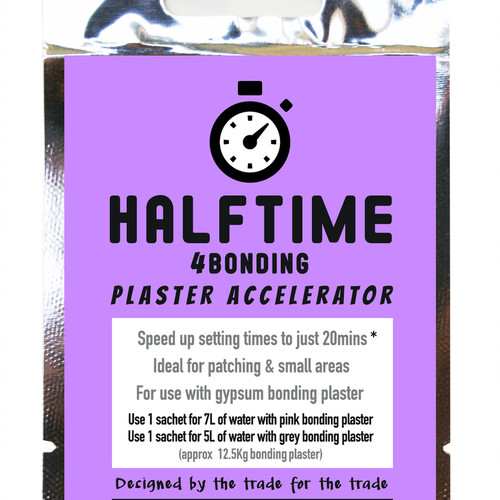 NEW!!! Halftime 4Bonding reduces gypsum bonding plaster setting time from 2 hours to 20 mins for time critical projects.
Ever found yourself needing to speed up bonding plaster on small projects? Eazymix have launched a new bonding plaster accelerator aimed at helping the trade plasterer to do much more in less time.
Designed and developed by Mark Shepherd, a plasterer with over 20 years' experience, the proprietary chemical accelerator speeds up the chemical gypsum crystal formation that causes the gypsum plaster to set or harden.
Mark Shepherd said
"There are certain jobs where there is a lot more waiting around than plastering. Bonding jobs tend to be one of them. Reducing the setting time of bonding plaster means it can be skimmed much quicker, leading to small projects being completed faster and more efficiently. "
HalftimeTM 4Bonding is sold in single use sachets with no measuring, testing or experimenting required. Just add one sachet to 5 Litres of clean water for grey bonding plaster or 7 Litres of water for pink bonding plaster. Gradually whisk in approximately half a bag (12.5Kg) of bonding plaster, apply as normal and reduce the setting profile to just 20 minutes.
This is the latest product from Eazymix who have successfully brought to market Extratime, a plaster retarder extending finishing plaster setting times by 60 minutes and Halftime, a plaster accelerator that reduces finishing plaster setting times by 60 minutes.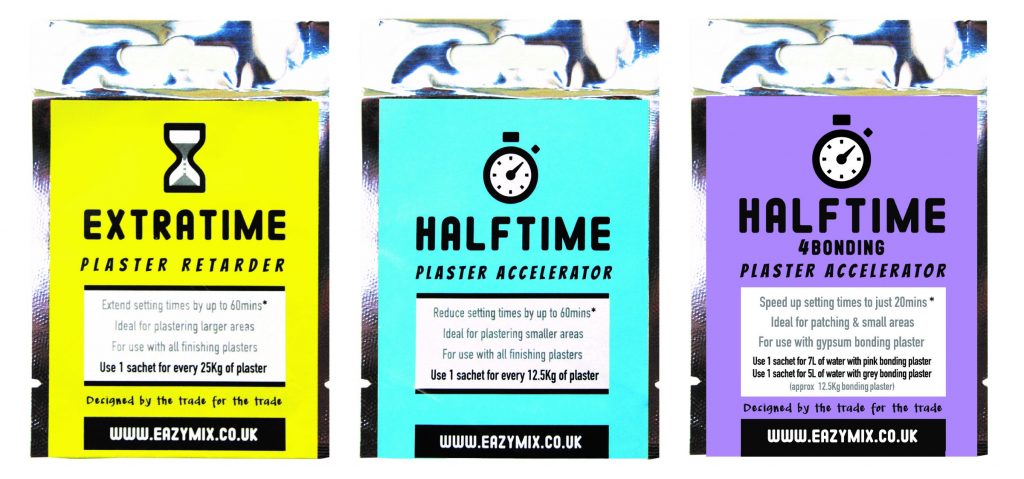 Wayne Vermaak, a professional plasterer from Lancashire said:
"This product is great! Using Halftime 4Bonding along with Halftime for finishing plaster means I can bond, then skim within an hour and complete the whole job within 2 hours. Absolutely brilliant for small areas."
Priced from as little as £2.00 per sachet and available from builders merchants and online, HalftimeTM 4Bonding is the perfect product for trade plasterers to have in their toolkit. For more information and a list of stockists visit www.eazymix.co.uk