NEW PRODUCT: GoRend Speed-Up is so easy to use, it's your secret weapon this winter
UK supplier SAS Europe have launched a revolutionary new accelerator with no measuring, no syringes – just throw and go.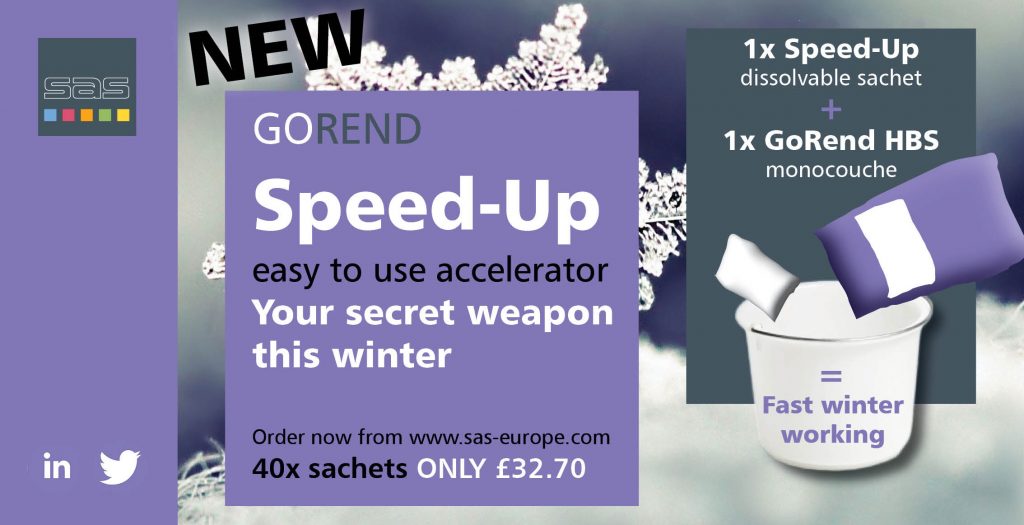 Throw one of the dissolvable sachets in your clean water, mix, add one bag of GoRend HBS monocouche, and you are ready to go! Speed-Up will allow you to scrape scratch render and finish basecoats in the same day, so avoiding low overnight temperatures.
Adam Powell, Technical Consultant at SAS Europe explained "Speed-Up comes in a tub of 40 sachets, that are a bit like large tea bags. They completely dissolve in water in under 2 minutes, and there is no need to measure – one sachet to one bag of render. We tested a few different options during development, and the test results and feedback from Speed-Up have been outstanding."
Speed-Up can keep you working this winter, and can be used when the temperature is above 0°c for 24 hours. GoRend Speed Up is available direct from SAS Europe for £32.70 per tub of 40 x 125g sachets.
Find out more about GoRend and other SAS Europe products and systems at www.sas-europe.com