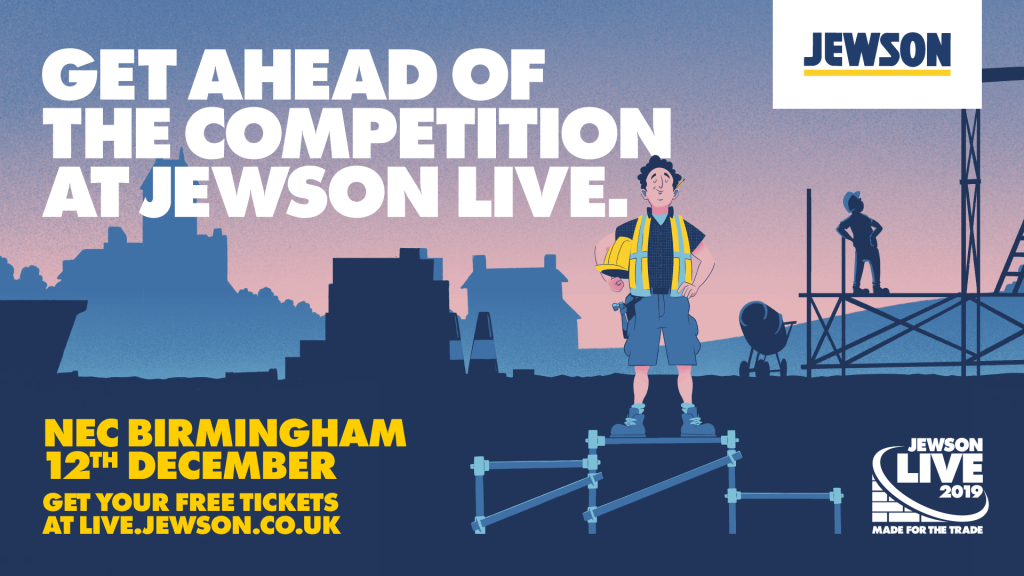 Jewson Live – the UK's best event for builders – is returning to the National Exhibition Centre (NEC) in Birmingham for a fifth year this December. With over 2,600 tradespeople coming through the doors in 2018, Jewson Live is made for the trade and there is a packed calendar of events planned for Thursday 12 th December from competitions to product demos and deals, and a programme of top-notch speakers.
Among those taking to the stage to share their knowledge, insight and general life hacks will be TalkSport's Laura Woods, Darren Gough and Adrian Durham, as well as Dave Lee from Fundamental Life, with the whole event fronted by the one and only Chris Kamara, who is hosting the event for the third year in a row.
Jewson Live 2019 will also tackle the age-old debate of who is the Master of All Trades as visitors go head-to-head on a custom-built assault course to be crowned top trade. Will it be the brickies who cement their place in the final or the chippies who carve their name at the top of the leaderboard?
Over 150 top brands will be exhibiting across the event, offering visitors insight into new products to make their lives easier. They will also be showcasing exclusive, on-the-day deals for all those building essentials.
A new addition to this year's Jewson Live will be the Get Ahead Hub, a hub offering tradespeople advice on everything from dealing with cashflow, to building a website, building regulations and using social media.
Following the success of their pub quiz last year, On The Tools will be hosting another 'Quids In Live' quiz, giving you the chance to win cash prizes, while Andy Taylor of Electric House – the content producers behind On The Tools – will be giving pointers on how to improve your business' social media output.
The event is completely free to attend, with breakfast and lunch served on-site and everyone will go home with a packed Jewson goodie bag.
Speaking about the return of Jewson Live, Mike Newnham, Managing Director of Jewson, said: "As shown by the success of previous years, Jewson Live is the go-to event for all
tradespeople. We're into our fifth year hosting the event and it continues to get bigger and better. With some of the industry leaders in attendance sharing a wealth of knowledge, not to mention the giveaways and prizes available on the day, it's too good to miss for those in thetrade."
For further announcements and to sign up visit: live.jewson.co.uk