Dulux Trade has unveiled the regional winners of this year's hotly contested Most Trusted Decorator competition, after receiving over 700 nominations from across the UK.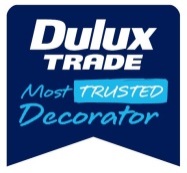 As part of its campaign to find the UK's most trustworthy decorator, Dulux Trade asked homeowners to nominate dedicated painters who they believe go the extra mile to earn their trust. The paint manufacturer selected the top decorators from 10 regions who will now go on to compete in the national final in November.
The winners from each region are: Carl Bettis, East Anglia; Andrew Raffo, Midlands; Adam Clemerson, North East; Matthew Knox, North West; David Robinson, Northern Ireland; Jim Kyle, Scotland; Neil Purrett, South East; Chris Vincent and Bee Draper, South West; Lee Cary, Wales; and John Pollard, Yorkshire and Humberside.
In recognition of their achievement, each finalist will receive one year's free Dulux Select Decorator membership, along with a trophy to mark their regional title. They will also go on to the final stage of the competition to meet an independent panel of industry judges, and have the chance to be declared as the UK's Most Trusted Decorator and win free fuel for a year.*
The Most Trusted Decorator competition was set up by Dulux Trade as part of a long-term commitment to support the sector and recognise the UK's most dependable decorators and perfectionist painters. John Staunton, Customer Marketing Manager, Commercial Market, at Dulux Trade, explained: "Once again, we were overwhelmed by the number of nominations we received from satisfied customers. This competition really highlights the hard work of the decorators across the UK who work with pride, passion and professionalism."

* Each regional decorator winner will receive free membership of the Dulux Select Decorator scheme for one year and the opportunity to use an official Most Trusted Decorator 2013 Regional winner logo on marketing materials (subject to agreement to terms of use). The national decorator winner will receive free membership of the Dulux Select Decorator scheme for one year, the opportunity to use an official Most Trusted Decorator 2013 National winner logo on marketing materials (subject to agreement to terms of use), and free fuel to the value of £2,000.