Dulux Trade has launched an improved Vinyl Matt Light Base, offering specifiers a superior level of opacity and appearance over the previous formulation.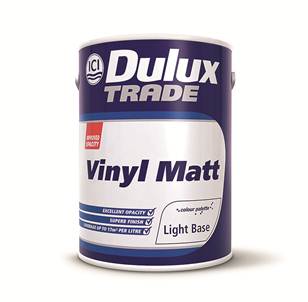 Following extensive research and development, the new product uses Dry Hiding Technology to improve the paint's opacity as it dries, resulting in an even better and flatter finish than before.
Ideal for use on woodchip, blown vinyl and wall coverings, as well as dry plaster and a range of building boards, the new Vinyl Matt Light Base is available in an extensive variety of colours from the Dulux Trade range.
Jo McMullen, Brand Manager Dulux Trade Colour, said: "We are constantly developing our offering to ensure we have a wide range of high-quality and highest performaning products. Pale colours are always popular with end users and we are continually investing in our bases to ensure specifiers have access to a light shade that offers excellent opacity, in order to deliver the best possible results."
The new Vinyl Matt Light Base is available in 1 litre, 2.5 litre, 5 litre and 10 litre pack sizes. For more information, visit www.duluxtrade.co.uk