I was sent a DeWalt cordless plaster mixer a long time ago for me to do a review on. However, I decided I was not going to do the usual review where you use it once then give a verdict. I wanted to do a long-term review; so it would give you guys a better understanding of what the DeWalt cordless mixer is really like.
I have been pretty busy with plastering lately as there seems to be a shortage of good plasterers in my area. So I am picking up a fair few jobs, which works great for me to do tool testing, and more to the point an excellent opportunity for me to try the DeWalt mixer.
First Things First
Firstly the DeWalt battery mixer is a big lump, but god it looks the part. The batteries in it are 9.0 Ah 54v XR FLEXVOLT Li-Ion batteries, and they are heavy, but then they need to be to be able to put up with the abuse that a plasterer will throw at it, and not just once but repeatedly throughout the day.
I usually work off a board and stand so I mix up in tall buckets and the DeWalt mixer rips through 1 or 2 bag mixes at a time with no problems at all, and the speed the paddle spun at was pretty good. However, the paddle did slow down a little if the mix was a bit too stiff but not an issue just an observation.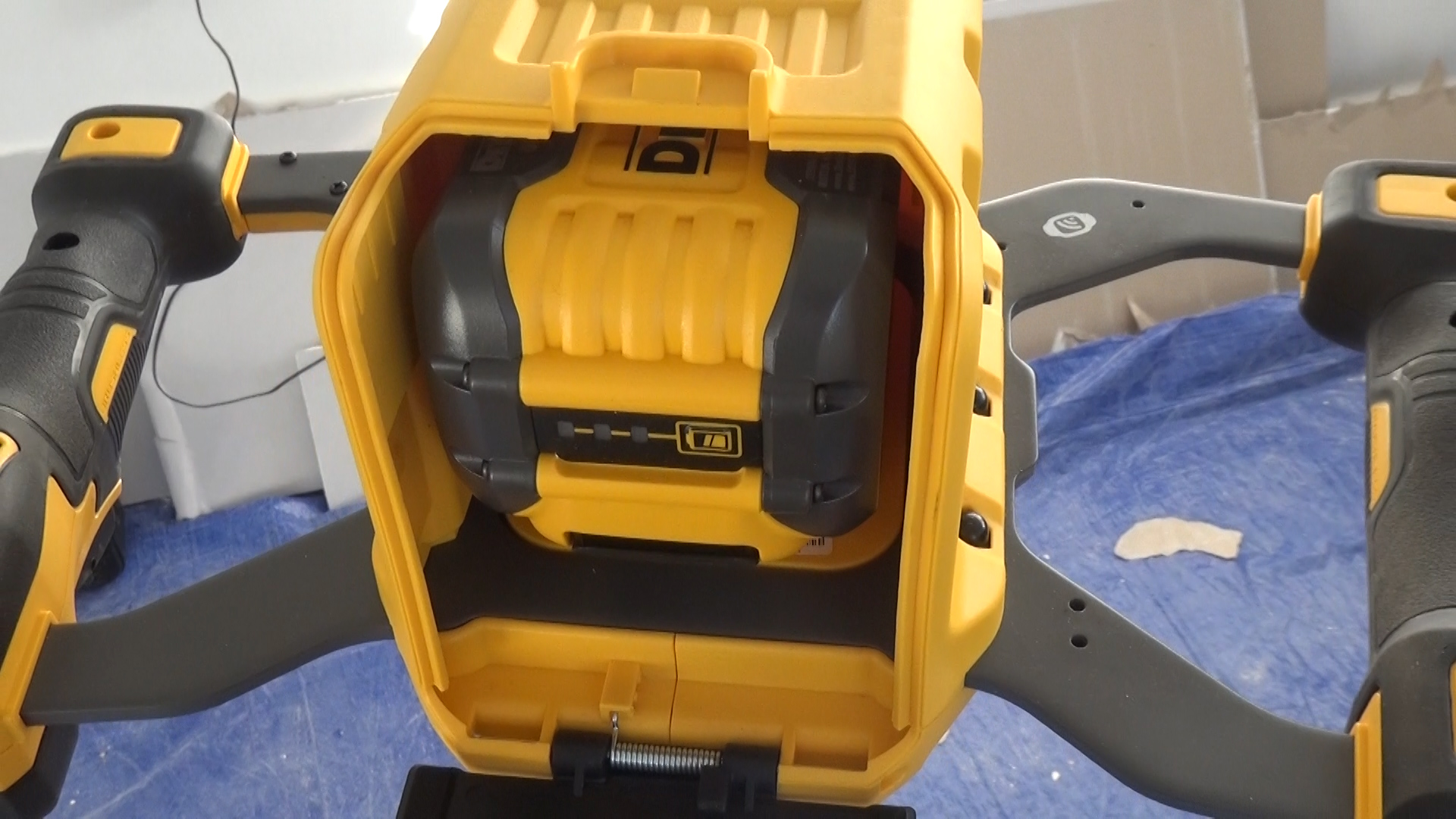 One thing I did notice was that when your mixer stopped the bucket would burp and spit gear at you so as soon as I realised this happens, it was easily avoidable.
Wear goggles when using the tall buckets is my advice. In fact, you should be wearing eye protection anyway.
Before the cordless DeWalt plaster mixer and others were released, there was a lot of speculation as to how good a battery mixer will be and a lot of people thought that you would only be able to mix up a few bags before the batteries were killed and would need recharging.
With this in mind, I bought my corded plaster mixer with me to my first few jobs as well, to serve as a backup. So at that point, the DeWalt battery plaster mixer seemed very much pointless, and my heart sank a little bit when I realised what this could potentially mean.
How Many Mixes Will It Do On One Charge?
I was mixing up between 20 and 30 bags per charge which is not bad to be honest. I soon started leaving my corded mixer at home in the garage along with the other outdated pieces of equipment like corded hammer drills and corded jigsaws.
The average domestic plasterer on their own would do 3 to 5 bags a set and would do 2 sets a day. So every couple of days you would need to recharge the battery which I think is not too much of an issue. Mine came with two batteries so just try and remember to keep one charged at all times.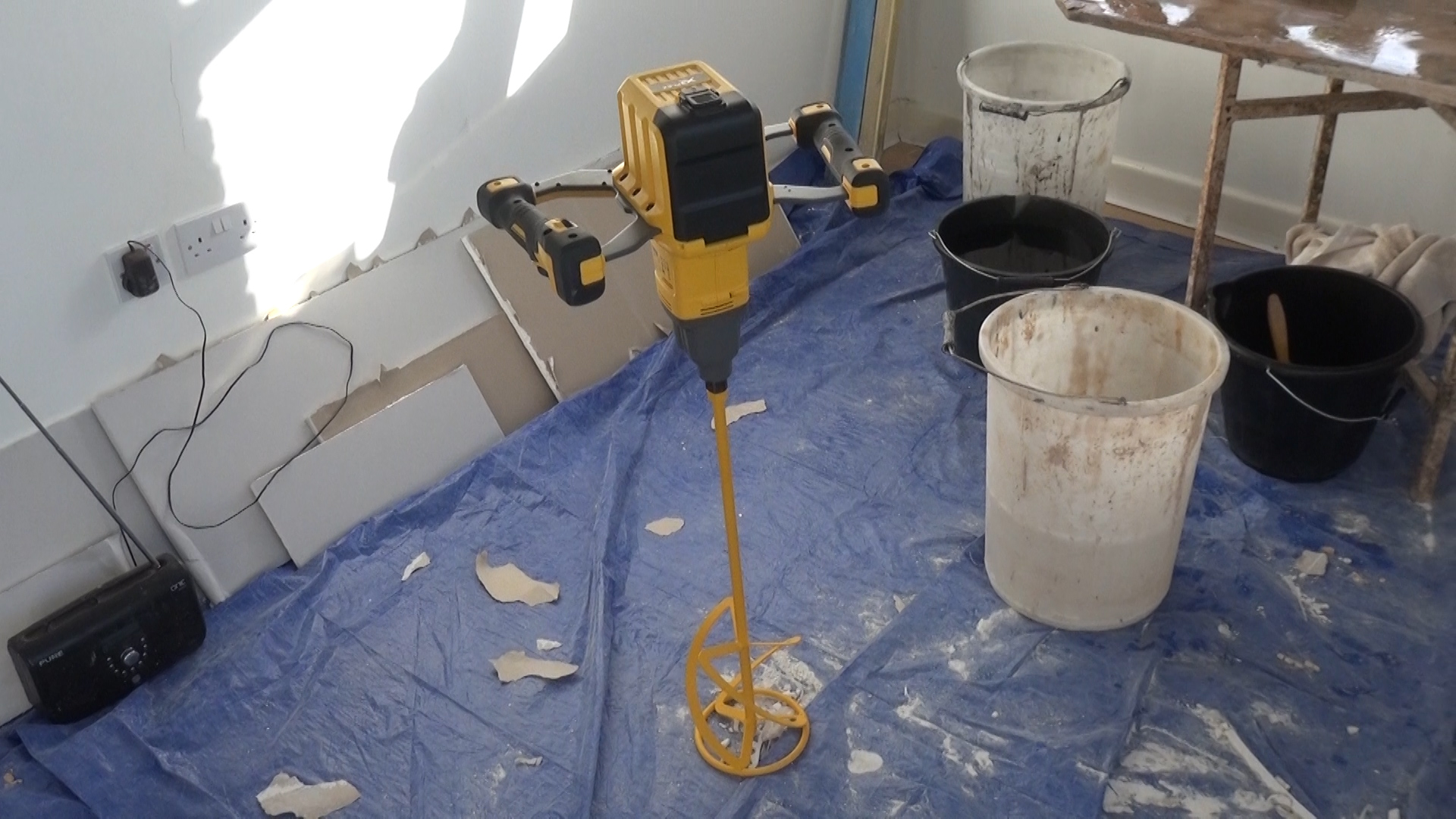 Quickly it became quite apparent that the DeWalt mixer was great for domestic jobs where you often have other trades working around each other and so moving about to mix up or keep out the way becomes a lot easier. I know on a couple of the jobs I was on the electrician had to kill the electric, and with a conventional mixer this would cause a problem, but not for me I was able to carry on as usual. Although when the radio stopped, I struggled but we got through those 10 minutes ok.
Is It Worth The Price Tag?
After the first full week of using I was still a bit unsure as to whether I would actually spend £600 on the DeWalt battery plaster mixer. However, as the weeks rolled by I did more and more jobs and used it more and more. The real proof in the pudding was when one day I had forgotten to charge both batteries…well actually I had put one on charge but forgot to turn the power on so I had to go and find my old corded mixer, and you know what I genuinely did miss the Dewalt cordless mixer that day. I can't remember how many times I tripped over and cursed the lead.
I Mixed Up Sand and Cement With It…
One day I was doing some brickwork, and because I did not have any electric where I was working it meant that I could not run my cement mixer, so I decided to put the DeWalt cordless mixer through its paces. I was only mixing up gorilla tubs of sand and cement up at a time, and in all honesty, it was not a problem for the mixer, you could tell that it was struggling but not struggling enough to make you think that it was burning out the mixer. Don't get me wrong this was not ideal…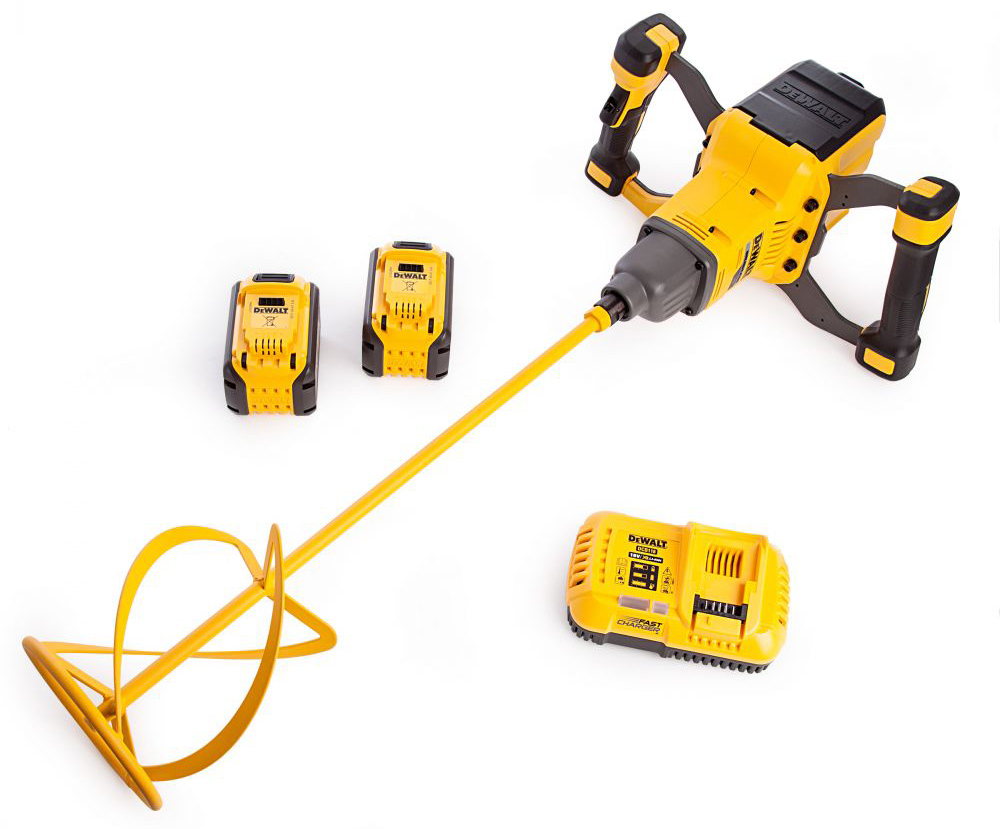 4 Bag Mix Was a Little Bit Of a Struggle
I had to mix up 4 bags the other day and to be fair it was a little stiffer than I would typically mix it and although the Dewalt XR mixer did it ok you can tell that it was a bit of a struggle. It became apparent when you have the whisk mixing, and you take it out of the bucket, and the speed dramatically increases. However, I have to be critical as that is my job and I don't think the average plasterer is going to worry or probably even notice things like that as it still managed to mix it nicely.
What don't I like about the DEWALT Mixer
Ok, the sudden stop…. Yup, I like my mixers to run on a little after I have let go of the trigger and slowly come to a stop, so when I pull it out of the gear it flicks off the excess, and it makes it easier to clean as there is less wastage. However with electric, it is pretty much on or off, and when I stop, it stops, and you have to tap the whisk on the top of the bucket which is no biggy, but in time I ended up cracking and splitting my bucket.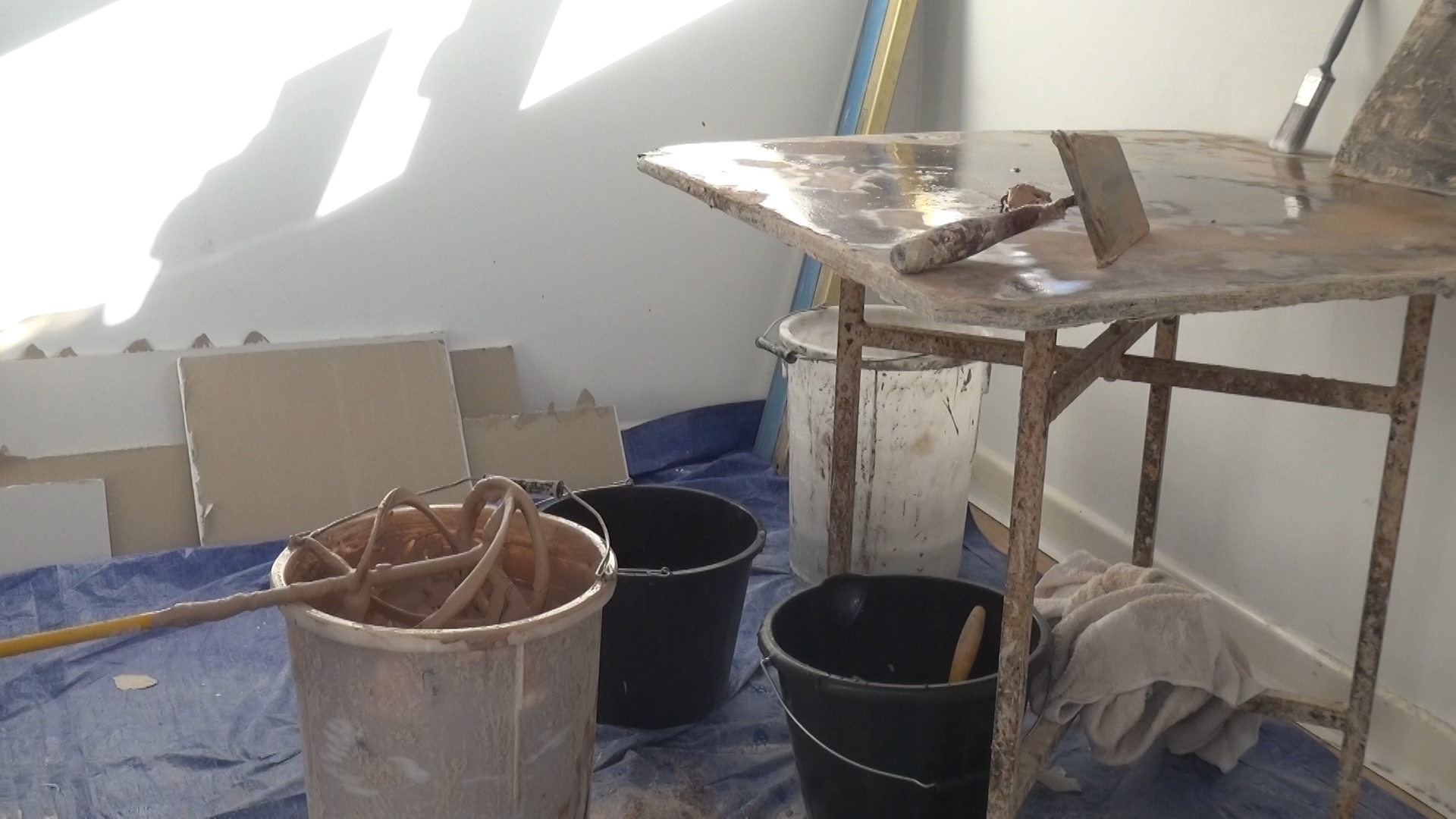 You also have to be aware of keeping batteries charged and make sure you don't forget when you use one.
I have numbered my two batteries now as that makes it easier to know which one you are using.
The Price Of The DeWalt Cordless Mixer
The price is significant, and it is a lot of money, and for a corded mixer, it may be okay to spend that sort of money on it. However, you have to understand that batteries deteriorate and in a few years with regular use, you will need some more batteries, and we all know when it's time to change the batteries on your other power tools that it usually is cheaper to rebuy the whole lot. That is a big concern for me and to be honest, it would be a big sticking point.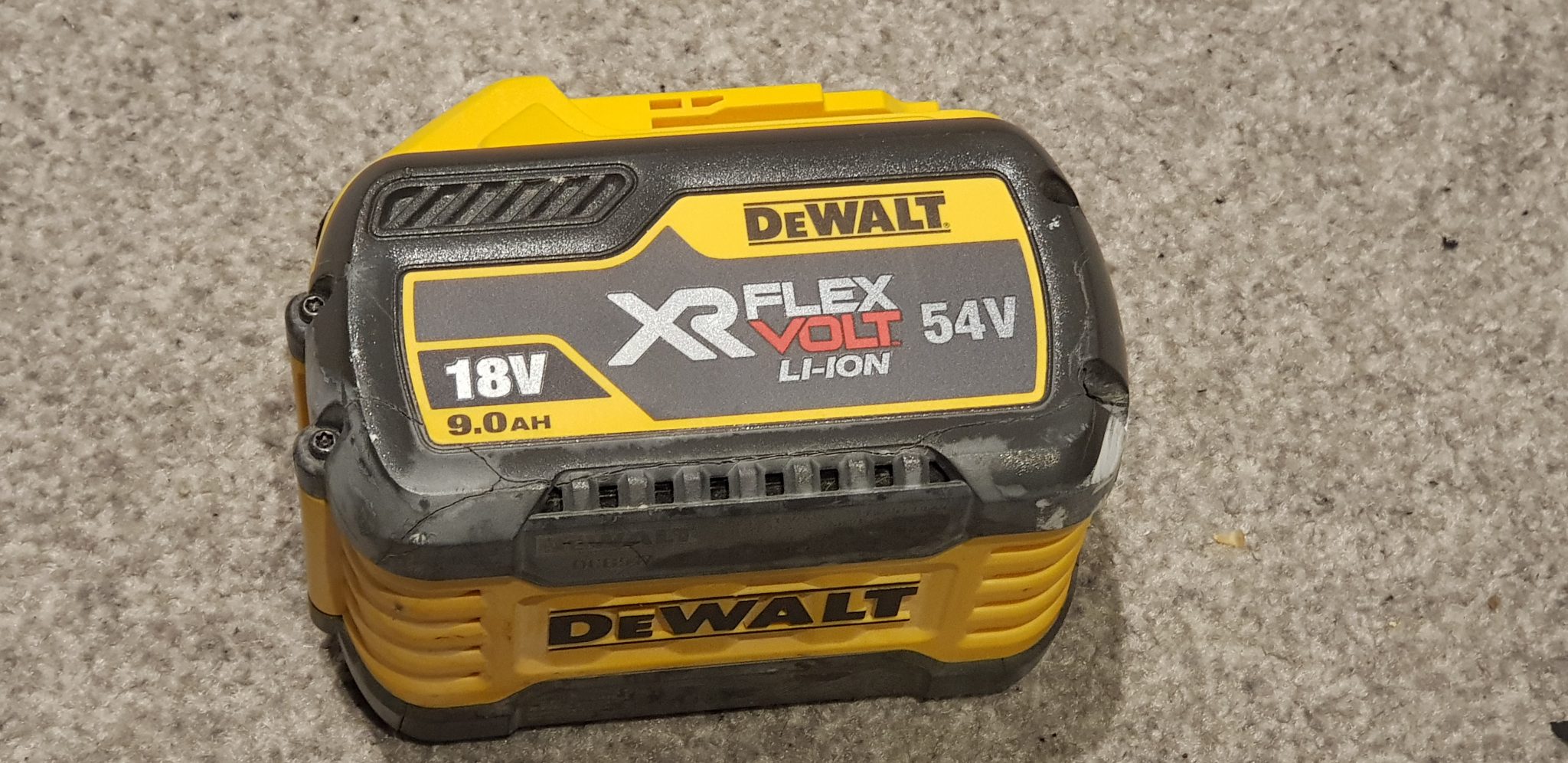 However modern day batteries are getting better, and I think that by the time you have killed these batteries you would have had your money's worth out of the mixer anyway. Also, A corded mixer has problems like cord damage and I think we all have snapped the cable on our mixers at one time or another.
Would I Buy a DeWalt Cordless Mixer?
The answer is yes, I think I would, and as you look at both the positives and negatives about it, I think the positives far outweigh the negatives. There is no need to lug about leads, and when the idiot of an electrician kills the power, you can carry on as usual. Likewise when you are skimming round walls with sockets on you won't need to leave one on so you can plug your mixer in.
Last week I had to plaster my shed, and I did not have any power on site so I would have needed a generator which is not really an option but the DeWalt mixer was perfect in this situation.
If you have a spare £650 and do a lot of domestic work, then I would give it a go. If you don't like it, there is always eBay! Don't forget that £650 can be offset against your end of the year tax bill as well so not all bad news.
My other bit of advice is don't mention it to the wife, or mention how much it costs, as I can guarantee World War III will break out.
On looking I found that amazon was pretty cheap for the DeWalt Mixer
SPECIFICATIONS
| | |
| --- | --- |
| Voltage | 54 V |
| Battery chemistry | XR FLEXVOLT Li-Ion |
| Battery Capacity | 9.0 Ah |
| Chuck Capacity | N/A mm |
| Spindle Thread | M14 |
| Tool Holder | – |
| Power Input | – Watts |
| Power Output | – Watt |
| Max Torque | – Nm |
| No Load Speed | 0-725 rpm |
| Max. Capacity | 160 mm |
| Weight | 5.1 kg |
| Weight (incl. battery) | – g |
| Length | – mm |
| Height | – mm |
| Hand/Arm Vibration | <2.5 m/s2 |
| Hand/Arm Vibration – Metal | N/A m/s² |
| Uncertainty K 1 (Vibration) | 1.5 m/s² |
| Sound Pressure | 76 dB(A) |
| Sound Pressure Uncertainty | 3 dB(A) |
| Sound Power | 87 dB(A) |
| Sound Power Uncertainty | 3 dB(A) |