After using magnetic plaster yesterday I was in a good mood to have a go at British Gypsums new and improved UniFinish plaster on the other three walls in the room.
Thistle UniFinish is a plaster that does not require the use of PVA or any other bonding agent prior to applying the plaster to the background.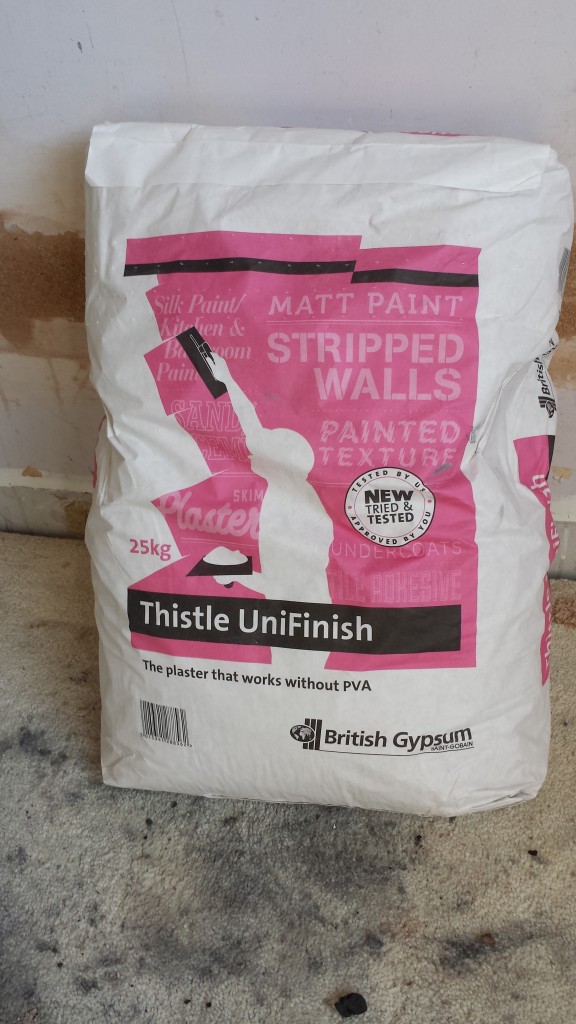 Thistle UniFinish sounds like a dream to plasterers, the thought of never having to apply PVA to walls or ceilings before plastering would be great. You would also speed things up as you won't have to slap PVA on and hang around waiting for it to go tacky or in what most plasterers are doing now is just letting the PVA go completely hard before skimming.
There've been lots of speculations over Thistle UniFinish on The Plasterers Forum® and Plasterers News™ and especially after there were a few teething problems when it was originally launched. British Gypsum has overcome these now and so Thistle UniFinish is now in full production, and I am quite excited to take it out into the real world and have a crack with it.
Having the chance to use British Gypsum Thistle UniFinish on my own property in real-life circumstances on a renovation job was too good an opportunity to miss and on this particular job, the walls are scabby with old paint with some of it flaky, some of it reasonably solid. You know the kind of walls a typical crappy reskim job with bonding plaster and all sorts of normal nasty stuff you get a renovation project.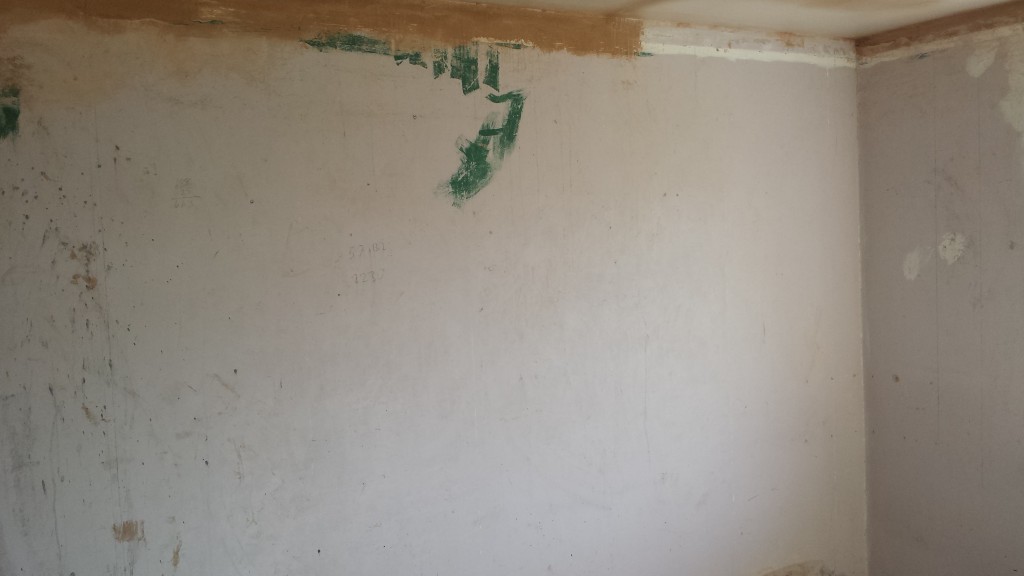 I've used Thistle UniFinish a number of times at British Gypsum HQ and to be honest it has been perfect but to be Frank it's what you would expect in those relatively controlled situations and no matter how you set up the situations the real world throws all sorts of obstacles and hurdles you need to get over and nothing like a nagging wife to throw even more obstacles at you.
Today Is The Real UniFinish Test!!!
One thing I was always taught when I was plastering is controlling your backgrounds and suction, so the thought of pushing two coats of skim up a wall and over a none PVA'd untreated surface that was not plaster boarded quite frankly scared me, and I secretly wanted to give it a quick coat of PVA, but I resisted all temptations and started spinning up.
I naturally mixed it up a bit wetter than needed, very much like I did with magnetic plaster, but this time it was intentional. My thinking was that if there was suction on the walls having a little bit more water in there could help me out.
The Thistle UniFinish mixed up lovely to be honest, I slapped it on and at regular intervals kept dropping back and checking to see if it was turning or sucking in anywhere and to be honest I got the whole wall on and a couple of walls in the cupboard, which are plasterboard and a little ceiling in the same cupboard, and I had bags of time, it was not pulling in, it was not cracking, it was not falling off so I was pleased and ever so slightly relieved.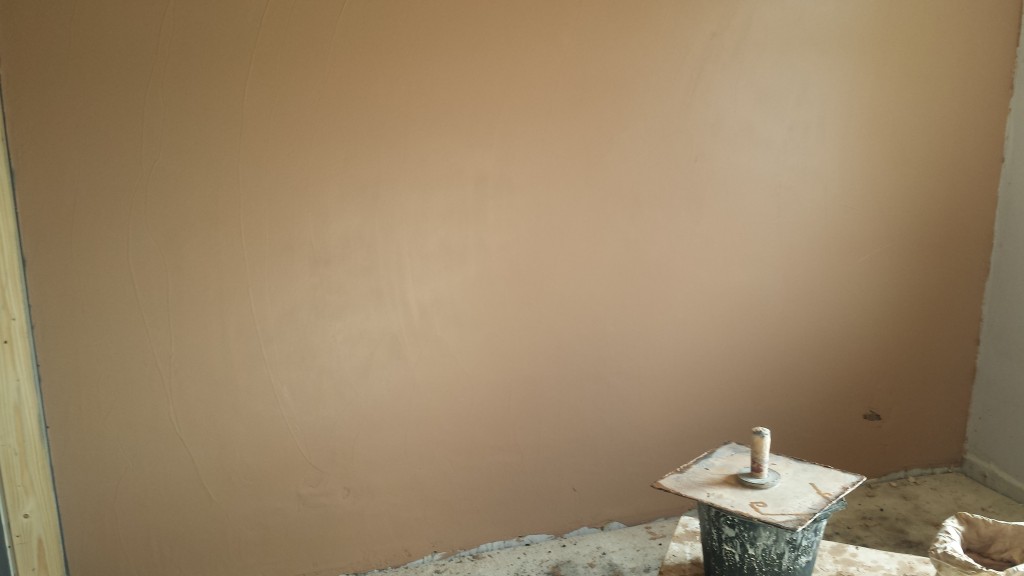 The first coat flattened in perfectly, and I topped it out with a slightly wetter second coat, with it all flattened in and under control I went and had a sit-down and a cuppa tea. Once I had boshed my tea and wandered back I had half expected it to all gone off and like walking over a kitchen floor full of cornflakes.
The cupboard I had stuck on as well was pulling in quite nicely so a quick lick over, and it was all good again. The wall, however, was hanging around for what seemed like ages, and I did start to question myself whether it was ever going to go off. I did keep at the back of my mind that it could just turn, and I would be running around, but for some reason, I was quite confident that it was going to be just dandy.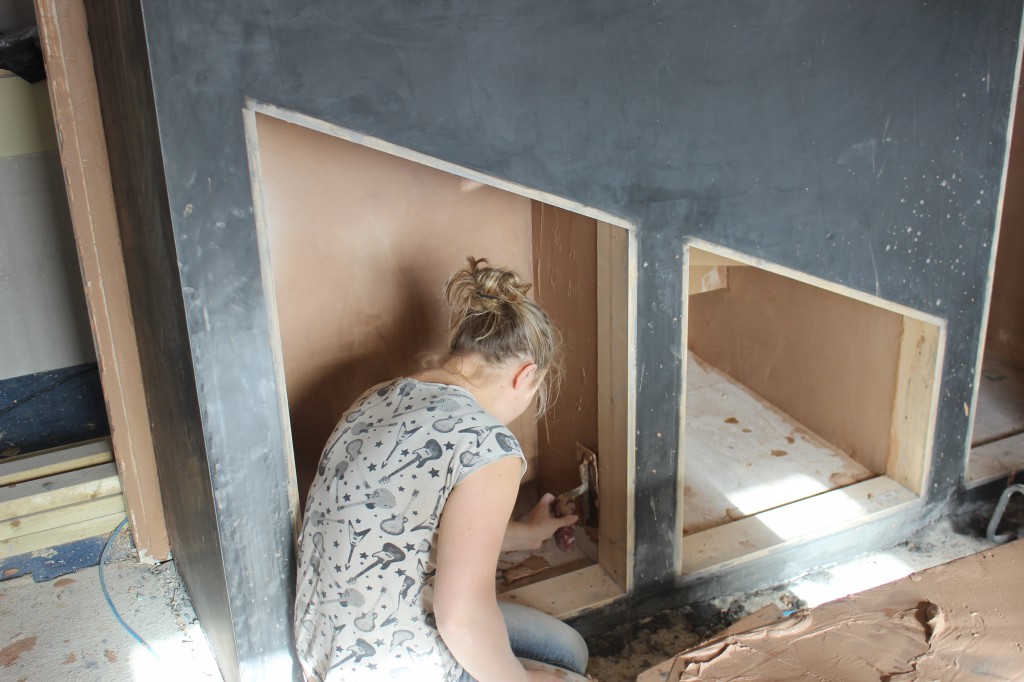 My Wife thought plastering looked easy so she was having a go as well…
Eventually, the wall did go off and when it in, she trowelled up perfect, I would not have changed it for the world. If I didn't know that the Thistle UniFinish was Thistle UniFinishI would have thought I was using MultiFinish. I don't think I could tell the difference to be honest smelt the same looked the same it trowelled up a little greasy even then, in some situations, so does MultiFinish.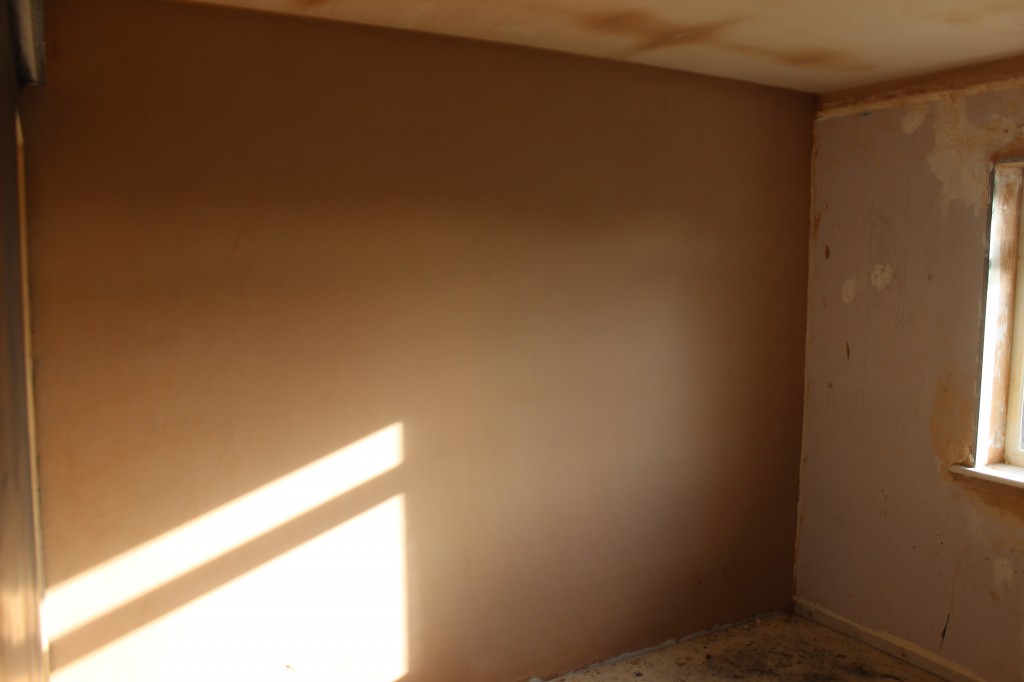 So In Conclusion, Would I Use UniFinish Again?
I think that's an easy question to answer, and it is a yes and yes this response even surprises me as I have always been a little bit sceptical. However, I think if you understand your backgrounds and understand what UniFinish can go over and what it can't, then this product will help you out. One thing I would be concerned about and that is anything that would be deemed as high suction, that will suck the life out of UniFinish and you will; need to put on a number of tight coats to get that under control so in that sense having good understanding of what your skimming over is essential.
I have had a lot of people ask me what is the point of UniFinish, and I think I can now answer this quite easily now, and that is to give you the plasterers a choice. Thistle UniFinish won't replace MultiFinish, and I don't think British Gypsum intended it to try to replace MultiFinish, however it does give you the plasterers, the option of what you want to use and having more options can only be a good thing for you.
One situation I think we can all relate to, and that is the Saturday morning job where you have a four walls in a little bedroom that need skimming, and the walls have been painted in the past and are a little scabby. You could PVA them but there is not enough suction and the PVA will hang around, and you will spend an age waiting for it to go off….
However, with Thistle Unifinish you can sheet up and start spinning up straight away and have the walls on and troweled up by lunchtime a nice little earner for a Saturday.