British Gypsum has released its annual Corporate Responsibility Review detailing the company's latest achievements in social commitment, economic sustainability and improvements to minimise the environmental impact of its products.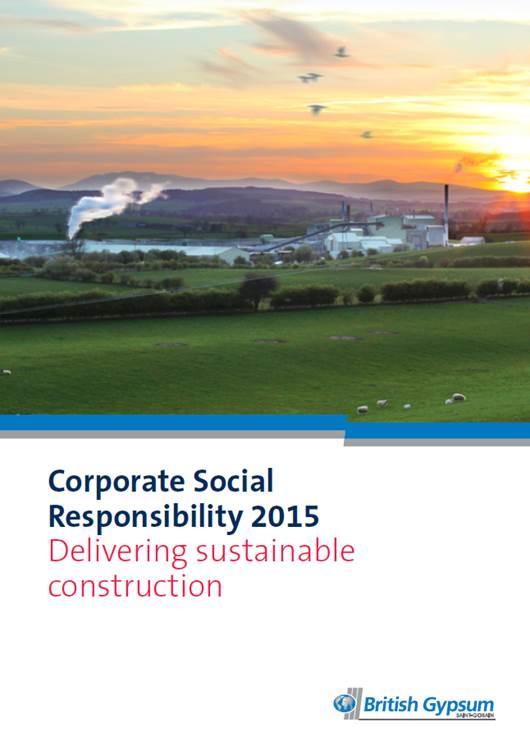 Key milestones include it becoming the first manufacturer of interior lining systems to achieve a BES 6001 'Excellent' rating for its UK manufactured Thistle plasters, Gyproc plasterboards, Glasroc specialist boards and Gypframe metal components, and attaining a consecutive fifth year of zero waste to landfill.
Commenting on the new review, Mike Chaldecott, Managing Director of British Gypsum, said: "We've made some fantastic strides in improving the environmental sustainability of our product life cycle and raw material sourcing to further support our customers in achieving environmental certification schemes such as BREEAM.
"But against a backdrop of a national skills shortage, we've also focused on supporting the workforce of the future through our Thistle Partnership programme with 69 UK colleges, and have continued to upskill our own team by delivering more than 21,500 hours of employee training. As a manufacturer in the construction sector, we absolutely have a part to play in addressing this gap and safeguarding the industry's future."
The review goes on to outline how the company is working with communities close to its sites to limit its environmental impact, as well as its support for local projects through financial and material donations, and giving staff time off to lend a hand.
The past year has also seen the company divert around 45,000 tonnes of waste material from landfill by constantly looking to eliminate waste and where it can, reuse, recycle and recover materials. In addition, British Gypsum has continued to support its customers with waste management through its Plasterboard Recycling Service (PRS) that removes and recycles site plasterboard waste into new board.
Full details are available in British Gypsum's 2015 Corporate Social Responsibility review, which is available for download on its website www.british-gypsum.com/about-us/sustainability.