After many years of improvements at her home in Fishponds, Bristol, Nina Bressington decided to tidy up the outside appearance of her property.
As an ex-local authority house, like many others it had a red brick exterior which she wanted to update and so went for a more distinctive finish with an overall colour that would last, choosing an Andura coating to do this.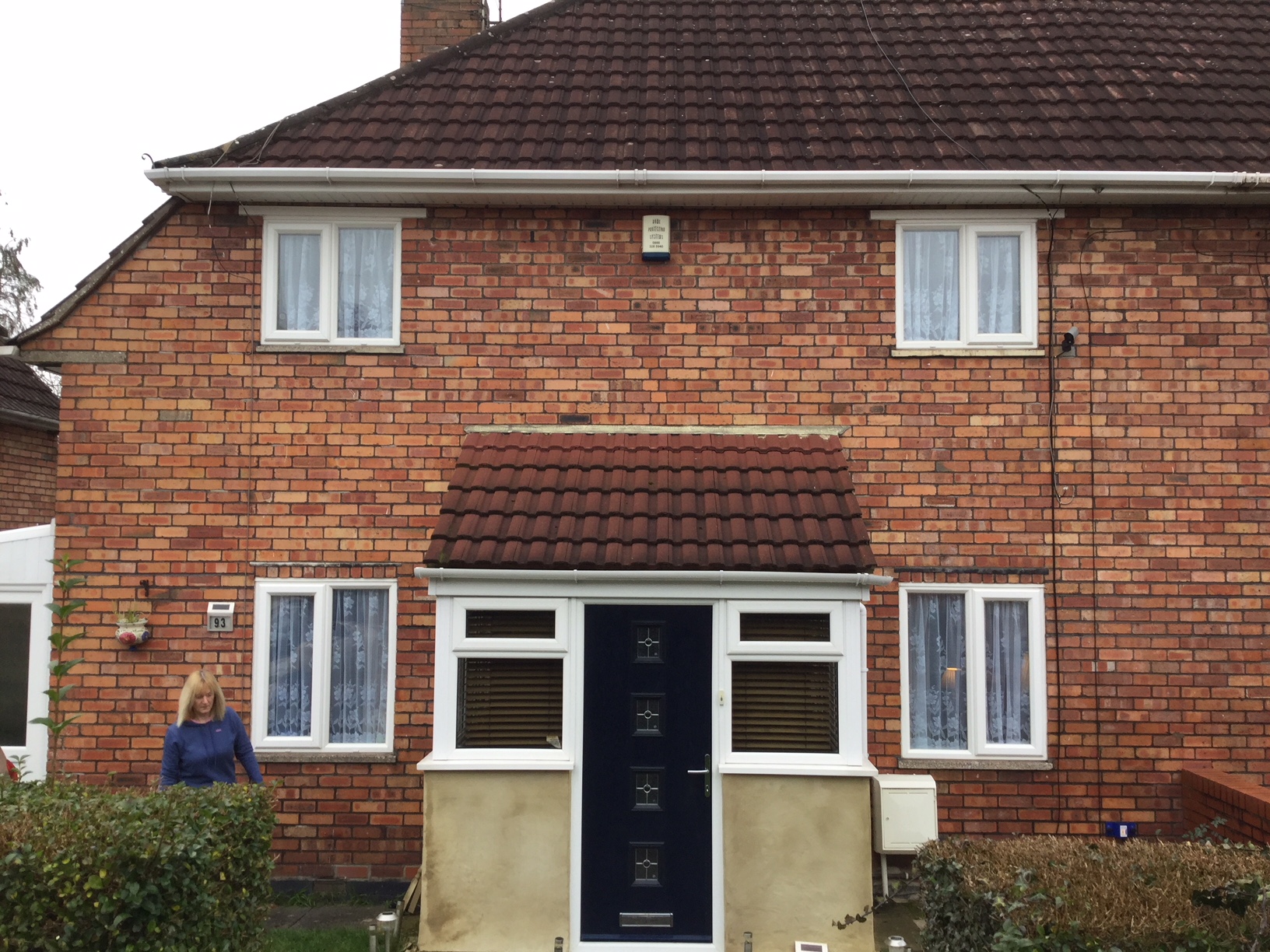 Nina commented, "I had a friend who had a similar Andura coating done to their house which had lasted extremely well, compared with a neighbour's house which had been just painted, and was already flaking after a couple of years."
Having considered other providers, Nina chose the professionalism of Andy Gazzard at Protective Wall Coatings, Thornbury who are a Registered Andura Contractor. The biggest attraction for Nina was the durability of the Andura coating, the no maintenance required, and the 20 year guarantee given by Protective Wall Coatings.
Nina's property, a 1940's three bedroom semi-detached house, is in a great residential area where she has been very happy for 28 years. Nina has modernised the interior and more recently added a conservatory to the rear, a front porch and a side extension. It was after these additions in March 2018 that Protective Wall Coatings were brought in and over a couple of weeks, the whole job took just five days on site to complete.
Andura Trowel & Roll is a high performance textured acrylic protective and decorative coating which is capable of concealing surface blemishes and is breathable, providing excellent durability and weather resistance.
Nina adds, "I was impressed with Andy Gazzard's personal approach and his genuine interest in my house. He explained everything which was very simple to understand."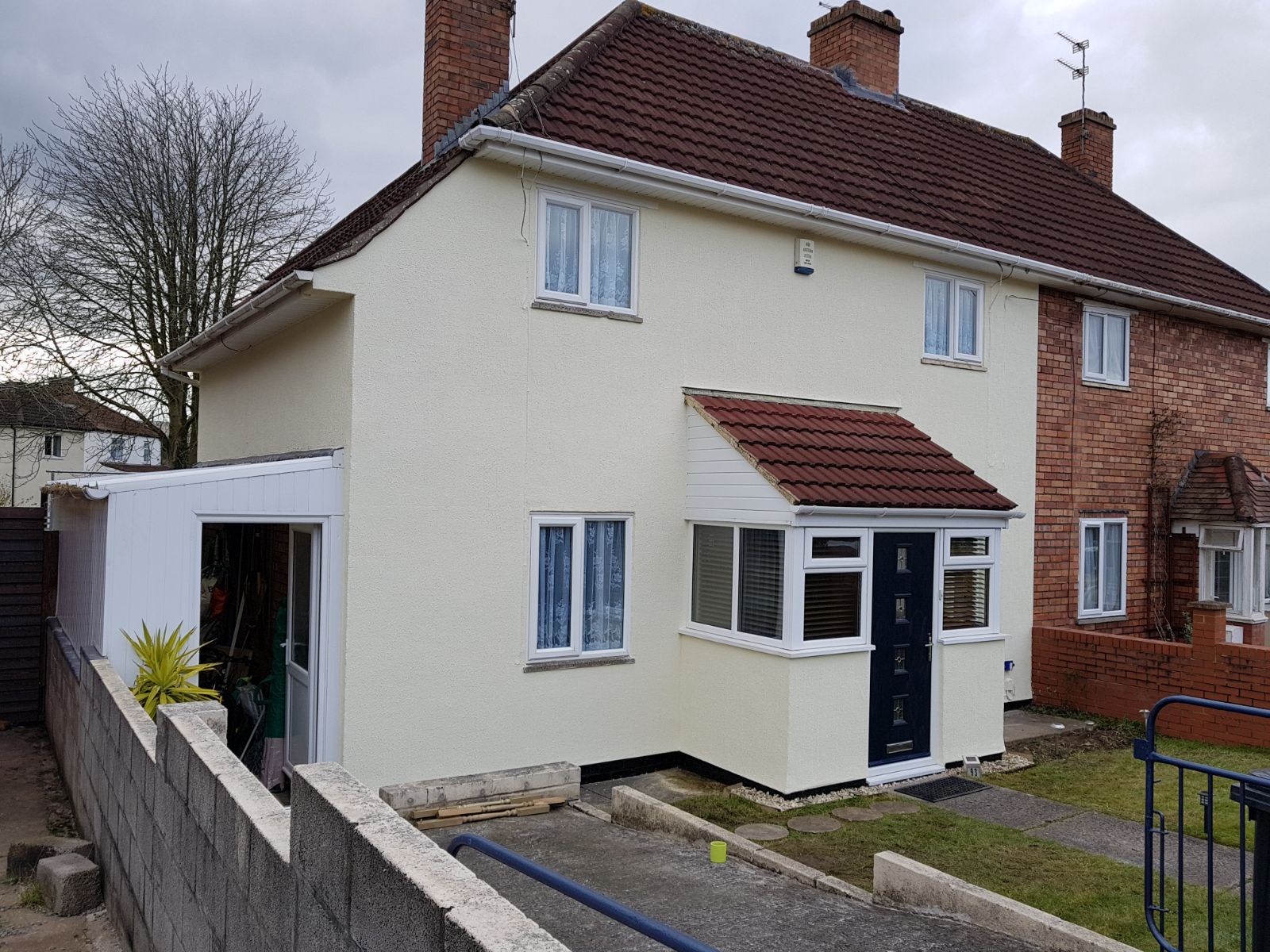 When Protective Wall Coatings came to look at the mortar joints and brick faces, there would have been a lot of repairs to do in re-mortaring and so the Andura process was to be a much more effective solution. There was some preparation and repair to be done to the outer surfaces and then the first stage was to apply the GRC base coat, a high performance, breathable polymer render (unlike sand and cement) which gives increased flexibility. As the mortar joints were deep, two coats of GRC were applied, the first a rough coat then a finer flatter coat. Once this base coat had cured, the top coat of Andura Trowel & Roll coating was applied. Protective Wall Coatings find that this coating gives a thicker application and then they use a nylon roller for downward texture ensuring that when it rains, the water runs off and the surface is self-cleaning.
Nina Bressington is delighted with the end result saying, "My house has been transformed with the Andura coating which I know will last for years. I chose the colour Waterlily, a lovely colour much softer than just white, and if I ever need to clean the walls I know that I am safe to simply power wash them down."
For the 100 sq. metres of walls on the property, Protective Wall Coatings used a metric tonne of GRC base coat and some 280 litres of Andura Trowel & Roll topcoat to achieve the final high performance finish.
Andura's Trowel & Roll coating gives an attractive textured appearance and has been specifically formulated for the protection and decoration of brick, cement renders and many other masonry surfaces. It provides a hard wearing, long lasting and beautiful finish to keep exterior walls in top condition. Andura Trowel & Roll coating comes in 16 standard colours, plus a colour matching service is available. It is a solvent-borne high performance acrylic coating conforming to Building Regulations. Andura is accredited to IS0 9001:2015 quality management standards.
Andura provides a technical support package to contractors and specifiers as well as training and on-site assistance.
Further information on Andura protective and decorative coatings is available from Andura on 01869 240374 by emailing [email protected] or by visiting the company's website at www.andura.com