The scourge of rising damp can now be dealt with easily, cleanly and quickly using the Dryzone System damp-proofing products available from Safeguard – the UK's leading specialist in damp- and waterproofing, and masonry repair solutions. These materials combined allow for treatment and room reinstatement in around a day – a massive improvement over the weeks that more traditional methods may take – and obviate, for example, problems associated with decanting tenants for significant periods of time.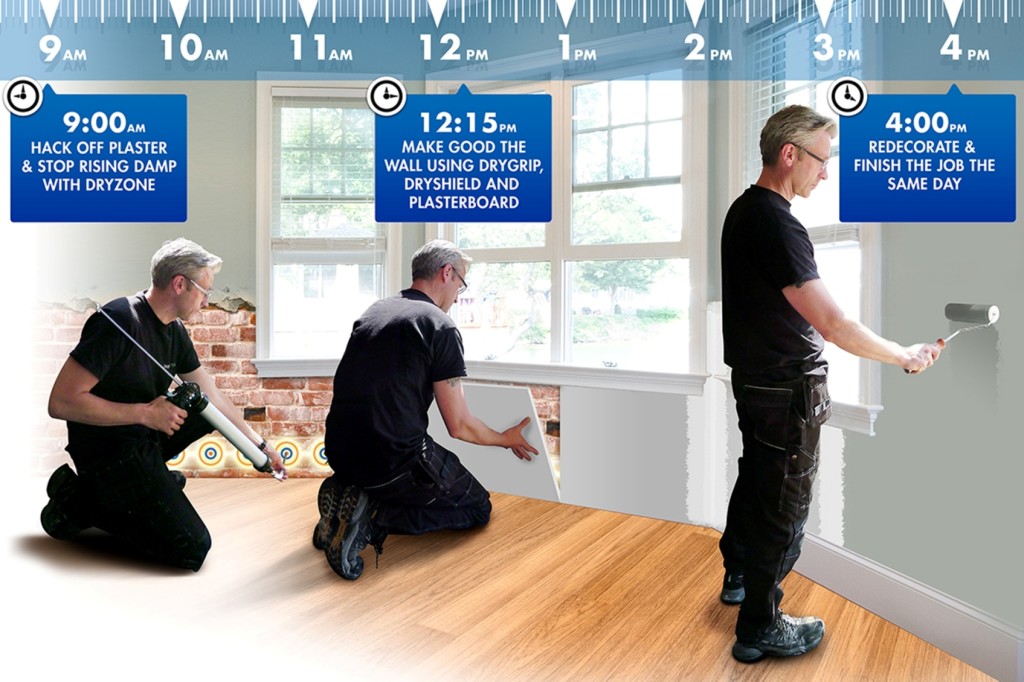 There are three elements to the system: Dryzone Cream, which forms a chemical Damp Proof Course (DPC); Dryshield Cream, which primes walls; and Drygrip Adhesive to direct bond plasterboard to treated walls. Armed with these products, a skilled operative can treat rising damp, replaster and complete re-decoration in just 24 hours.
Dryzone Cream is a BBA-approved and patented silane/siloxane material that forms a DPC in brick, coursed stone, rubble infill and cavity walls. Unlike other chemical DPCs, it is not injected under pressure, so not only is it up to three times faster to install than alternative chemical injection systems, but also presents less risk of waste or spillage.
Recognised by both the GPA and IGL insurance-backed guarantee schemes, Dryzone is also safer in use because it is odourless, non-caustic, solvent-free and non-flammable.
Once the DPC is installed, it may be necessary to replaster. Any affected walls should have plaster stripped back to at least 0.3m above the spoilt area. Without re-plastering, dampness and groundwater salts can spoil decoration on the interior walls – potentially causing paint to bubble, plaster to crumble and wallpaper to grow mould and peel.
Applied to walls affected by rising damp, Dryshield Cream is a breathable, salt-resistant water-repellent that weakens the crystal strength of salts forming in or at the masonry surface as damp evaporates. Easy to apply by brush or roller, the cream not only acts as a primer for Drygrip Adhesive but also penetrates the masonry structure deeply so as to form a durable, robust bond. Developed for 'dab' fixing plasterboard directly to masonry surfaces, Drygrip Adhesive forms a strong and long-lasting bond and is resistant to both salts and damp. Once fixed, the boards can be tape-jointed and skimmed as in ordinary drylining situations.
The Dryzone System can also be adapted for half-height re-plastering. A polyurethane foam can be used to fill in the gaps between the plasterboard and the original plaster before applying scrim and the final skim coat of plaster.
In those cases where plasterboarding is inappropriate, Safeguard Europe also offers Renderguard Gold for re-rendering. A high specification additive, Renderguard Gold improves the workability of the render and maintains its vapour permeability while being resistant to salts, so the wall can dry out without the new decorative surface being spoilt by hygroscopic salts or residual moisture rising to the surface.