High performance webertherm XM External Wall Insulation (EWI) by Saint-Gobain Weber has been specified for the showcase Skyline regeneration scheme in Stevenage, Hertfordshire. This landmark building, once occupied by HM Land Registry and known as Brickdale House, has been carefully re-designed and converted by Chase New Homes, of Waltham Abbey, Essex. A variety of 150 contemporary, well-proportioned residential suites and apartments designed to appeal to first time buyers and investors has been created. Skyline is superbly positioned in the town, close to all shopping and leisure facilities, and just two minutes from the main line station to London's Kings Cross.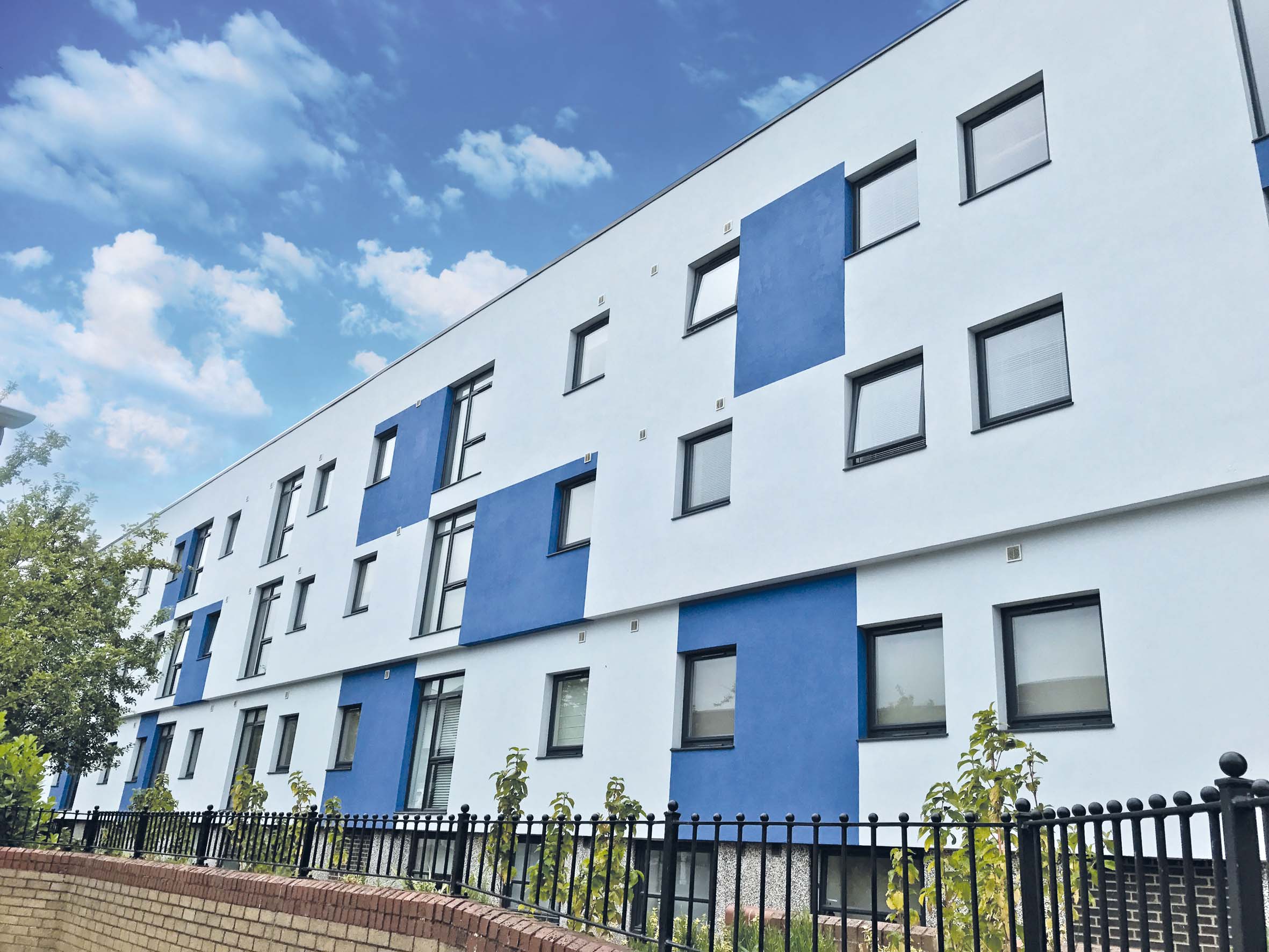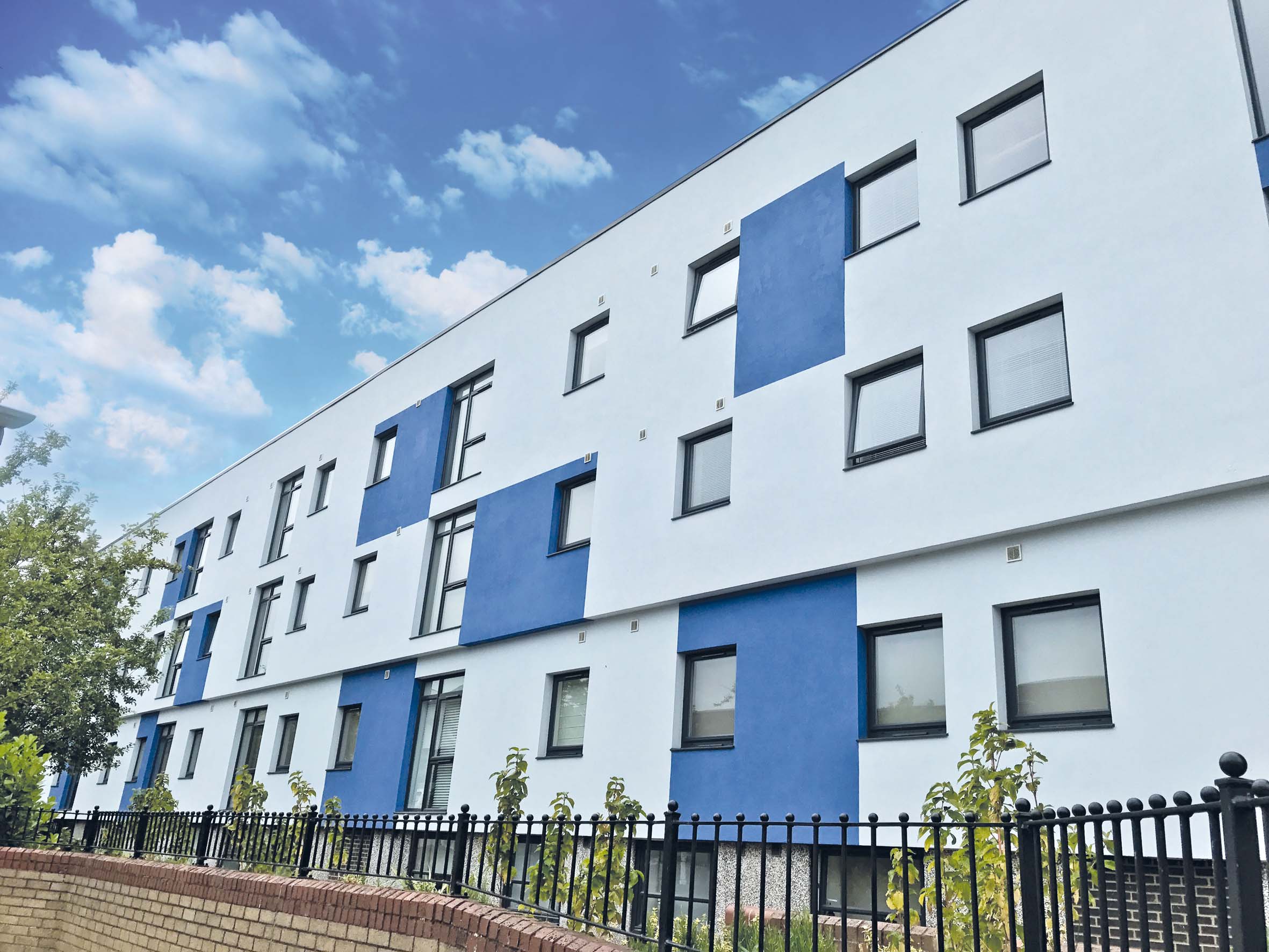 Designed by architects Corstorphine & Wright, Stourbridge, for Chase New Homes, the refurbishment work has dramatically transformed the building with major internal and external improvements. Visually, aesthetics have changed for the better with the application of webertherm XM, a lightweight render protected external wall insulation system, which has created a striking and stylish appearance that has modernised the building from a grey and tired-looking mid-1900s commercial block. Weber's EWI has also improved the thermal performance of the building to a comfortable and sustainable 0.27W/m2K U-value. The application of webertherm XM EWI was carried out by Build-Therm Services of St Albans, Hertfordshire, a company familiar with Weber's EWI systems.
The application of webertherm XM EWI system provides efficient thermal insulation for this refurbishment with the render coat and surface finish delivering excellent water shedding capacity to protect the building fabric. The system specified 120mm mineral fibre insulation applied to Cement Particle Boards fixed to a MetSec frame construction. This has been protectively covered with a 6mm meshcloth reinforced coat of weberend LAC, a polymer-modified, cement-based mortar. This is applied in two passes before being decoratively finished with webersil TF to achieve a textured render finish in Iced Blue offering a bright and welcome change to the streetscape.
Julia Wathen, of Build-Therm Services Limited, St Albans, Hertfordshire, was operations manager on the Skyline project: "We really enjoy working with the Weber EWI systems as the materials are always of very high quality. We had 1000m² to apply and the result is a crisp, bright finish which adds to the modern style of the apartments."
Since 2005 Chase New Homes, an independent and entrepreneurial company, has successfully developed new homes, building a reputation for excellence. Skyline is another showcase in the company's varied portfolio which ranges from studio suites to £4m mansions. The company has several projects underway for a further 800 homes in Central London and throughout the Home Counties.
For more information about this product, or for technical support including award winning training courses, please contact Saint-Gobain Weber on 08703 330 070, or visit www.netweber.co.uk.
A free download of the Weber App for iPhone and iPad users is also available from iTunes and from Google Play for Android smartphones and tablet users. Follow Saint-Gobain Weber on Twitter @SGWeberUK for the latest company news and updates.