What is Artex, and why can it be a problem when renovating your property
Artex is a textured wall or ceiling covering popular in the 1970s and 1980s and can be found in many properties of this era. Artex comes in all sorts of patterns and textures, and one of the only good things about Artex is that it hides a multitude of sins.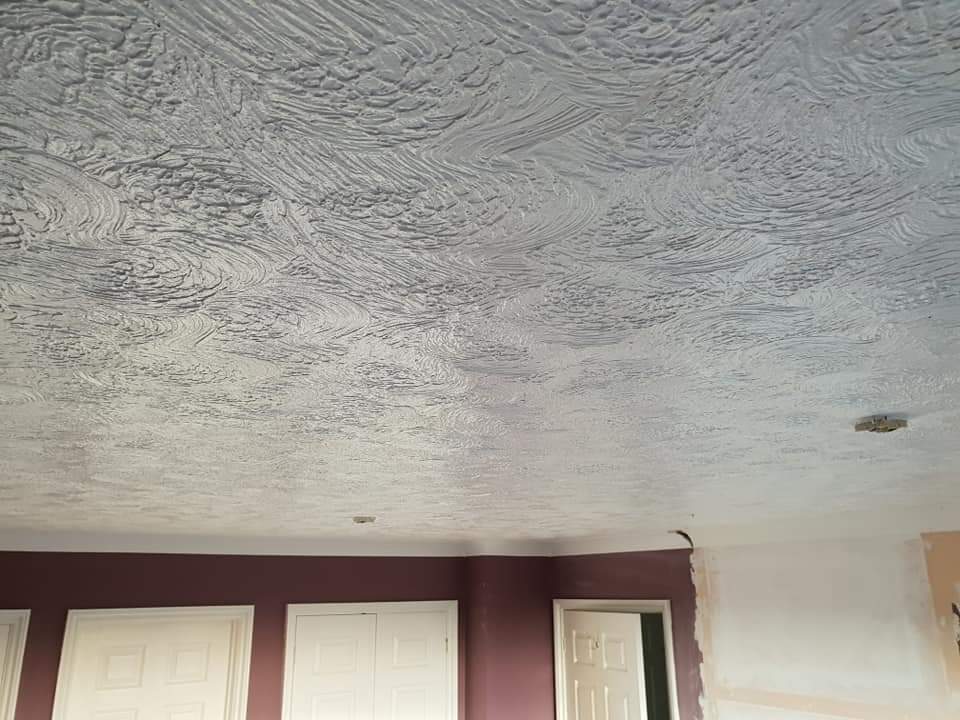 You will find that many house builders applied Artex on ceilings because it was cheaper than plastering, and Artex would cover up bad board work and did not need wet plastering.
What are the risks and considerations when deciding to plaster over Artex
First, I need to mention the asbestos risk with Artex. I wish I had been aware of this risk when I was plastering day in and day out.
Some Artex contains asbestos, and I have been covered in Artex when scraping ceilings back and getting them ready to plaster, and it was only when I started The Plasterers Forum that I was informed about the risk involved.
So if you are unsure whether the Artex you have has asbestos in it, you can buy Asbestos testing kits from Amazon and test whether your Artex has asbestos. If unsure, leave it alone until you are confident that the Artex does not contain asbestos.
What are the benefits of plastering over Artex?
One of the benefits of plastering over Artex is that it's quicker and also costs less.
To Plaster over Artex is quicker because the only real preparation you need to do is PVA glue the ceiling and then start skimming. If the Artex stipple is quite extreme, give it a scrape first.
Plastering over Artex is cheaper because you only need the Multi Finish plaster and the PVA or bonding agent.
The alternative is that you either remove the old ceiling/wall, whether that be Lath and plaster or plasterboard, and then reboard the ceiling and then skim with Multi Finish plaster.
So if you can plaster over Artex, it will be quicker and cost less than if you had to re-plasterboard the ceiling/walls. However, some Artex is very dusty, and when you skim over it, the plaster sticks to the dust and not the surface and the ceiling will fail, and you will have to overboard and skim anyway.
What are the different approaches to plastering over Artex?
Once you are confident that there is no asbestos in the Artex, you can assess your approach.
The first approach is to PVA and skim as you would any other surface, and that tends to be the usual approach when plastering over Artex.
The following approach is to scrape the Artex high spots off, then PVA and skim as usual, which is a good approach.
This next approach is one of my favourites and works well, but it costs a bit more money and takes longer, but the finish is perfect. You need to pick where you use this approach as some customers it is wasted on.
You can decide whether the Artex needs scraping back, and then you PVA the surface. I would knock up a wet coat of bonding plaster and coat the ceiling/wall and give it a very tight coat. I would then use a feather edge to straighten up ceiling lines or skirting lines (Speedskim now replaces the featheredge). Then just as the bonding is setting, I would apply my two coats of Multi Finish plaster.
You can also do the above method and not use Bonding Coat but Multifinish. The final coat of Multi Finish is so tight that it's almost just a flattening in coat.
Every plasterer has ways of doing things, and I tended to charge higher rates than the other local plasterers at the time, but my finish was of an excellent standard.
Tips for getting the best results when plastering over Artex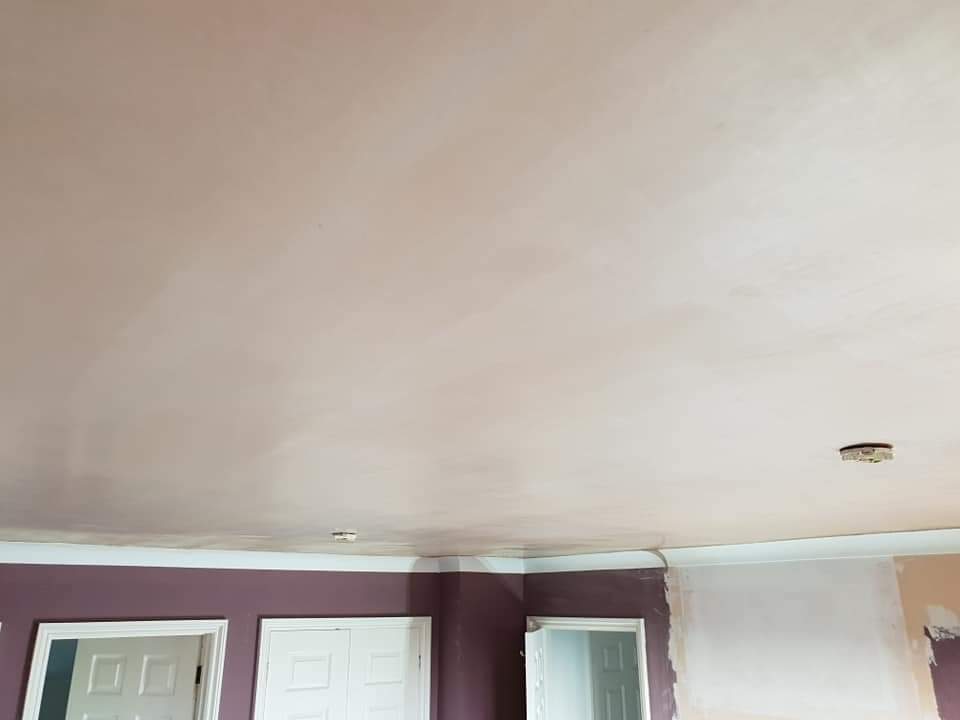 Over the years, I have plastered so many Artex ceilings and walls, and I have only had a handful of fail dues to the dusty background that comes alive when plastering it. So I am qualified to give some tips on how you can plaster over Artex.
Preparation
Preparation with anything is vital, so ensure the surface is ready for plastering and that you are all set up and ready to start skimming.
PVA or Bonding Agent?
I have always floated between the two, and it depends on how much time you have. If you use PVA, you can be in and out very quickly. But if you use a bonding agent like Bond-it from British Gypsum, then you will need to leave that typically overnight for it to be dry to skim over.
If you use a bonding agent, the likelihood of the surface failing is reduced massively, but then time is money, and also, the bonding agent is not cheap either, so these all need to be factored in.
In the old days, I was plastering a lot of ceilings, and I started preparing the following days ceiling the afternoon before. So I would arrive at the customer's house, get all eth dust sheets in and laid, and the ceiling would be prepped and glued. I would have all the plaster loaded in and the tools (if safe to leave overnight). The following day I would be at the property at 8 am, and I could almost start plastering straight away, and 3 4 hours later, I would be in my van and driving to the next property to do it all again.
Common mistakes to avoid when plastering over Artex
Some of the mistakes that occur when you plaster over Artex is that you rush the glueing stage, whether it be PVA or bonding agent. You really only need to start when it is ready. If you start too soon, a whole multitude of problems open up. So patience is key.
Not scraping the ceiling/wall when the Artex is heavy is something that I have done more than I care to admit, and you will have a lovely ceiling and then the odd patch that would grin through. It was frustrating and usually down to rushing or the labourer not being on form.
Going too tight with the Multi Finish is a huge problem when you plaster over Artex. If you apply the Multi Finish plaster too thin, you can often see the pattern of the Artex when light is shined down the surface, which could be better.
The other problem is when you apply Multi Finish plaster too thick, and then Multi Finish plaster starts to ripple or cause tiger striping, which is also hell. It happens to all of us at some point in our careers, so bear that in mind.
In Conclusion
Yes, you can plaster over Artex, and the results can be perfect, but you need to consider if there is asbestos in the Artex and whether overboarding the Artex will be a better finish.
I would always recommend overboarding now, as it guarantees a perfect finish. Still, in today's economy, plasterboard is getting increasingly expensive, and so is the plaster, so you need to weigh these up and make an educated guess.
I hope you have enjoyed reading about if you can plaster over Artex, and if you have time, please follow us on Facebook or head over to The Plasterers Forum and say hello.