External Wall Insulation by Saint-Gobain Weber has been specified for the thermal upgrade of social housing properties in Bangor and Y Bala, North Wales. They have been transformed with the application of the innovative webertherm XP External Wall Insulation (EWI) with u-values that have been dramatically reduced while the aesthetics of the properties have been changed completely. Residents are praising these improvements, one reporting that their heating thermostat has been turned down to half its normal setting.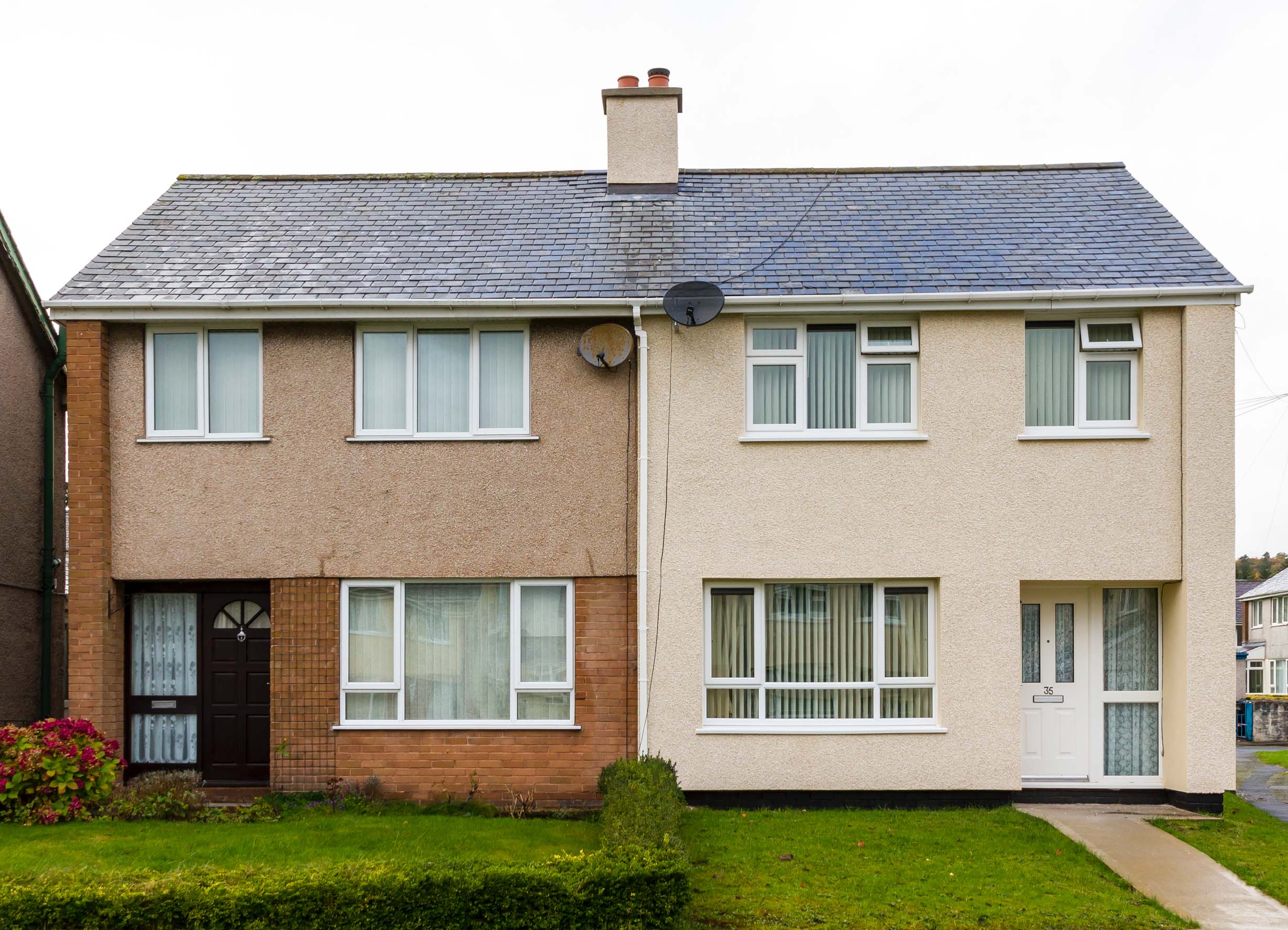 The properties, a combination of houses, bungalows and apartment buildings, are owned by Cartrefi Cymunedol Gwynedd, the largest housing association in North Wales. CCG was set up in 2010 to provide good quality, affordable homes and services, as an independent not-for-profit organisation which is registered and regulated by the Welsh Government. CCG has around 6,300 homes and is responsible for their maintenance and management.
Achieving Welsh Housing Quality Standard, in which social landlords are required to improve, meet and maintain their housing stock to an acceptable level before, or no later than, 2020 is an important part of CCG's work. A total of £136million has been committed to improving homes to meet the needs of existing and future residents since the organisation's inception.
The houses in Britannia Square, Bangor, are post-war, system-built, non-traditional Unity Structures designed with storey-level precast reinforced panels, metal braced from within the cavity, and poorly insulated offering little thermal performance. In Y Bala the homes are of 1960s non-trad Trusteel frame construction with similar thermal deficiencies. While upgrading properties, Weber's EWI extends the life of existing buildings, particularly hard-to-treat properties, by keeping the old structure warm and stable.
CCG awarded the main contract to Willmott Dixon's Conway office who in turn appointed specialist EWI contractor R W Hough & Sons of Flintshire to apply the BBA certificated webertherm XP EWI system with webertherm M1 render. Martin Hough rates the Weber system highly: "The webertherm XP system is a very good product. We have experienced no problems at all with these materials that offer speed and simplicity while protecting tired facades and minimising heat loss."
Challenging u-value improvements for Britannia and Bala homes were calculated by Weber: properties at Britannia Square, Bangor were slashed from 1.42W/m²K down to 0.28W/m²K whilst an even more dramatic result at Y Bala saw the poor 1.60W/m²K pre-installation U-value reduced to 0.29W/m²K.
To achieve these tough target U-values the webertherm XP EWI system required 90mm of EPS insulation which was mechanically fixed to the external wall surfaces prior to the render application. The Britannia Square properties had an angled corner coin feature and the client required this to be altered to a normal square edge corner profile for a more modern look. R W Hough masked this original feature with an extension of the EPS insulation prior to render application.
The revolutionary webertherm M1 render is a through-coloured, factory-batched, lightweight mineral render formulated for one-coat application. The system was applied with a combination of pump delivery and skilled hand application. The first pass of render is applied at 6mm and the meshcloth laid-in and, as the render takes up, a second 6mm application is made to deliver a total of 12mm of render for durable, low maintenance protection. CCG specified a dash finish to match other properties in the region and Ashton Cream was selected from an extensive colour palette. Over 4336m² of EWI have been applied at these two locations.
Geraint Jones, project manager for R W Hough during the six month program, reports on the success of the project: "Everyone is really pleased with the results here. We had good weather right through the program. The webertherm XPsystem requires such a straight forward application process and my team are always pleased to be using Weber high quality products.
"The properties now look clean, modern and rejuvenated and already the residents are commenting on the radical change in warmth. I'm sure they will also notice that the internal noise level is also reduced. One resident has told me that their thermostat is now set at half the usual level and they have plenty of heat and are very comfortable. This will mean considerable savings in energy costs." Gary O'Brien, Assets and Contracts manager, CCG, said: "We are very pleased with the product and the assistance with specification and supervision provided by Saint-Gobain Weber. We look forward to continuing our good working relationship with the company."
For more information about this project, or for technical support, please contact Saint-Gobain Weber on 08703 330 070, or visit www.netweber.co.uk. Customers in Ireland should call 028 9335 2999 or visit www.weber.ie
A free download of the new weber.app for iPhone and iPad users is also available from iTunes and from Google Play for Android smartphones and tablet users. Follow Saint-Gobain Weber on Twitter @SGWeberUK for the latest company news and updates.