The market leading, high performance weberpral M monocouche render by Saint-Gobain Weber has an improved formulation to combat the war against algae.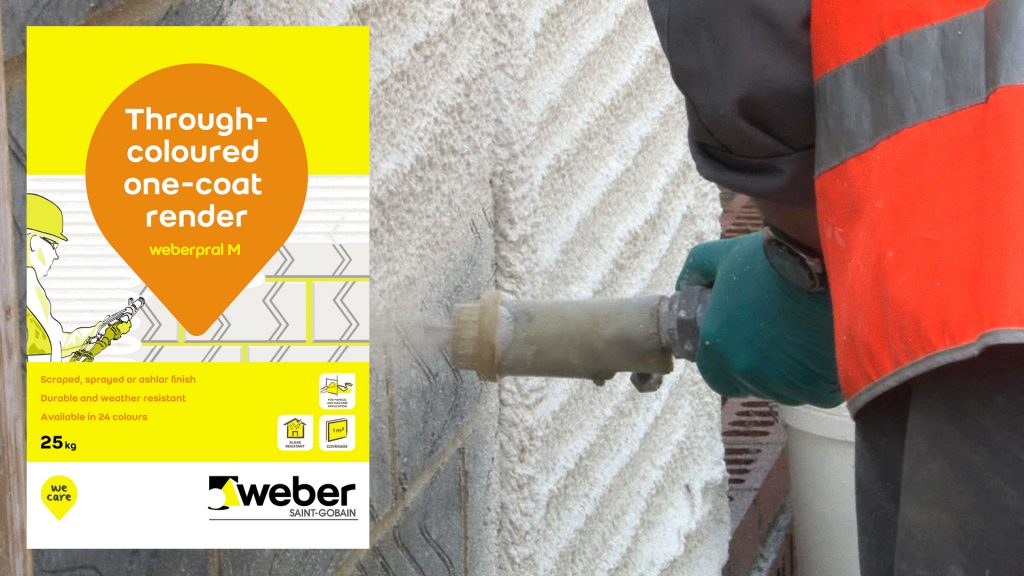 Algae growth on external surfaces is not a new phenomenon but its increase is due to warmer winter climates and prolonged damp weather conditions which are being experienced across large areas of Europe.  In conditions that do not fall below zero temperatures algae spores continue to grow and can affect many exposed surfaces.
"Environmental factors cause algae growth to occur on almost all external surfaces including stone, glass, metal, plastic, fencing and brickwork and whilst algae doesn't affect the performance of our BBA approved monocouche render it can sometimes become unsightly," says Tracey Dempster, head of marketing, Saint-Gobain Weber. 
"We've worked closely with French microbiologists to understand the effect of the composition of the render and also the effect that external factors have to play – such as dew point, surface condensation, temperature and rain fall.  In achieving the lowest capillary absorption rate performance of W2, as classified in EN998-1 for weberpral M, we have gone a long way in combatting unattractive algae growth on vulnerable properties by effectively repelling water from the surface of the render, ensuring that Britain's homes and buildings remain looking better for longer."
Factory produced to ensure product consistency weberpral M is a cementitious, through-coloured render suitable for one-coat application to suitable brick or block work substrates. Produced from carefully selected raw materials, weberpral M monocouche render is formulated for pump application which allows quick and efficient installation.  This contributes significantly to shorter programme periods, reducing associated scaffolding and site costs and permitting the completion of ground works at an earlier state.  It is supplied ready-mixed with only the requirement of clean water to be added on site and is applied in a two pass operation to a thickness of 20-28mm; it is then scraped when green giving a minimum render thickness of 15-25mm.
Saint-Gobain Weber is the first manufacturer of monocouche renders to be awarded an A+ rating as defined in the BRE Global 2008 Green Guide to Specification.  This audited material helps specifiers to make selections that will collectively reduce the environmental impact of their buildings while achieving a higher number of BREEAM material specification credits.  weberpral Mhas excellent weather resistance and durability whilst allowing the structure to breathe.  Its through-coloured characteristic requires no decoration, is truly low maintenance and offers a variety of ways to achieve architectural features.  It is available in a palette of 24 attractive colours.
For more information, or for technical support, please contact Saint-Gobain Weber on 08703 330 070, or visit www.netweber.co.uk
Customers in Ireland should call 028 9335 2999 or visit www.weber.ie
A free download of the new weber.app for iPhone and iPad users is also available from iTunes and from Google Play for Android smartphones and tablet users.  Follow Saint-Gobain Weber on Twitter @SGWeberUK for the latest company news and updates.