Saint-Gobain Weber, the recognised manufacturer of innovative high performance products, systems and technologies for the construction industry, has launched weberend LAC rapid, a super-fast drying version of the established and successful weberend LAC. This basecoat render with meshcloth reinforcement, plays an essential role in a number of Weber insulation systems including webertherm XM lightweight External Wall Insulation (EWI), and weberend MT, a multi-coat render system. The substantially reduced drying time of this new and improved formulation also makes weberend LAC rapid ideal for offsite construction.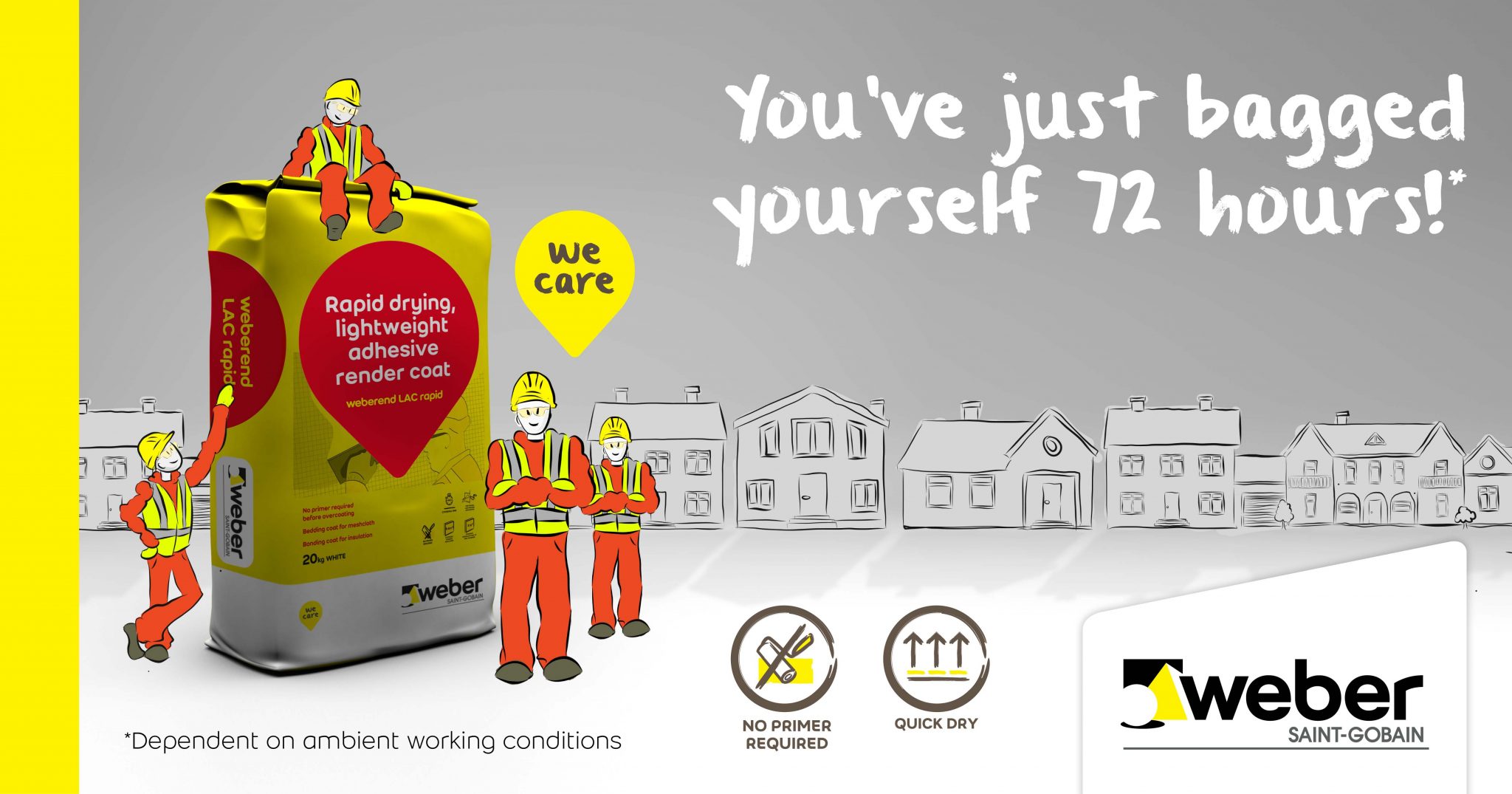 Similar in specification and coverage to weberend LAC, a product used extensively by key contractors and render applicators, the rapid drying characteristics of weberend LAC rapid typically reduces drying time from 72 to 24 hours. The use of weberend LAC rapid actually eliminates the application of weber PR310 primer which itself contributes to a 24 hour saving in the overall application and drying process.
"So what this means for our customers is that construction projects will be finished much sooner so reducing the time of busy and experienced applicators on site; they'll see significant savings in expensive construction kit such as scaffolding and heavy equipment, and collectively making valuable project efficiencies, faster completion and subsequent payments," says Tracey Dempster, head of marketing, Saint-Gobain Weber. "Importantly the offsite construction sector will value this product which will contribute to faster application and completion of buildings that are largely factory made. As the use of modular frame construction is growing, our weberend MT system used in combination with weberend LAC rapid, will achieve remarkable delivery which is vital to the industry."
weberend LAC rapid is similar in texture and weight to the original product, offering low mass for reduced shear load. It is polymer modified for high bond strength and achieves a smooth finish quickly and economically. weberend LAC rapid is white, rather than the grey of weberend LAC, presenting yet another benefit of a colour neutral base in preparation for receiving the decorative finish without the use of a primer. The new formulation of weberend LAC rapid makes it ideal for winter working as its quick setting capacity helps to reduce the impact of long periods of low temperatures and wet conditions.
Weber renders are manufactured in the UK ensuring efficient availability and lead times, adding to the company's environmental and sustainability policies, reduced CO₂ emissions and transportation costs.
For more information about this product, or for technical support including award winning training courses, please contact Saint-Gobain Weber on 08703 330 070, or visit www.netweber.co.uk.
A free download of the Weber App for iPhone and iPad users is also available from iTunes and from Google Play for Android smartphones and tablet users. Follow Saint-Gobain Weber on Twitter @SGWeberUK for the latest company news and updates.